Every year without fail the pundits tout Ireland's vulnerability to an upset against Scotland. The pessimists usually enlist in their argument Ireland's allegedly dodgy record in Murrayfield, though they've won six of the last seven Six Nations games in Edinburgh (admittedly, a few of the wins were quite narrow).
Scotland's return to the top table has been heralded as imminent for a good few years now. The voices are getting louder following their impressive showing in 2016.
The Scots have to be bullish. Their former lock Jim Hamilton believes Scotland can win, a belief he attributes to a "sneaky feeling." In his Scotsman column, he wrote that victories over Ireland were rare but that he enjoyed three in his time, two of which were in the Six Nations.
His most cherished memory against Ireland was the 2010 win in a riotously entertaining game in Croke Park. For those who don't remember the context of the match, Scotland were staring down the barrel of another 6th place, while Ireland were coming to collect a fifth Triple Crown in seven years.
Though he did brilliantly to set up Ireland's first try, this was still Johnny Sexton's darkest hour in an Ireland jersey. His kicking woes hasn't cost Ireland in the previous game against Wales but they definitely did here. The worst moment arrived in the second half with Ireland 17-7 behind.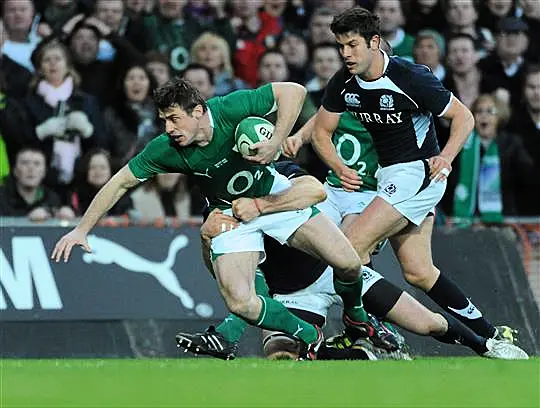 A penalty was awarded while ROG was warming up on the line. An impatient O'Gara tried to enter the pitch in time to take the kick. There was confusion as Sexton, ball in hand and standing over the kicking tee, stared at the sideline in disbelief, demanding to know if they were really going to substitute him at such a moment. In the end, they allowed him to take the kick. He finally nailed a proper one and it was 17-10. Soon after, Bowe scored a try in the corner to level the match. But a dramatic late kick from Parks left the final score at 23-20 and gave Scotland their only win in Dublin this century.
The Scottish players, basking in the afterglow of a rare win, celebrated heavily in the city. Hamilton and Allan Jacobsen spent the night in a VIP lounge of a (sadly unnamed) Dublin nightclub. While there, they hit the jackpot by befriending a number of "cool guys."
What happened made for a rather touching tale.
Touching because Hamilton, for one glorious moment, believed that Dublin nightclub goers were so well versed in rugby that Scottish second rows can't enjoy a drink in the city without being mobbed by well-wishers.
Alas, no.
Wins for me against Ireland were rare but I enjoyed three. Once in a World Cup warm-up and again in 2013 at Murrayfield. But the 2010 win in Dublin, which was a little unexpected, stands out. Not just the enormity of the victory but the after-match events. We were celebrating in a Dublin nightclub. Me and Allan "Chunk" Jacobsen befriended a bunch of bearded hipsters in the VIP lounge who were sharing free drinks and seemed like cool guys.

All through the night people were coming over to ask for autographs and take photos. I actually apologised to the lads and told them we had just beaten the Irish and this was part of being a rugby player. As the guys departed the club there were huge scenes, cameras flashing, girls screaming. A security guard told me my new pals were the world-famous band, Mumford & Sons. Everyone who was coming over was wanting to meet them, not me. How embarrassing!