Listen, nobody's perfect and we make our share of mistakes here at Balls.ie. Still, I feel obliged to point out a few rather erroneous mistakes in today's Indo as they tried their hand at some NFL coverage. You see, Richard Dunne is in Cleveland for a few days getting some treatment at the Cleveland Browns facilities, which inspired a little sidebar about one of the lowliest franchise in the league. One of our resident NFL fans Oskar Persson was kind enough to send on the following photo from the sidebar.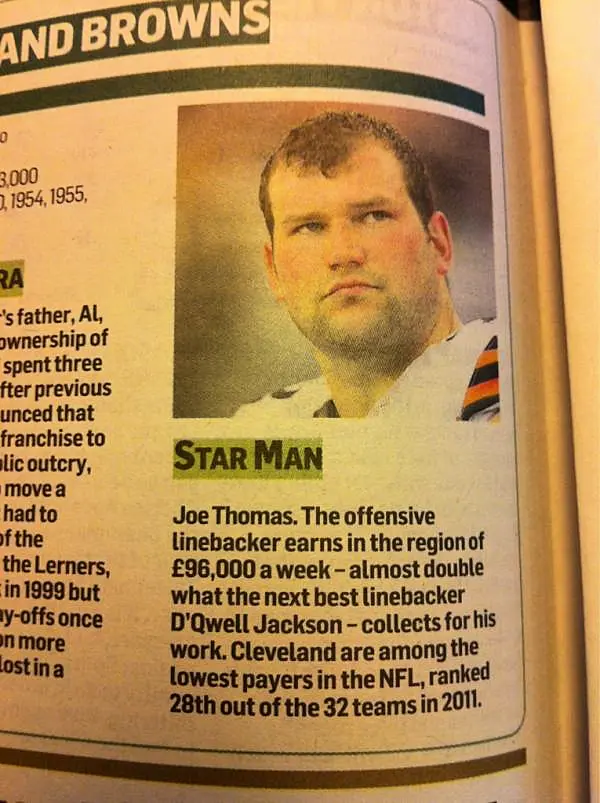 Where do we start with this? Most obviously, there's no such position as an offensive linebacker. Joe Thomas is an offensive linesman, or to be more specific, an offensive tackle. If you've read or seen 'The Blind Side', you'll have a vague understanding of the position. 'Offensive linebacker' might have been a pardonable mistake in the late-'80s, but by simply googling the position (or Thomas), it's obvious it has no usage in the game. Never has, never will. Worse still, in my mind, is calling Thomas Cleveland's 'Star Man'. Even given the current chaotic free agent period, ask 100 Clevelandians who the Browns star man is and not one would say Thomas (even if he earns the most on the team). It's a bit like saying Mike Ross is the star man on the Irish rugby team. It is a true statement that no fan would ever make. Peyton Hillis, the face of Madden 2012, would have been a popular answer last year. Maybe Colt McCoy. Some nostalgic people might even say Bernie Kosar.
Obviously, American football is a foreign game and not to everyone's tastes, but mistakes like the ones here are less pardonable in the internet age. There are real NFL fans in Ireland, people who play fantasy and watch the sport week-in, week-out, and they expect the national newspapers to know the game like they would in GAA or rugby or football. Looks, lad, if you need NFL coverage, just pop us an email. We'll get it right.