Were you stuck somewhere over the weekend with no access to a TV or computer? Did you miss all the sporting action over the weekend and now feel alienated from your friends and out of the loop in all of their conversations? Never fear because we at Balls.ie have put together a sporting retrospective of the last weekend to bring you all the key talking points and side splitting Gif's that your friends have been banging on about.
1. Ronan O'Gara
The last week has been all about Ronan O'Gara being dropped from the squad and its potential ramifications for his career. This weekend saw some interesting O'Gara related stories emerge that should intrigue sports fans. As was reported in the Sunday Times, a documentary charting O'Gara's last few seasons has been shelved for the moment due to comments ROG made about Declan Kidney. There is little else known for the time being but here is the article that reported it. There was also his first tweet in a few weeks which fans may like.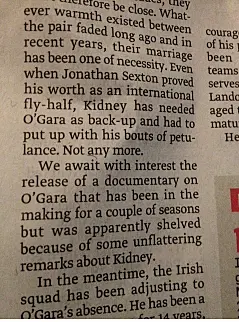 2. Brian O'Driscoll and Amy Huberman
Anyone that watched the Ireland vs France game will know Amy Huberman and Sadie O'Driscoll were in attendance given that the director chose to show them as much as the on field action. But afterwards a special and almost evangelical moment was captured by a photographer as the O'Driscoll clan embraced. If this was Brian O'Driscoll's last game for Ireland there probably isn't a nicer photo to capture his emotion.
3. The first headed hurling goal in the history of.........ever?
Tipperary and Kilkenny games are generally close fought affairs with one or two plays swinging the outcome. Tipperary's John O'Dwyer was the x factor this weekend, feigning to catch the ball before deftly flicking the ball past the Kilkenny goalkeeper. Am I giving O'Dwyer to much credit? Probably but it was still a crazy, if lucky, piece of play.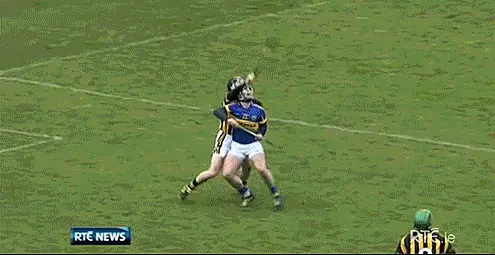 4. Ciaran Kilkenny plays a bit of rugby in Croke Park
While rugby has been gone from Croke Park for a few years now Ciaran Kilkenny channeled his inner outhalf yesterday, hoisting a pass high in the air before gathering it himself and sticking it over the bar. The unorthodox garryowen was more down to ponderous defence than anything else but it was still a funny sight.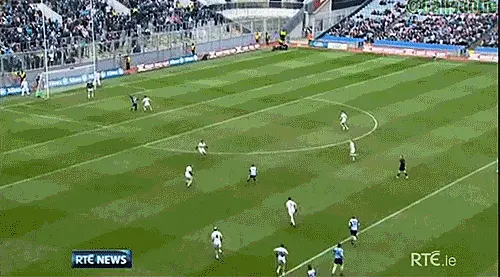 5. The general level of buffoonery in the Aston Villa vs Reading game
These two teams are locked in the relegation battle and boy, did it show. Take your pick as to what incident is the most ridiculous. You had Nathan Baker's og, Ian Harte losing the ability to stand and Nick Blackman's air kick. It was a match made for Gif's.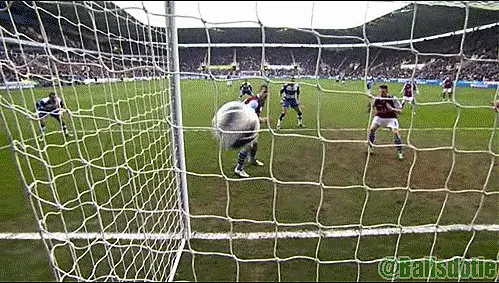 6. Paul Galvin allegedly being the victim of spitting in an intermediate game
Paul Galvin is a divisive figure among GAA fans but no one would condone the alledged spitting incident that Galvin was victim to against Tyrone club side Cookstown. The video is inconclusive and you can pretty much take what you want from the footage.