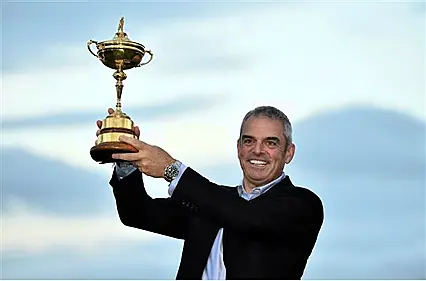 What with Ireland's ever increasing standing on the global technology stage, it's no surprise that we can attract some of the most influential speakers to these shores to talk about all things tech related.
The now annual Web Summit has become a bit of a big deal since its inception in 2010 and it attracts all kinds of dot-com millionaires and technology powerhouses. So why are we talking about it?
There's an awful lot more than just tech geniuses discussing IPO's, stock options and the like. There's a specific stage just for sports speakers which the organisers say will include "some of the biggest influencers in modern sport tackling all the big issues related to sport and the role of technology."
Speakers such as Donal Og Cusack and Damien Comolli had already been announced and now Paul McGinley and Tony Hawk have also been confirmed. This will be one of McGinley's first public engagements since leading Europe to Ryder Cup glory and his appearance is sure to attract plenty of fans.
CEO and founder of the Web Summit, Paddy Cosgrave explained what McGinley and Hawk would add to the Summit.
To have Paul McGinley and Tony Hawk on board for our inaugural Sports Summit is incredibly exciting and adds to what promises to be a great stage for sports and technology fans alike. This year's Summit isn't just about technology for technology's sake, it's about how tech touches all industries, it's the internet of everything.
You can still get tickets for the Sports Summit events here.