The suggestion that she might have the day off is met with a headshake from Natalya Coyle.
Between a morning run, a physio session and a 7pm training session, she has wedged in media duties - all done with a smile.
"You can't really afford to take any days off because they all add up in the long run," says Coyle, speaking at the announcement of global job site Indeed as official partner to the Irish Olympic team.
Sunday is her one rest day per week but even the latter hours of that are spent bulk cooking.
The 28-year-old competes in that most Olympic of sports: modern pentathlon. Like handball and dressage, it enters the public consciousness once every four years with Stephen Alkin or Adrian Eames providing commentary and Peter Collins on the couch in Montrose reminding us how it works.
Running, swimming, horse riding, shooting and fencing are the disciplines involved.
Though the Olympics are 14 months away, it is a busy time for Coyle, currently ranked as the number five female in the world.
Before she can hop on that plane to Tokyo, she will have to qualify. The European Championships take place in August with the top eight in that competition securing their spot in Japan. There are also World Cup events. She won silver in Cairo earlier this year.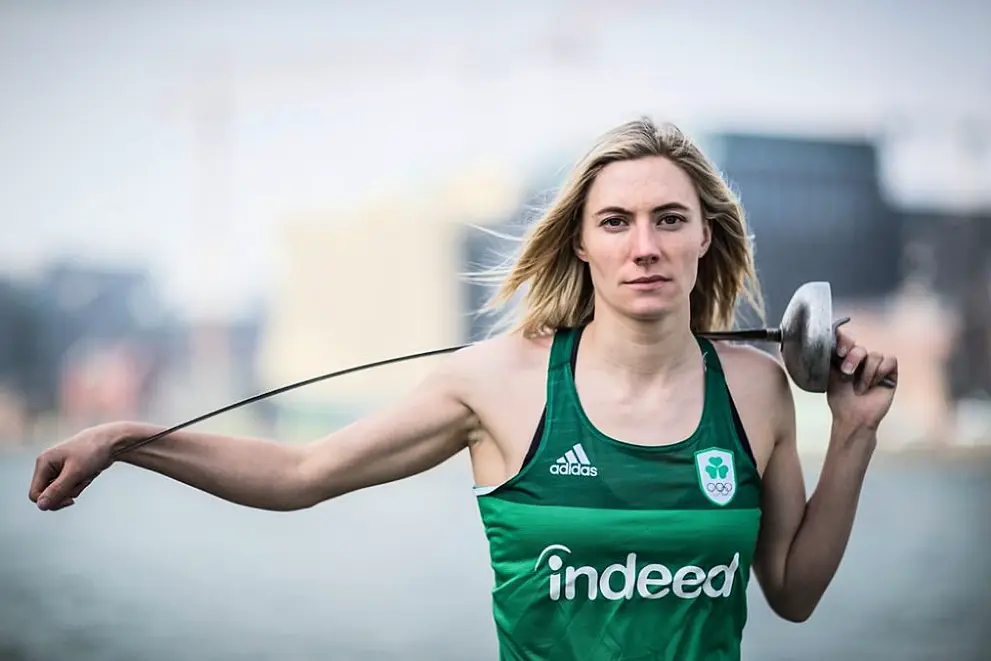 "That's all I think about at the moment: qualifying for the Games," says the Meath native.
Other routes to the Olympics are available, like finishing in the top three at the World Championships or through the world rankings, but those would be circuitous compared to the Euros method.
For her first Olympic adventure in London, Coyle took the world rankings pathway - it was long and uncertain. Her road to Rio was also meandering.
Certainty would make the next year far easier to plan. Training could be nailed down, as could the competitions she wants to enter.
Horse riding was Coyle's first foray into the non-running and swimming elements which populate pentathlon. She subsequently progressed to pony club tetrathlon which involves all except fencing.
"It was about making friends and going on these cool trips," says Coyle.
I wasn't good when I first started. I didn't even make the Meath first team.

Eventually, I started to train more and I won nationals. Then I added fencing into the elements.

It just snowballed. If you'd told me back at 17, 'You're still going to be doing this ten years later', I would have been a bit like, 'Really, I'm not very good at it'.
Though fencing was the final discipline which she picked up last, it has become one of her strengths. That's good considering its importance.
The sands of modern pentathlon are constantly shifting. At a congress once every four years a greater weight may be placed on one of the elements. Last year, running became more important and swimming less so. She now spends more time grinding out the miles and less in the pool.
Abbotstown and the National Sports Campus is where Coyle spends her time. Martina McCarthy, who works for the Sport Ireland Institute, oversees her training load.
"She will manage all the other elements so that one coach isn't trying to get too much out of one thing," tells Coyle.
"Sometimes, you really need someone like that because you don't want to be in charge of saying, 'I don't want to do this today'. It's good to have someone who can balance it all out."
If she does qualify for her third Olympics, there will be a different feeling this time around. She will go as one of Ireland's main medal hopes. That was not the case in other years.
Learnings from those previous experiences will aid that dream.
The first time I went, I was so wide-eyed. It is an incredible experience. It's actually very mentally draining because you're just looking the whole time at new surroundings, new people. You're going, 'Oh, that's Michael Phelps or that's Simone Biles' and it's really mentally draining.

What I've learned across the two Games - which I definitely employed in Rio - was to go into the Games for half a day and a night and then fly out to our training camp. Modern Pentathlon is always at the end of the Games.

I can go in a day or two before the Games start and then head away to the camp. I already know what it looks like in my head. It's not as draining. Then I can spend two weeks training hard and I can fly back into the Games the day before I compete. There's less distraction and you can get on with the job.
Success at an Olympics cannot simply be quantified as winning a medal. It needs a broader definition, one which can allow a competitor to hit peak performance - be the best that they can be - and find satisfaction in that place.
At London and Rio, Coyle set personal bests. If she does so again in Tokyo, a medal may follow.
Jobs site Indeed unveiled a new partnership with the Irish Olympic Team for Tokyo 2020 at their new building in Capital Dock. Pictured at the announcement was two-time Olympic Pentathlete Natalya Coyle
Photos by Ramsey Cardy/Sportsfile & INPHO/Billy Stickland