It is indisputable that the benefits and joys of sport should be available to everyone. But is sport truly inclusive towards the transgender community? Do young trans people in Ireland feel free to play and enjoy sport?
Hearing my true name called out at training still makes me smile.

I feel like I exist.
- Cameron Keighron, transgender athlete
The importance of being able to participate in and enjoy sport is not something that should be underestimated. The benefits that sport provides are not just physical but mental, emotional and social and can enrich a life immeasurably. Therefore, where a person or group of people might feel unable to participate in sport, a conversation needs to be had about any barriers that might exist to their right to enjoy sport as freely as the rest of us.
And that is why it is absolutely essential that we have a discussion about transgender people and their participation in sport, starting by talking to trans athletes themselves about their own experiences.
Two young trans athletes agreed to talk to Balls.ie about their personal experiences with sport.
Positive steps
There have been positive steps taken in recent years both domestically and internationally regarding sports regulation and its treatment of transgender athletes. In June 2014, Joan Burton – then the Minister for Social Protection – published a revised version of the Gender Recognition Bill (now the Gender Recognition Act) that removed a clause (Head 26) stating the following:
Head 26 enables a body responsible for regulating participation in competitive gender-affected sporting events to prohibit or restrict the participation in such events of a person whose acquired gender has been recognised under the Act and who is seeking to compete in the acquired gender. The prohibition or restriction can be effected if it is deemed necessary to secure fair competition or the safety of other competitors.
There is, as a result of the clause's removal, no mention in the Gender Recognition Act of any ability of sports bodies to restrict trans people's participation in sports.
On a global front the International Olympic Committee, after a meeting in November 2015, overturned restrictive recommendations it had set down in 2003. These had stated that a trans athlete should have undergone both surgery and at least two years of hormone therapy in order to take part in international competition. The IOC now called these requirements "inconsistent with developing legislation and notions of human rights."
Under the latest guidelines any athlete transitioning from male to female must prove that they have had testosterone levels below a level of 10 nanomols per litre "for at least twelve months prior" to competition. Female to male athletes can compete "without restriction".
Normalising the participation of trans athletes
Below: Trans triathlete Chris Mosier featured in Nike's 'Unlimited' campaign
https://www.youtube.com/watch?v=_gq8PO9XK2Y
Despite these new guidelines applying for this summer's Olympic Games in Rio de Janeiro, there were no openly transgender athletes competing in the Games, though there had been reports during the summer that two closeted trans athletes set to compete in Rio were considering coming out beforehand. Had they decided to come out, it would undoubtedly have done a lot to raise awareness of trans rights globally. Triathlete Chris Mosier, the first transgender athlete to compete for the USA, stated in an interview that he believed the reason the athletes didn't come out was because "we are still a long way from normalising the participation and success of trans athletes".
A young athlete from Ireland wants to change this.
The transgender woman, who does not wish to be named, is nineteen years old, competes in archery and harbours ambitions of participating at the Olympics in 2024. Overall her experience with sport has been very positive, starting with the day after she came out, when she says her archery club-mates were "even more welcoming (than before), if anything":
The day I came out was a Tuesday and training was on a Wednesday. When I went to archery on Wednesday to sign in, my name was already changed. And that was amazing.
She says that she "hopped from sport to sport for years" before settling on archery after a coach told her she had a talent for the sport. Her gender wasn't an issue when she was younger, she says, because her club tended to "merge (children) into one group" due mainly to the relatively low participation numbers. Even at college level the sport "is gender neutral. It's based off the top four shooters from each team." Outside of college sport, though, she is still required to compete in the male category until she has completed two years of hormone treatment (she has been under treatment for "four or five months"). However, she makes the point that as long as she gets her testosterone levels below a certain point (proven through blood tests) she can compete as a female, and this may occur within the two year period - so there may be a certain "leeway".
While she admits that the restrictions on her are "disappointing", she accepts the situation:
I appreciate that there are rules. I don't think I'd be at any advantage at this point (having gone through treatment) - but when I came out and before I was ever on hormones I would appreciate there would be a big advantage, because male archers tend to shoot stronger bows so there is less 'give' when they're flying through the air. I appreciate that they have to be cautious about that.
Despite the fact that her experience with sport has been overwhelmingly positive, she does acknowledge that she knows "very few trans people who do sports", and that only one of her trans friends actually does sport (through participation in Scouts).
One problem she identifies is the discomfort young trans people can feel in sports changing room environments. She says she would get changed in a cubicle when playing for an all-boys rugby team in school because she "was very self-conscious" about her physical appearance. She points to the example of young trans men using a binder as a particular source of self-consciousness amongst young trans people in a changing room environment with cisgender classmates or team-mates.
And she isn't the only young transgender sportsperson who is speaking out about these issues.
Cameron Keighron is in agreement that sport can be a difficult environment for a young transgender person to step into. A 22-year-old former student (current staff member) at NUI Galway who has competed in the sport of fencing for two years, he says that he started fencing at a time when he was "not ready to come out" and that this caused him to question his own participation in sport:
I was afraid of being kicked off the team, being denied the opportunity to fence at all and being seen as the 'freak' by other clubs or at competitions. I was very self-conscious that someone would find out 'my secret' and would spend hours agonizing over going to training or not because I didn't know if I could face being put into a box that just wasn't me. I contemplated quitting and moving away from sport for good, just to avoid the negative feelings I was having. To avoid destroying my self-confidence any more. At times I hated myself for not having the courage to be who I really was.
But he admits that, upon coming out to his team-mates at NUI Galway's fencing club, his fears soon dissipated:
It is only recently, since coming out to my team, that I have started to enjoy the sport again, with opportunities to fence for the correct gender with the full backing of my team-mates.

It's important to note that the negative feelings I was having wasn't down to the club environment. They are one of the most trans friendly clubs I have come across. They are open and accepting to people from all walks of life.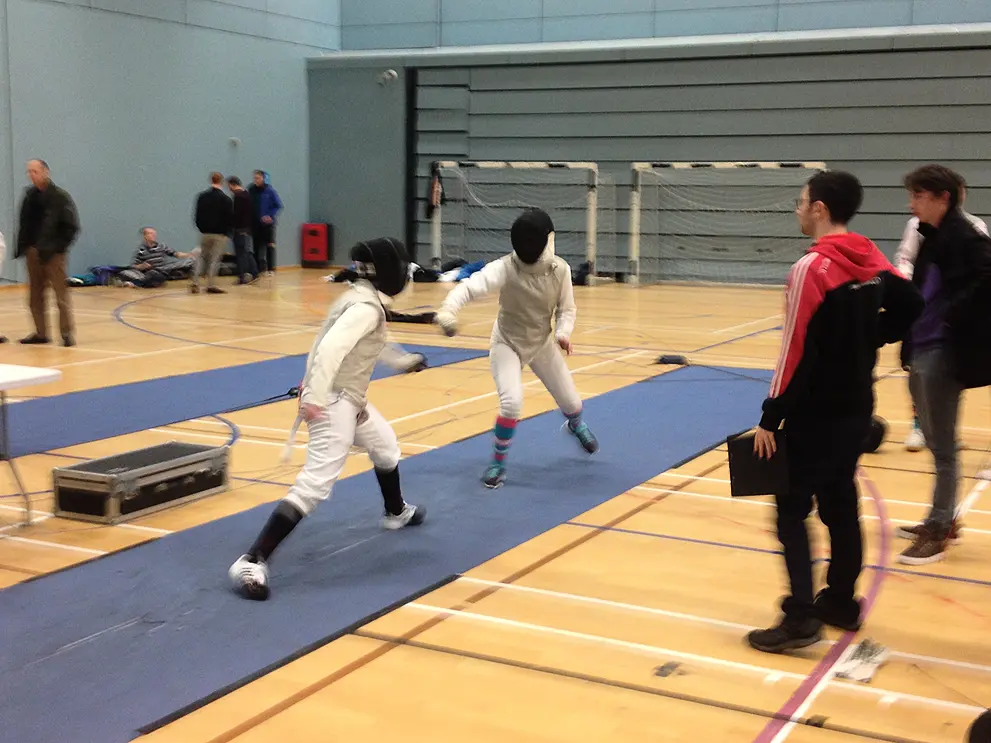 Cameron speaks of a "sense of relief" when he finally came out to his team-mates and says that prior to opening up about his true identity he "had made all these plans of how I was going to avoid training, or them (his team-mates), or both" in the event of a negative reaction. But the response he got couldn't have been further from what he had feared:
I sent a message and was told that who I was didn't change anything. Hearing my true name called out at training still makes me smile. I feel like I exist. I am one of the guys. Being able to enjoy fencing, with the full support of my team, is something that I just can't put into words.
Like the young woman, Cameron thinks that trans people "can shy away from sports", often because of what he calls "a lack of acceptance through ignorance." He makes the point that "sports clubs often have never interacted with trans people or (don't) know how to make their clubs more trans friendly." He is of the view that sport is "losing some very talented people" because of its ignorance in how it treats aspiring trans athletes - and also emphasises that, more importantly, trans people are losing out on something that could be hugely beneficial to their well-being:
Being more trans inclusive can really boost the mental health and self confidence of trans people in Ireland...by simply having gender neutral changing facilities and self-identifying team options, sports become more accessible.
It is clear that their participation in sport is so important to each of these young people, and has played a huge role in allowing them to feel accepted and loved for who they are. And their passion for sport is a key reason why each has agreed to speak out about the issue. Cameron admits he "wasn't ready" to be a figurehead for trans rights when he came out, but says "with a lot of support, I am now" and hopes to challenge the "lack of knowledge or experience of trans people in most clubs here in NUI Galway". And he thinks that with enough raising of awareness, sport can become more welcoming for trans people:
I think LGBT+ awareness weeks, campaigns and training can really have a positive impact on how sports teams cater to the wider population...embracing the idea of moving away from the stereotype of hiding your differences and empowering sports players to celebrate their diversity.
As for the young woman, she hopes to become an inspiration to other trans people through sport. Her dream is that this will culminate in an appearance at the Olympic Games:
We (her and her coach) are aiming for the 2024 Olympics...basically any competition that will take me towards the Olympics, that's my goal!

I think it is important for younger trans people to know that there is a trans person in Ireland that actually has a goal, and it's the Olympics, and they don't feel like it's a ridiculous goal to believe it themselves.
But even if she never makes it to the Olympics, she has already set about trying to be that inspiration.
I purposely came out in the last year (of school) to show any students currently in the school or (in the years) below who might feel that they won't be accepted...that they can (be accepted). To encourage people to be themselves. So that's what I want to do, on a small scale, is just to encourage people to do something that they want to do and not to feel like because they're trans they can't.
(Thanks to Transgender Equality Network Ireland (TENI) for their help with this piece. You can visit their website here, their Facebook page here, their Twitter here or contact their offices on (01) 873 3575 or by emailing [email protected])