Just an hour before the Ireland squad for the November Internationals was announced on Thursday afternoon, Conor Murray spoke to the media in Ballsbridge.
It would have been interesting the hear Murray's view had he known that Munster and Ireland teammate Simon Zebo - also a very close friend - was going to be omitted from the squad.
Later in the day, speaking on Radio One's Ray D'Arcy Show, Murray said that Zebo had confided that he did not think he would make the Ireland squad for the games against South Africa, Fiji and Argentina.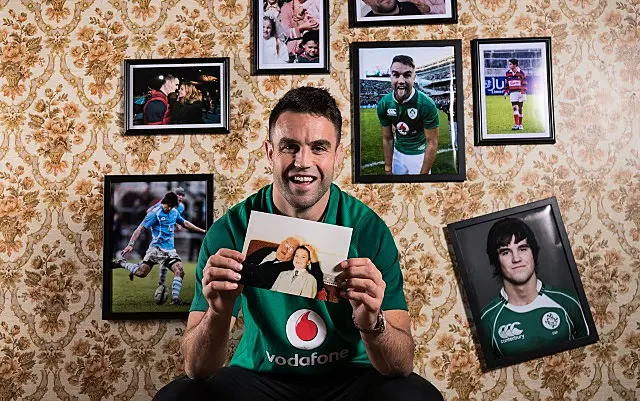 Murray said that Zebo knew the risk he was taking when he chose not to extend his time with Munster and instead head to France next season.
It's obviously not my decision to make but he's obviously one of my best mates and it would be nice to still play with him in the green jersey as well.

From my own selfish point of view - as a mate and to have the best players in the squad with you - I'd like to see him continue to play. He knows the risks that are there when he decided to move. He's well aware of that but he'd like to keep playing too.
The scrum-half understands that if the IRFU make an exception for Zebo, it could open the floodgates for more Irish players to move abroad.
I completely see that risk, that if they make an exception, other players will see that as an opportunity to go and earn a bit more and continue to play international rugby.

There's another side of it as well: if you're good enough, you should play also. There hasn't been an official rule but it's everyone's understanding that to play for Ireland and be selected you have to play in the country for one of the provinces. Speaking to Simon, he knows that too.

It's a risk, he's a really proud Munster man, a really proud Corkman; loves playing for his country - it would be really tough for him to take if he couldn't represent his country. He's well aware of that risk.
Murray is signed up to play with Munster until after the 2019 World Cup in Japan. After that, he doesn't know that is going to happen.
It's head-turning, you have weigh up your options at the end of that year or the end of that campaign and see where you stand.

Certainly from Zeebs' point of view, it's a lifestyle change for his partner Vera and Jacob and Sofia, his two young kids. You have to look at those things as well, it all depends on the set-up at the time.

Those options are nice options to have as well. We're very well looked after here. Like I said before, that's where I am until the end of the World Cup.
Ireland and Munster scrum-half Conor Murray today launched "Who We Are is How We Play", the next phase of Vodafone Ireland's "Team Of Us" sponsorship of the Irish rugby team.
This season Vodafone will give fans a rare glimpse into the childhoods of Conor Murray, Rory Best, Tiernan O'Halloran and Tadhg Furlong in their new campaign which will be live from November 1st.