A strong endorsement for the IRFU's Irish-qualified exiles system can be found in the spine of the Ireland U20s team. Noel McNamara's starting centres and full-back were identified in England as schoolboy players.
Hayden Hyde, Oran McNulty and Dan Kelly are all products of the Irish Exiles programme. Hyde is now in the Ulster academy while Connacht is home for McNulty but Kelly remains based in the UK playing his rugby with Loughborough where he is also pursuing a degree.
This avenue is becoming a profitable one for Irish rugby. Will Addison, Billy Burns, Sam Arnold, Ciaran Parker and Mike Haley are just some of the recent graduates.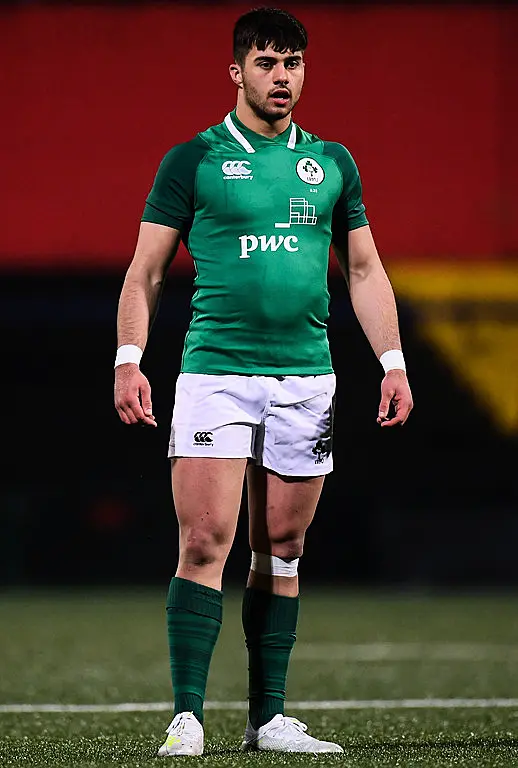 Kelly came through Kirkham Grammar School and spent time in the Sale Sharks academy. The fact that he is still U19 ensures there is plenty of time for him to be brought under the Irish rugby umbrella and it is understood discussions concerning that have already taken place.
The centre demonstrated his considerable skillset during a superb 36-22 bonus-point win over Wales as Ireland made it two from two in the U20 Six Nations.
Rugby's evolution to a new physical extreme has had a remarkable impact on centres. Consider the fact that the average weight of all four centres in the first World Cup final of 1987 was 81.75kg. Come last year it was an eyewatering 99.5kg.
The game has moved to a new level of skill and savagery. For certain positions, that has lead to bigger and bulkier players. But the midfield is different. Gargantuan lumps cannot perform at 12 and 13. Defensively they will be stretched and targeted. In the heartbeat of a backline, skill and speed still matter.
Kelly ticks all the boxes physically, standing at 6'0 and weighing in at a 96kg. Yet it is what he does with that size that makes him such a prospect.
His first points in green came early in the game as he used all of his power to drive over from close range.
Kelly watches Lewis Finlay forage for ball and bides his time.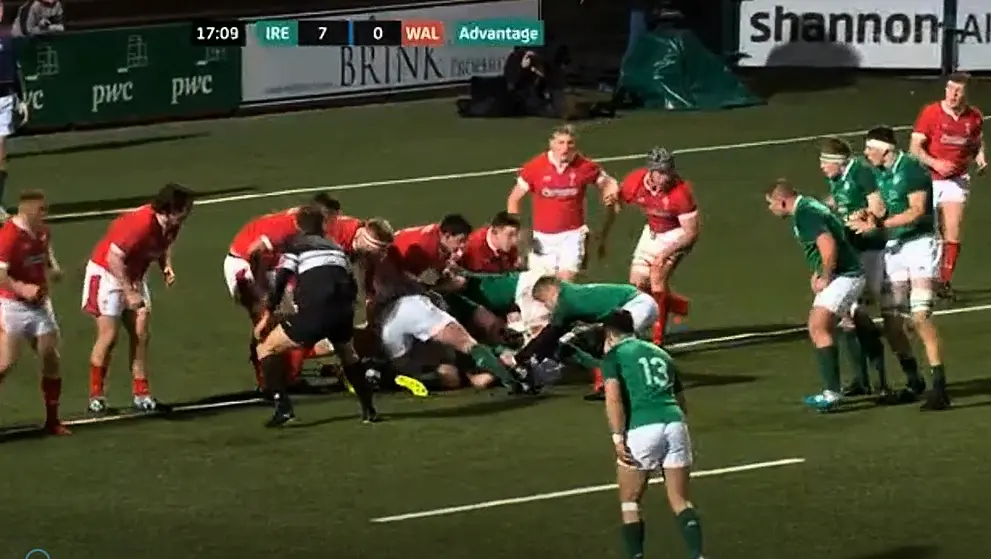 He times his run perfectly so that he is at full speed when he receives the pass. A great line identifies the gap and he touches down.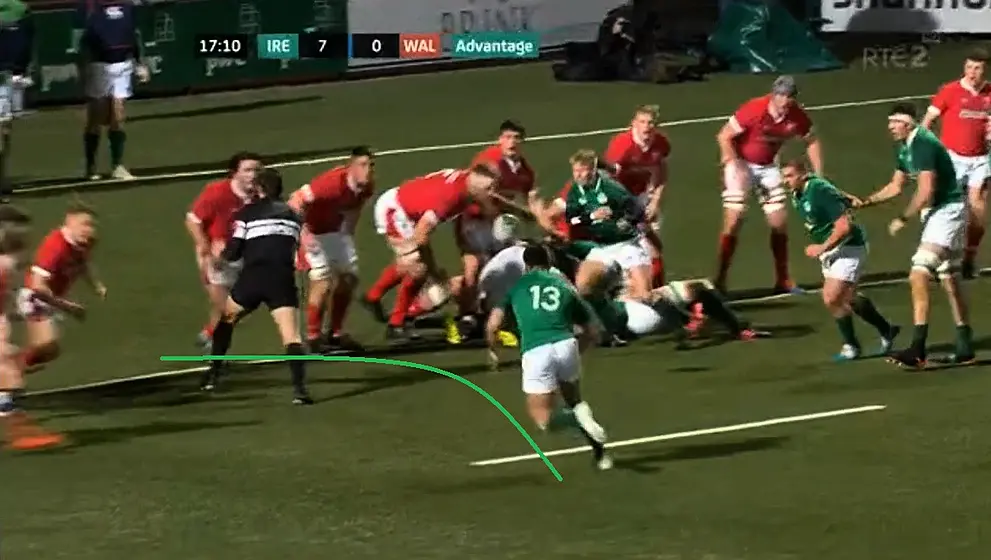 Once again in the second half, Kelly used his combination of speed, size and footwork to create a big break for Ireland.
Finlay passes to outhalf Crowley who goes wide to inside centre Hyde. Just out of shot, Kelly begins to move forward.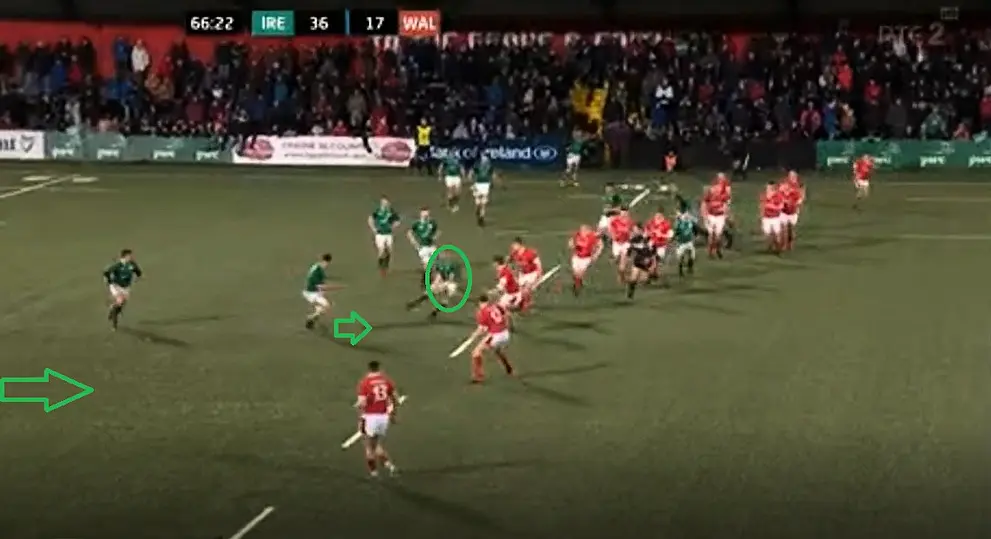 He times his run perfectly. Ireland also do well to get three passes wide. Opposite him, the Welsh 13 has shot up as they don't have numbers. Their defence is drifting across.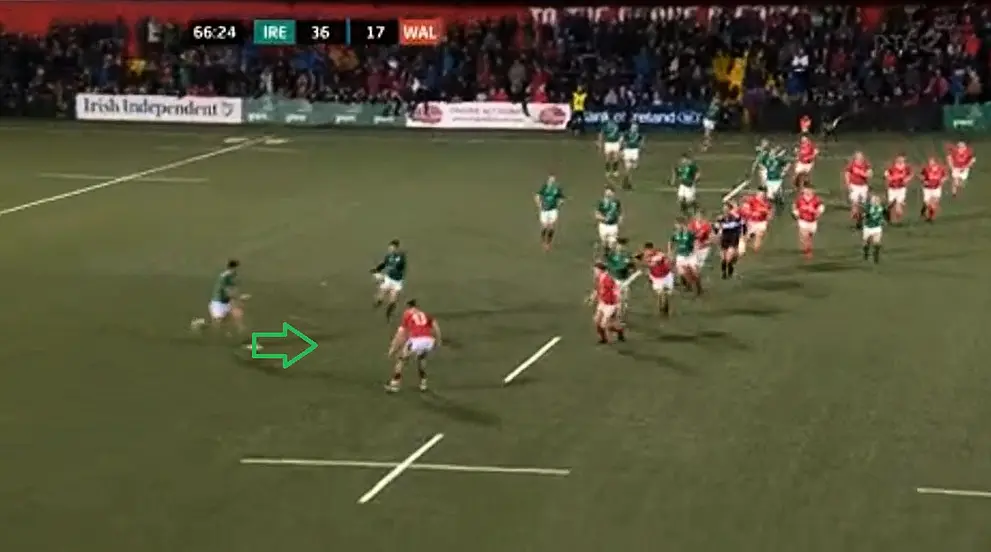 The Irish centre steps back inside and picks a gap just inside David McCann. His pace ensures the stretching defenders can't catch him and he runs upfield.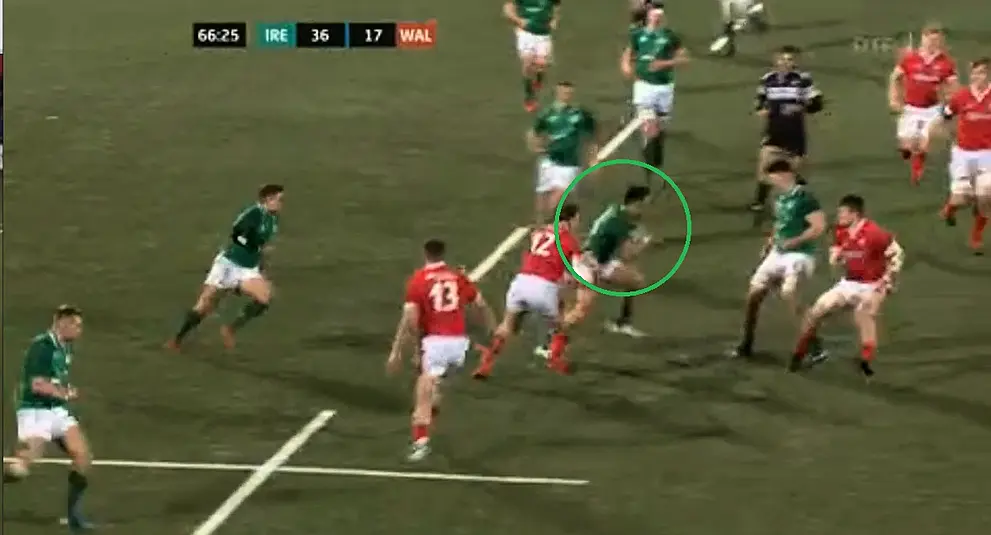 A perfect pass back inside finds Finlay on a good support line. He is eventually dragged down after a considerable gain.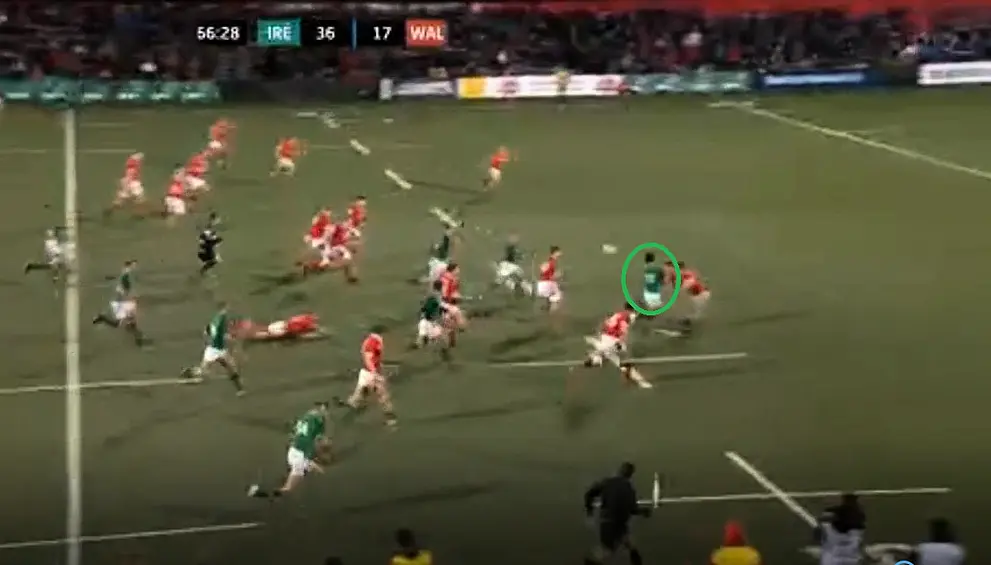 His acceleration over 20 metres and ability to change speed and direction effectively are key skills going forward. Kelly can play at 12 or 13 and goal kicked during his school playing days.
Then there is what he did on the other side of the ball. While their attacking ability is obvious, the team's second-half defensive performance was equally important.
"One thing this team has in absolute spades is character," the head coach said after the match. "When we were under the pump in the second half, lesser teams might roll over."
Kelly embodied that unrelenting determination to defend.
In the example above, Wales use a standard defensive structure. The problem came because the shooter did not make his tackle and stood off after initially committing. As well as that, their jagged defence could not cover when Kelly moved back infield.
Ireland used a similar system. For many teams, the 13 operates as a joint in the defensive line. They must decide if the ball is coming inside, straight on or going wide.
Kelly comes up hard and reads the Welsh outhalf's wrap around perfectly. His hit results in a crucial turnover just outside the 22.
The fact that the 19-year old has another year at this level is encouraging individually and collectively. Already seven players from last year's Grand Slam have contributed to this campaign and even exercises like the scheduled training session with the senior squad this week will prove beneficial.
Next up is a trip to Franklin's Gardens to take on the only other undefeated team left in the competition. For the likes of Kelly, it is an opportunity to show England exactly what they missed out on.