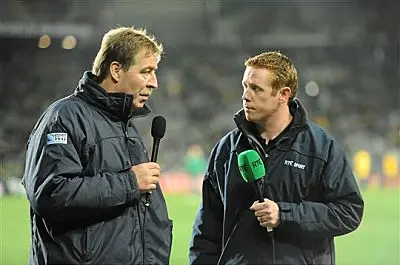 Donal Lenihan was not impressed with Edinburgh's efforts at home to Munster last Saturday. In fact, he was so unimpressed he is now suggesting we pull the plug on the whole Rabo Direct Pro12 competition.
He thinks the Irish provinces would be far better off in amongst the English clubs in the Aviva premiership than persisting with this Celtic League/Magners League/Rabo Direct Pro12/Whatever it'll be called next year competition which involved playing poor opposition in front of paltry crowds in Wales and Scotland.
The Irish provinces would offer a far more competitive presence in that league than the Welsh regions whom Premiership Rugby Limited were very open to inviting on board at one stage during the European standoff.

Ireland has plenty to offer in terms of highly competitive teams, a strong rugby history and tradition attaching to all our provinces and a vibrant support base. With so many Irish people now based in England, our teams would be very well supported at away fixtures, thus swelling the attendances at those games.

The likelihood is that a broadcast deal covering such a strong domestic league would be worth far more to Irish rugby than the current Rabo-Direct package and the quality of opposition would be consistently higher.
Having observed with some disdain the attempts of the Welsh regions to hop aboard the Aviva Premiership bandwagon, it seems strange to see a former Irish team manager saying we should clamber aboard. But he argues if the last twelve months have taught us anything, it's that the IRFU need to think radically in the future.
Read the rest of Lenihan's column in the Irish Examiner here.