I saw a beggar leaning on his wooden crutch / He said to me, "you must not ask for so much" / And a pretty woman leaning in her darkened door / She cried to me, "hey, why not ask for more?"
- Leonard Cohen, "Bird On A Wire"
Even as the usual caveats surfaced, it was difficult to rationalise Ireland's defeat of New Zealand on Saturday night as anything other than an end in and of itself, a reason for celebration.
Yes, it was not the World Cup, nor was it a match won in the inhospitable surroundings of Auckland or Wellington. Only Ireland's second win in 31 attempts against the All Blacks, it only hints at a sense of parity (let alone superiority) that may as yet only be fleeting.
As an obstacle that had never been overcome in such circumstances, however, reliant as it was on Ireland's consistent brilliance over 80-minutes against the world's best, attempts to denigrate its validity, importance or impressiveness on account of what it was not, is plainly ridiculous.

Capturing the attention of the Irish sporting public on Saturday evening, figures released yesterday outlined the edge this glamour tie had on both of the All-Ireland finals in Gaelic football and hurling. So, this really is the people's sport then? Well, probably not.
Although the Grand Slam decider against England has been the most-viewed event of the year on Irish screens, that England's World Cup semi-final defeat to Croatia sits second on this list offers its own reckoning as to the hold football retains. Alternatively, as Balls' own Gavin Cooney demonstrated in the immediate aftermath of that Grand Slam success, witnessing anyone 'beating England, you feel, remains the people's sport.'
What these viewing figures do attest to, however, is the genuine intrigue surrounding a highly-respected and, crucially, successful Ireland team take on the All Blacks; a sensational sporting outfit whose reputation transcends the game at which they excel.
This is a feature that comes in quite handy when the majority of the reported one million or so tuning in on Saturday night would scarcely have had a grasp on the rules (or laws, as they are) of the game in question; yours truly no exception to this wide-ranging assumption - patiently waiting for the referee to raise his hand and let me know whether I ought to be pleased or not.
What with the statistical trend Ireland's win bucked, the wonderful sight of Jacob Stockdale's decisive try, the fervent atmosphere within the Aviva, and the outpouring of joy that followed Waynes Barnes' final whistle, there were plenty of easily-processed aspects of this game to enjoy, nevertheless.
Equally palpable, however, was the extreme nature in which the physicality of this game took hold. From an Irish perspective alone, the likes of Peter O'Mahony, Cian Healy and Tadhg Furlong showed the traces of their exhaustion or inability to go on in no uncertain terms. All perfectly in keeping with the effort exacted for the cause, it was nevertheless quite disconcerting to witness.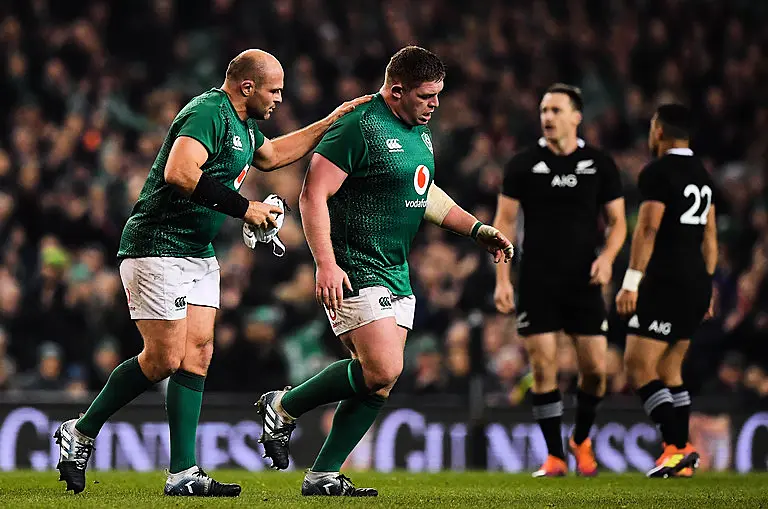 The toll that rugby takes on its players is no great secret. As Leinster's head physiotherapist Garreth Farrell discussed in an interview with Balls, the increased demands and size of our modern rugby players has resulted in a higher propensity for injuries across the game.
To the naked eye, this can manifest itself in any number of ways; from the cosmetic to the career-threatening, cauliflower ears to the repeated blows to the back and neck O'Mahony was subject to carrying out that vital late turnover.
It is perhaps testament to the magnitude of Ireland's achievement on Saturday night that it required such a rigorous physical effort. Although some players were more capable than others to enjoy the immediate moment after Barnes blew his whistle, it was telling how many players simply fell to their knees, and thanked God it was over.
THEY'VE DONE IT!!!!! https://t.co/S4xUIVmxVk #RTErugby pic.twitter.com/ESgCA6UX6K

— RTÉ Rugby (@RTErugby) November 17, 2018
Hence those opening lines from Leonard Cohen (this was, after all, Canada's big weekend really, right?).
I saw a beggar leaning on his wooden crutch / He said to me, "you must not ask for so much"
From one perspective, any number of adjectives ('heroic', 'fearless', 'brave', etc) will not take away from the long-term impact such exertions surely have on the players in question. Yes, they have given a significant portion of the Irish public an unforgettable night, and will perhaps deliver more still. Realistically though, at what cost does it come?
In a game that offered almost 400 attempted tackles between Ireland and New Zealand, it beggars belief how anyone who makes a long career of this gets out in tact.
And a pretty woman leaning in her darkened door / She cried to me, "hey, why not ask for more?"
Yet, then there is the success; that crucial factor determining our ever-growing national interest in this relatively minor sport. Under Joe Schmidt, the Ireland rugby team have done things never previously achieved. In certain cases, feats that never would have been presumed feasible.
Isn't that the issue with success, though? It leads into demands for more, and more, and more again. As much as Saturday's win was celebrated, both the detractors and the boosters will quickly turn their attention toward the Rugby World Cup in Japan next Autumn, and these players will be required to do it all over again.
Whilst not professing to have any intimate knowledge of rugby or physiology, how often can individuals realistically go this deep down into the well before they drown? Saturday night was a wonderful occasion and a serious sporting achievement on Ireland's part, but Christ almighty, like Marge Simpson fretting over the cannonballs being fired into Homer's stomach, this kind of rugby 'is designed to hurt! It's designed to hurt!'