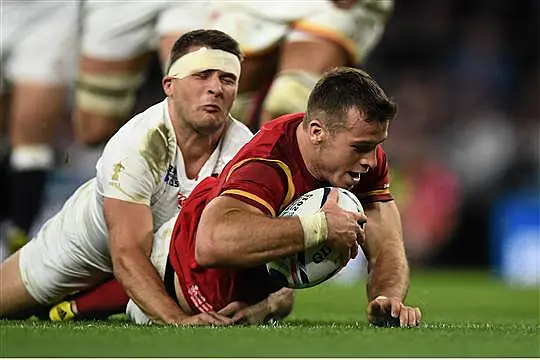 A try from Gareth Davies, a pressure penalty from Dan Biggar and Chris Robshaw turning down the chance of a draw all culminated to see Wales defeat England at Twickenham.
Despite suffering numerous injuries in the game, the Welsh came out on top. They now lead Pool A on nine points with their injury hit squad facing Fiji on Thursday.
Here's how the many Irish viewers on Twitter reacted to the victory for Warren Gatland's side.
Wow.. Wales . Wrote ye off but ye have some balls... #biggarballs #100%man

— Ronan O Gara (@RonanOGara10) September 26, 2015
Wow! This WC just gets better & better... England massively up against it now.

— Brian O'Driscoll (@BrianODriscoll) September 26, 2015
Brave & Brilliant in equal measure. Take a bow Wales. Ballsy...

— Ryle Nugent (@RyleNugentRTE) September 26, 2015
A win against all the odds one of bravery and grit well done Wales. Well done. What a win.

— Brent Pope (@RealBrentPope) September 26, 2015
That was brilliant from Wales. That is desire and character at its best.

— Jason MCATEER (@MCATEER4) September 26, 2015
Rule 1. Take the points. Rule 2. See Rule 1.

— Donn O Sullivan (@DonnOSullivan) September 26, 2015
It wasn't just the decision to go for touch, that entire second half was a bottle by England.

— Eoin McDevitt (@EoinMcDevitt) September 26, 2015
Take a bow Biggar... #ballsofsteel

— Sean Dougall (@seandougall) September 26, 2015
What a game of Rugby that was!!!!! ? ? ?

— Noel Hunt (@boyhunt) September 26, 2015
That's what you call spoiling the party #ENGvWAL #RWC15

— Fergus McFadden (@fergmcfadden) September 26, 2015
What a game of rugby! Massive heart by Wales! #RWC

— Paul Murphy (@PaulMurphykk) September 26, 2015
No sympathy for Lancaster with the squad he picked !! Well done @WalesRugby

— Conor.mortimer (@Conmort) September 26, 2015
Wow

— jj hanrahan (@JjHanrahan) September 26, 2015
What an unbelievable game of Rugby!! Wales never gave up!! Super performance!! #RubgyWorldCup

— Christopher Joyce (@Joycey27) September 26, 2015
HOLY SHIT BALLS

— Ger Gilroy (@gergilroy) September 26, 2015
Incredible comeback by Wales. And a match for the ages. They showed more courage then England and risked more to win it. Magnificent.

— Whiff of Cordite (@WhiffofCordite) September 26, 2015
England's bench was useless. Sam Warburton and Alun-Wyn Jones have my eternal admiration. Late pen against Warbs was wrong call!

— Whiff of Cordite (@WhiffofCordite) September 26, 2015
Picture credit: Brendan Moran / SPORTSFILE