Ireland and Leinster out-half, Johnny Sexton has been named the Guinness Rugby Writers of Ireland Player of the Year at the annual Guinness Rugby Writers of Ireland Awards hosted at the Aviva Stadium.
Sexton played a vital role in what has been a historic year for Irish rugby. With Ireland Sexton has won the NatWest Six Nations, a Grand Slam, the Triple Crown, and a first series win on Australian soil since 1979, and with Leinster, the Guinness PRO14 and European Rugby Champions Cup.
This weekend's victory over New Zealand in Dublin, 113 years in the making, has further cemented his position as the best out-half in the world.
Sexton was honoured at the gala awards evening, hosted by Gavin Krenski and Rory Sheridan of Guinness, and Simon Lewis, Chairman of the Rugby Writers of Ireland.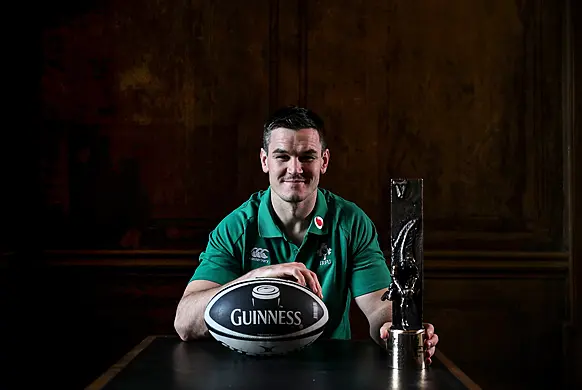 Sexton spoke of his pride at winning the award, especially looking back at the players that have been chosen over the years:
It's a very prestigious award to win in Ireland. You look at the list of players that have won it before, it's very pleasing that your efforts can be acknowledged. It could have gone to many, many players with the season we had in this country, I can think of six or seven lads just off the top of my head, so I'm very happy to have been chosen.
Awards were also presented to the Ireland's Men's National Team, Dr. Claire Molloy, Leinster Rugby and Lansdowne FC, while Gerry 'Ginger' McLoughlin and John O'Driscoll were inducted into the Guinness Rugby Writers of Ireland Hall of Fame.