Robin Copeland wasn't at Connacht last season to experience how the province worked under Kieran Keane but from what he's heard, it's like "chalk and cheese" in comparison to the new management of Andy Friend.
New Zealander Keane left Connacht in May just a season into a three-year deal. Results were bad - Connacht won just seven games in the PRO14 - but his departure was about more than a lack of points: there were also reports that he was hard to work with.
"Yeah, definitely," answers Copeland when asked if Friend is a more amiable personality. Considering his surname, it probably shouldn't be that much of a surprise.
Not to bad mouth KK but he was a bit Marmite. A lot of the people liked him, a lot of the people didn't.

I know from speaking to a lot of the backroom staff, that was where a lot of the miscommunication was: there was a breakdown between what was best for the team and what was best for the organisation; what was best for the fans and how do we mingle everyone together.

It's a business at the end of the day and if everything is not working together, it's not going to be profitable, it's not going to be successful.

I don't think KK saw that as much - he wasn't interested in that. That's the feedback I've got.
Friend - a 49-year-old Australian whose most recent job prior to taking over at Connacht was as head coach to the Australian Sevens team - has brought a more holistic approach than Keane. It's one appreciated by Copeland, and many others at the Sportsground.
"Everyone has an input, everyone is building towards something and all those pieces and all those cogs have to work together," said Copeland who was speaking at an eir Sport Guinness PRO14 event on Wednesday.
"There's a feeling around the place that he wants to get everyone involved and he's bringing families in and he's bringing staff in. We have to get to know the backroom staff. There's a genuine engagement with the fans in a fun way.
"Creating that culture is something Andy has tried to do and I think everyone has bought into it. Every day I go in, I'm like, 'This is a genuinely enjoyable place to be and a genuinely enjoyable place to work every day' - not just for the players."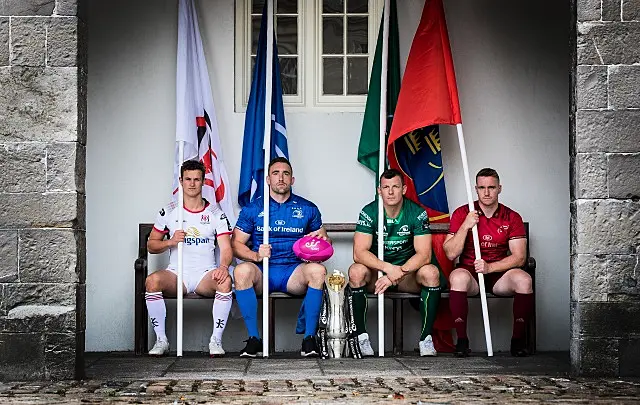 From the moment Friend arrived, Copeland felt that he blended well with the assistant coaches already at the club. That was a feeling also expressed by those coaches.
It's a coaching staff which is now on all the same page according to Copeland; the miscommunication of the previous regime is no more. Friend's brand of rugby also excites.
"Every training session is tough and we're pushing ourselves to the max.
"No one lets things slide. If something isn't good enough you're told it's not good enough and that's not the standard that anyone expects because people's livelihoods are on the line."
Essentially, Copeland joined Connacht as a replacement for John Muldoon. The Portumna man left Connacht to join Pat Lam at Bristol.
Those are big shoes to fill - Muldoon had a 17-year association with the province. Fortunately, he's not the only who will wear them.
"Jarrad Butler is a big leader. Eoghan Masterson is leading the way as well, as is Eoin McKeon, Sean O'Brien and Craig Ronaldson. There's a lot of guys there and when something needs to be said they're the people that are saying it.
"There's not one guy who is the out and out the leader and when something needs to be said he's the one saying it every time, it's a team with eight or nine leaders and you need guys who know what to say at the right time.
"Not just saying it for the sake of white noise. There's a good few guys there that are stepping up and talking so I'm trying to be one of those guys. Try to keep the white noise to a minimum and if I have something important to say, that I feel is genuinely important, I'll say it but there's no real one guy which is good."
It's all good reason for Connacht fans to be optimistic ahead of the new season.
Pictured at the eir Sport announcement that its first broadcast, Cardiff Blues v Leinster will be made free to air to celebrate the channel becoming the NEW home of rugby in Ireland are Ulster Rugby's Billy Burns, Leinster Rugby's Jack Conan, Connacht Rugby's Robin Copeland, and Munster Rugby's Rory Scannell.