All is not well in Munster at the minute.
It is clear that the team is performing well below the levels expected of them, a dip that has coincided with the news that head coach Johann van Graan will be leaving the province at the end of the season.
While results have kept ticking along, the level of play during those games has not been good enough for a team of Munster's standards. It has been very difficult to watch at times, including during the recent win over Ulster.
Writing in his column for the Irish Examiner, Ronan O'Gara said that his former team are employing a brand of rugby that is very difficult for the supporters to get excited about.
Notwithstanding the Zebo sending off and the influence it had on the game in Limerick, I found it an incredibly hard watch. There was plenty to be critical about but I would be venturing into Pat Spillane on Ulster football territory if I did so. And we want to keep this column constructive.

But there are limits to any attention span. This can't be what Munster rugby supporters want to see, surely?..

I'd understand to a degree if, like the Springboks, this was delivering winning rugby and trophies, but Munster never looked to play the ball into the fifteens at any stage...

It was like watching rugby from a bygone era...

I respect every coaching philosophy and if that is the vision of Munster's management, you admire it to a point, but it must be pretty restrictive to play that kind of way. Munster's South African ethos is summed up thus: Maul. Box Kick. Aerial Contest. Play if you win it, defend if you don't...

It's not 'being more expansive'. That's a glib catch-all. What you want is smart rugby and playing to your strengths. For sure, Munster are being held back at the moment by their inexperience at 10 and being able to figure out how to shape the game to their advantage. But when you look at what Munster has available - Carbery, de Allende, Earls, Conway, Haley Farrell, Murray, Zebo et al – are they playing to their strengths?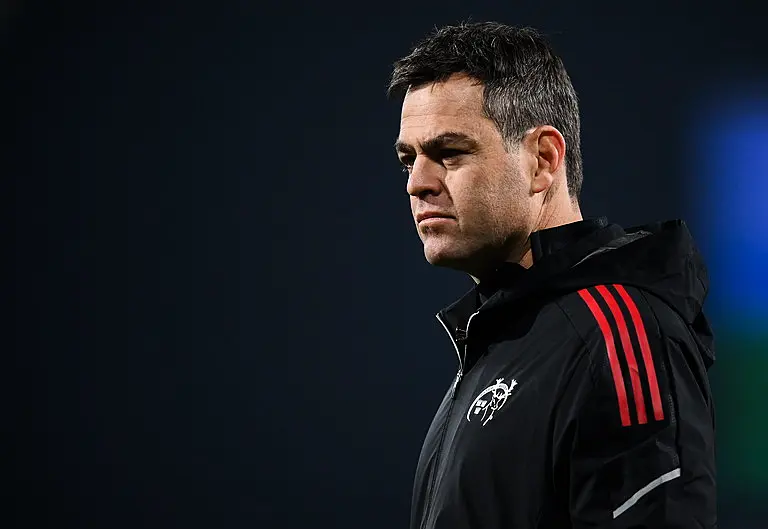 There have been some calls for Munster to replace van Graan with immediate effect, although there have been few suggestions from inside the club that this will be the approach they take.
They are sure to be in the midst of their search the province's next head coach, a position La Rochelle's O'Gara has already ruled himself out of the running for.
He is unsure what management structure Munster will employ moving forward, although he thinks the job may not be as attractive as some within the province believe it is.
One has to hope Munster get their due diligence absolutely spot on in the composition of a new management team. There have been too many revolving doors. It may be Declan Kidney as a DOR, with Graham Rowntree and Mike Prendergast sharing the coaching. I genuinely don't know.

I may be all wrong but some are dreaming if they think Scott Robertson is coming up from New Zealand for the Munster job. People should accept the perception of Munster outside the province is markedly different to that on the inside. The cachet has diminished. There's been a long, fallow period in which Leinster have become the pre-eminent force of Irish rugby and the one people from other countries reference.

The new management would do well to retain some old Munster virtues - honest, hard-working and intelligent rugby, with a smartness to pull Plan A B or C from the locker. The players are there to make that work.
You can read his column in full here.
It will be interesting to see what direction Munster go in, but for now they must concentrate on immediately improving on their recent standard of play.