In an extract from his book, former RFU director Rob Andrew had a piece in the Telegraph titled 'Stuart Lancaster lost the plot at the World Cup... we were treated to a slow-motion car crash.' Here are just some of the lines reserved for the Englishman's reign.
On the inclusion of Sam Burgess:
It was an almighty risk to select him in a World Cup squad on such extremely limited and highly questionable evidence and it proved to be an almighty blunder.
On his World Cup preparation:
I believe he took his eye off the ball.
On the final stages of his leadership:
When we needed clarity, we had distortion; just when we needed a clear road, we had unnecessary clutter.
As far as Andrew and much of the British media were concerned, the blame for England's World Cup failure was predominately pointed at Lancaster.
Lancaster took the England head coaching position after a series of off-field problems, most famously a dwarf-throwing episode during the 2011 World Cup. He set about trying to reform the culture and ethos of the team and over the next four years he secured 2nd place in the Six Nations four years in a row and defeated the All Blacks.
They then failed to progress from their group during a home World Cup. This breakdown cost him his job.
Lancaster was soon offered several positions and was initially reluctant, but several factors convinced him to join Leinster. Firstly, the province kept discussions out of the media while Lancaster was considering the offer, something he hugely appreciated. Secondly, Johnny Sexton, whom he'd never met, sent him an encouraging text:
Let me know what we need to do to get it over the line because we'd love you to come.
Since joining Leinster, there has been a noticeable increase in performance from the province. The Englishman brought the same expansive gameplan to Ireland that he had utilised in his last job.
For example, at England Lancaster prioritised the kick returns. He regularly pointed out to the media and his players that 95% of New Zealand's kicks were contestable. In 2014 he described them as 'unstructured situations' that England were able to recognise but struggled to take advantage of. Slowly he developed Mike Brown, Jack Nowell and Jonny May to become outstanding return options.
It was based on being great in the air and upon landing, immediate decision making. Either the kick-chase was staggered and possible to penetrate, or they would shift the ball wide. It was unacceptable to not beat the first man.
Another common theme with England was the use of his most athletic ball-carrier as both a first-up option but also as a figure capable of shifting focus. At Leinster one of the most explosive carriers is Sean Cronin.
Thus he stands in as the first receiver off a line-out and can either hit up or pass it out the back door. Because he is positioned as first receiver, he attracts attention freeing options outside. In this example, Cronin receives the ball, the winger comes into the line, Henshaw is set through and offloads for the other winger.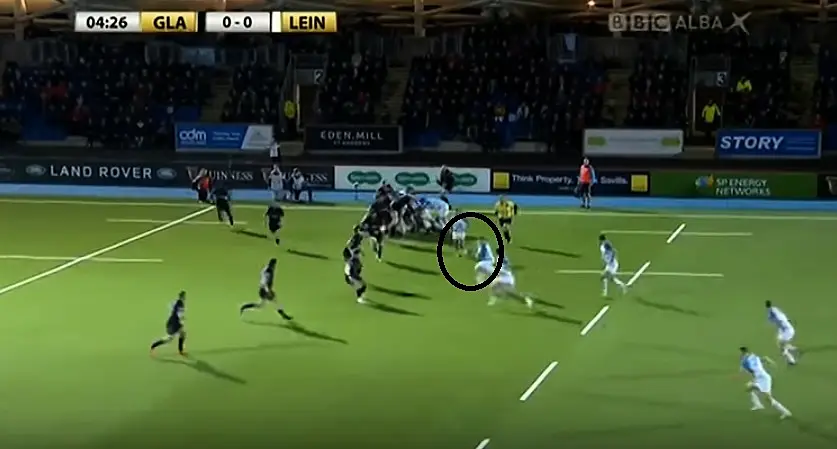 Notice the similarity with Lancaster's England. Here the biggest carrier is Billy Vunipola. He is the first receiver, passes it out the back door to Farrell and once again the winger cuts into the line.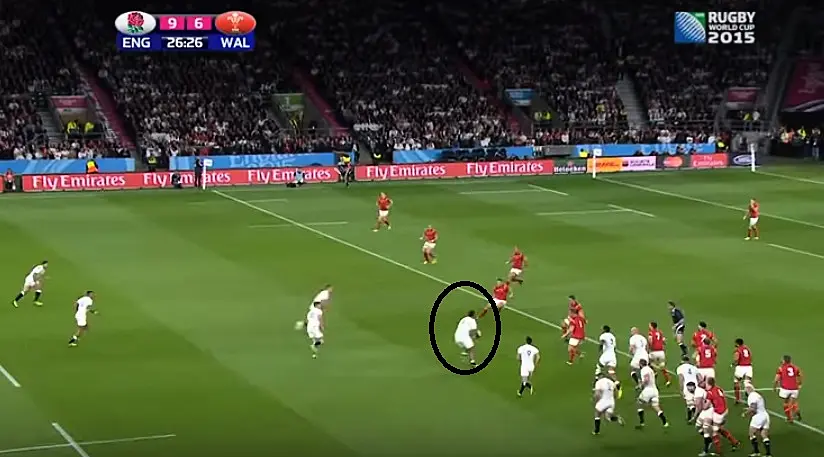 You don't expect a player of this bulk and power to pass the ball, which is why the play works.
Lancaster's downfall with England was his lack of silverware. In the 2015 Six Nations, England scored the most points, the most tries, had the most offloads and kicked the most. They finished second behind Ireland.
The pride of Lancaster's arsenal is his ability to create a high-performance atmosphere. This is dependant on the entire system not merely his work. For example, in the example above it is Leo Cullen's excellent work with the set-piece that allows for a successful line-out and maul. Girvan Dempsey worked with the backs to ensure they ran intelligent lines. Leinster have a superb scrum coach in John Fogarty, most recently credited with swapping Andrew Porter from loosehead prop across to the tighthead position.
For now, looking beyond Joe Schmidt is merely a subject for pub talk. Yet with a Rugby World Cup next year and a coach in the position for five years already it is a topic worth considering.
Thankfully there is no shortage of candidates. Leo Cullen deserves enormous praise for his work with Leinster. Ever since he led out Leicester Tigers as a player to end Munster's 12 years unbeaten at home streak in Europe, it was clear he had an intelligent rugby mind. That day he spoke relentlessly to his players, visibly barking orders during the warm-up to focus the mind.
At Munster, the transition of head coaches has been managed seamlessly thanks to Felix Jones and Jerry Flannery. Nigel Carolan worked wonder with Ireland's under 20s and is now back at Connacht and looking destined for a head coaching position down the line.
But Lancaster's arrival at Leinster was simultaneous with a significant improvement in form. He is still only 48 and the only real obstacle to him being considered for the job is an irrational fear of an Englishman in charge of the Irish team.
Eddie Jones recently signed a two-year extension on his England contract, to bring him to 2021. However, English rugby confirmed a successor would be appointed in 2020 and would work with Jones to manage the transition. The ideal candidate is "the best coach for England, not the best English coach."
Depending on Schmidt's long-term plans, a contingency should be put in place for a similar structure in Ireland. On the long list of potential candidates, Lancaster's name deserves to feature.