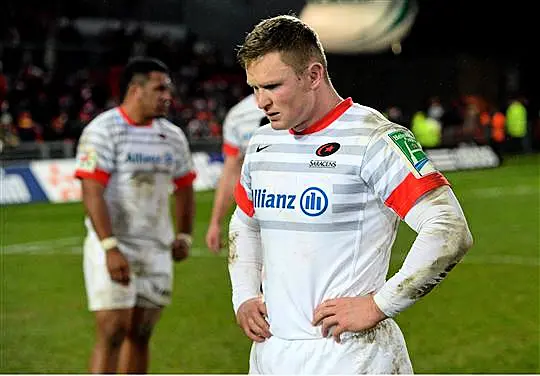 In his latest column, Telegraph rugby correspondent Mick Cleary has strongly criticised a section of Munster fans, who he says unleashed a 'C word'-laden "stream of filth", most of which was directed at Chris Ashton, during their ERCC game against Saracens at Thomond Park on Friday night.
The majority of his column concerns England head coach Stuart Lancaster's search for solidity over "flashness". However, he concludes the piece with a section headed "Foul Mouths in Thomond Park". He initially praises the "wonderful Munster support, that travelling tribe that follows them around Europe".
Of the supposed "other side" to their support, Cleary claims that on Friday night his "eardrums were assailed by the most foul-mouthed obscenities [he has] ever heard at a rugby ground." He continued:
Most of it featured the C word. Most of it was directed at Chris Ashton. And it was unrelenting.

The Thomond crowd pride themselves on observing strict silence for goal-kickers. And they duly did so. Then the stream of filth started again.

One Munster fan, a woman, tried a word of censure. It had no effect. It was debasing. Rugby often takes the high moral ground in relation to football. It has no grounds for complacency.

Of course, this moronic little gathering is a minority. Peer group pressure did not work in silencing them. It is time stewards or the Garda did.
Do any Thomond Park regulars among our readership agree with Cleary? Is there a noticeable section of the crowd who go beyond the limits of acceptability with their cheers and jeers, or are they heard more clearly because they are a jarring, unwelcome exception to Munster's most famous asset? Cleary accepts that they are a minority, but does this "moronic little gathering" exist at all? We'd be interested to know your thoughts.
Unwelcome though such abuse may be, one wonders whether Ashton can play in any away match without escaping at least a few unsavoury catcalls. Read the full piece here.