Late last night, JJ Watt tweeted Brian O'Driscoll saying that if we needed an extra No.8 against France, then he was available.
@jjwatt I think we have room for a SMALL one alright!!! U have to remember to use your arms in defense though not just your head...

— Brian O'Driscoll (@BrianODriscoll) March 7, 2013
This got us thinking, what would the rest of a rugby team made up solely of NFL players look like. So here it is, the Balls.ie NFL Rugby XV.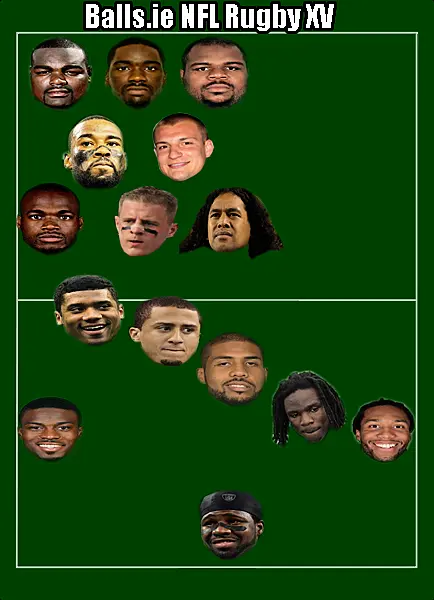 15. Devin Hester
14. Larry Fitzgerald
13. Chris Johnson
12. Arian Foster
11. AJ Green
10. Colin Kaepernick
9. Russell Wilson
8. JJ Watt
7. Troy Polamalu
6. Adrian Peterson
5. Rob Gronkowski
4. Calvin Johnson
3. Vince Wilfork
2. Ed Reed
1. Michael Oher
Replacements
Michael Turner, BJ Raji, Clay Matthews, Tim Tebow, Wes Welker, Tom Brady, Andre Johnson
A formidable team for sure. The pack is extremely physical and certain to have a weight advantage over any other team, especially due to the presence of Oher and Wilfork. Johnson and Gronkowski should be significant options at the line-out. The back row features the ball carrying ability of Adrian Peterson, a dogged Troy Polamalu at the breakdown and the sheer physicality of JJ Watt at 8.
A half-back combination of Wilson and Kaepernick is a dual run/pass threat certain to keep defences on the back foot. The centre partnership of Foster and Johnson should be capable of numerous line breaks and the back three of AJ Green, Larry Fitzgerald and Devin Hester means there is an abundance of pace.
This team might even be capable of finishing above Zebre and maybe even the Dragons in the Pro 12, given a few weeks trainings.
EDIT:
NFL Writer, Cian Fahey, has sent us in his selection for an all NFL rugby XV.
He's on Twitter if you want to argue with him.
15. Patrick Peterson
Just as dangerous in the open field as Hester, but is a smart runner rather than just a pure burner. Also makes his living as a tackler in the open field, unlike Hester who was swapped from a cornerback to a wide receiver early in his career(and can do neither effectively).
14. Devin Hester
I really don't trust him to do anything but run with the ball in his hands. He's like Bryan Habana, but faster. If he's given any space at all, he'll finish.
13. Doug Martin
Martin is built like Brian O'Driscoll. He's relatively short, stocky and has unbelievable agility and acceleration. He is rarely tackled by the first defender in any situation, so playing at 13 is the perfect spot for him.
12. Marshawn Lynch
"Crash Ball, Inside Center"
11. Jamaal Charles
Much like Hester, he won't do anything but run past people.
10. Andrew Luck
It's hard to find a good fit at out half when nobody but the kickers and punters actually use their feet in the NFL. Outside of taking Sebastien Janikowski or Shane Lechler, Luck has the physical tools to tackle forwards and the intelligence to run designed plays.
9. Drew Brees
Diminuitive, a perfect passer and is a fiery leader. Brees is basically Peter Stringer with a slight southern accent.
8. Adrian Peterson
Peterson coming off a scrum or carrying the ball in the open field=Positive gains.
7. Patrick Willis
Middle linebackers must be able to cover the field, land big hits and consistently finish plays. Openside flankers must be able to cover the field, land big hits and consistently find rucks. It's basically the same position.
6. JJ Watt
Nobody could stop his power at the breakdown.
5. Rob Gronkowski
Physical freak of nature who catches everything that comes his way.
4. Jimmy Graham
See Gronkowski, Rob.
3. Haloti Ngata
The 'Dancing Bear' as Mike Mayock puts it, actually played rugby when he was younger(http://www.youtube.com/watch?feature=player_detailpage&v=CgJp50sPjv4#t=28s).
2. Mike Pouncey
One of the most physically imposing centers in the league. Handles the ball on every single play so will have no issue at the lineout.
1. Justin Smith
All he does is hurt people, often two people at once.

Rugby on Balls.ie brought to you by the O2 Online Shop