In front of nearly 84,000 supporters in the magnificent ANZ Stadium, the Lions humiliated the Wallabies, consigning Robbie Deans to the scrap heap and winning a first test series in 16 years. Warren Gatland, rugby union's version of Claudio Ranieri, had made 6 changes to the team that lost narrowly in Melbourne. Two were no-brainers (Corbisiero and SOB), 2 were 50:50 calls (Faletau and Hibbard), 1 was inexplicable (Phillips) and one made a wholly unnecessary rod for Gatland's back (you know who).
Whilst the cheer-leaders in the quality press descend into a frenzy of hyperbole and over-exaggeration, I would like to examine the case for Warren Gatland as rugby genius. How did his brave selection work out?
First and foremost, Corbisiero was magnificent. If Mike Ross says he's the best loose-head he's ever packed down against, then he can't be half bad. He's certainly streets ahead of the hapless Ben Alexander and light years better than Vunipola. The only reason that this match wasn't a dead-rubber was because of the coaching staff's decision to pick Vunipola ahead of Ryan Grant for the second test and the return of the London Irish star gave the Lions the sort of dominance that you wouldn't expect to see in a test match – at least not now that teams can have specialists for either side of the front-row on the bench.
The last time we saw such a lop-sided contest was when the unfortunate Tom Court came on for Mike Ross at Twickers 2 years ago and was destroyed by Corbs, enabling an average England side to put Ireland to the sword. Corbs reprised the performance, but this time against a specialist tighthead who starts for the second best side in Super XV. Yes, Halfpenny was excellent, but Corbisiero won this match in the first quarter.
That the match still seemed to be in the balance after 50 mins, with the Aussies only 3 points adrift after scoring 13 unanswered points in 10 minutes, was due to some pretty woeful tactics from the Lions exacerbated by some dreadful execution. Phillips, so poor in the first test, was ponderous once more. His passing was poor and his box-kicking dreadful. One particularly aimless effort led to a Wallabies counter-attack that put the excellent Jesse Mogg away, only stopped by a magnificent tap tackle from Parling, who enjoyed another fine outing. Shortly afterwards an extraordinarily hesitant clearance from the base of a ruck nearly allowed Mowen to intercept, and with Tomane steaming up on the outside, it could have put the Wallabies 4 in front.
Luckily, the otherwise excellent Mowen, who had once more suffocated the Welsh scrum-half, knocked on, allowing Corbisiero and Jones to do their thing, and Halfpenny duly converted the resulting penalty. However, 2 weeks and 50 minutes after all of the rugby viewing public outside of the Principality, Gatland had finally seen enough and put Phillips out of his misery. In selecting Phillips, Gatland had either seen something in him that no one else did, or picked him based on former glories. Either way it was a really poor call.
Murray, who must be contender for most improved player of the tour, made an immediate improvement. Now the ball was presented crisply out in front of the first receiver's chest and the Lions' backs started to purr. Suddenly, for whatever reason, where the Lions had looked to kick, they started to counter-attack as we had all been longing for them to do. Halfpenny, showed his class in making the tries for Sexton and then North and, within the blink of an eye, the series was won.
Jonathan Davies, who had been so controversially retained at the expense of Brian O'Driscoll, did well to take advantage of some average defending by Leali'ifano and put 0.5p away to set up Sexton's try. He also had one excellent raking kick into the corner. But would the result have been different if O'Driscoll had started? I really don't think so, and there were signs of JD2.0's poor lines again on 34 minutes when Halfpenny was clearly looking for him to come back against the grain but all he managed was to run into the god-like full-back, leading to a penalty which ultimately led to O'Connor's try. I'm not saying he wasn't good, but he certainly wasn't brilliant. Was it worth the inevitable backlash and distraction? Surely not.
And while you pour over the 'quality' journos adoration, let's not forget that for the first 50 minutes of this match, the Lions continued to serve up the same dross that we had witnessed for much of the first two tests. The lineout continued to malfunction, regardless of who was doing the throwing-in, and the tactics remained unimaginative and ineffective. By way of example, around the 30 minute mark, with Alexander pondering his international career in the bin, the Lions had 27 phases in which they made 12m, failing to advance into the Aussie 22 or get the ball into the hands of their outside backs, finishing with a snap drop goal attempt which J10 pulled wide of the left-hand upright. It was turgid rubbish, the like of which you might expect to see at Rodney Parade, or on a bad night at Musgrave Park (or almost any premiership ground on any given Saturday). The Lions' only got away with their aimless kicking game because, unbelievably, the Wallabies were worse.
Whether it was the introduction of Murray, instructions from the sideline, or a realisation by the on-field leaders, and Sexton in particular, that repeatedly kicking the ball to the Wallabies' back three might not be enough, the Lions finally started playing some rugby. As a result, they blew away what is a relatively callow, and ultimately poor Australian side, hamstrung by the coach's inability to kiss and make up with his star performer.
I fully accept that I have come over all George Hook, but I have found the over-the-top response of the rugby media, including a few that I really respect, quite hard to bear. I also found the sight of the great Brian O'Driscoll being interviewed in his jacket and tie very painful. He's too professional to say anything out of line, but it was clear that he was hurting.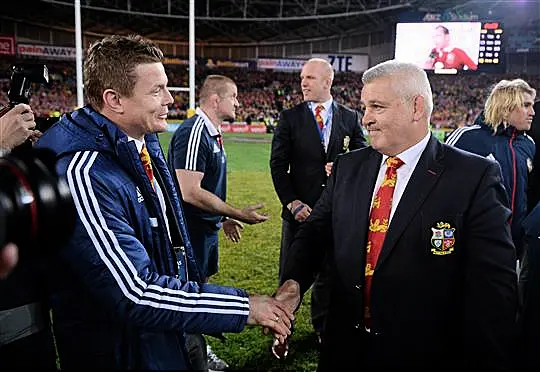 Gatland, who has had a massive impact at both the dawn and twilight of BOD's career, will rightly receive the plaudits for delivering a vital series win that will help to prolong the Lions brand, which had been threatened by repeated failure. Already there is talk of his reprising his role in 4 years time when the Lions travel to his homeland. As a Lions supporter, I'd be much happier if he were coaching the opposition.
Finally, my ratings for the Lions.
Halfpenny – 8.5 Outstanding. Player of the series and front-runner for world player of the year.
Bowe – 7. Given the Lions lack of ambition for ¾ of the match, did well to get his hands on the ball.
Davies – 7. His best outing of the 3 tests but didn't make a strong case for Gatland's controversial call..
Roberts – 6.5. He's not the messiah but he is a very good inside centre.
North – 7. Good under the high ball and solid in defence. Took his try very well.
Sexton – 7. Executed a poor gameplan well before cutting scoring a trademark try. Inexplicably pulled off with 20 minutes to go.
Phillips – 4. Ponderous passing and aimless kicking, proved that the first test wasn't a blip. Lucky to make it past half-time.
Corbisiero – 9. Magnificently destructive man-of the match performance (in my view anyway) including very well taken try.
Hibbard – 6. Combative and tough performance, but looked shaken by some massive blows. Looked spent when he came off early in the second half which may have explained his wayward darts.
Adam Jones – 8.5. As good as ever, would score higher if he could go for more than 55 mins.
Alun Wyn Jones – 7. Abrasive as ever. Decent turn as stand-in captain.
Parling – 7. Another good performance, although must cop some of the blame for stuttering lineout. Tap tackle on Mogg was heroic.
Lydiate – 6.5. Tackled and cleared rucks as well as ever. However, there really are players who can do that and contribute elsewhere.
O'Brien – 8. Everybody knew he should have been a test starter except Gatland. Made an arse of Hook and co by securing the first turnover.
Faletau – 8. Heaslip-esque as we all knew he would be. It was a 50:50 call throughout the series and he can count himself unlucky only to have played in one.
Murray – 8. Blossoming into a really top-class scrum-half. Should have started.
Youngs – 6. As ever, like a centre in the loose and at the lineout. Give it another season and he will be a serious player.
Tipuric – 7. Unquestionably the unluckiest man on the tour not to have had more game time.
Cole – 6. Not really tested as the game was up before he came on.
Farrell – 6. Did nothing wrong.
Gray – 6. Token jock, but one imperious lineout take suggested he should have been more than that.