The first in a new series. A host of opinions which are commonly held among Munster folk.
We discussed this in our daily sports podcast, The Racket:

1. Neil Francis was a big soft ruck inspector who knows nothing about rugby
Fans who are a bit longer in the tooth may at this point utter a few words in praise of Tony Copsey.
Our own Donny Mahoney told of a distasteful episode he witnessed in the press box after the Ireland-Wales game, in which a departing spectator went out of his way to let Franno know, at great volume, that he 'knew jack-shit about rugby'.
The accent in question was a Cork one. We're not sure if he has more international caps than Francis.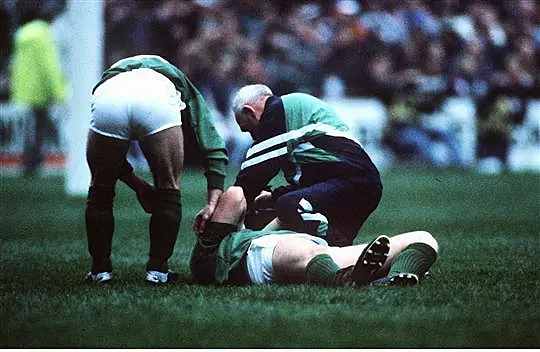 2. Dave Kearney misses five tackles yet BOD blames it all on Keith Earls
O'Driscoll's analysis of the Argentina capitulation didn't go down well in certain parts. His commentary on the role of the outside centre in the team's defensive structure carried no weight in Munster.
It might be remarked at this point that many Munster fans appear to have it in for Dave Kearney generally - seeing him as someone who has benefitted from his coach's prior regional loyalties.
3. Heaslip out - Stander in at 8
There is strong anecdotal evidence that Jamie Heaslip's rather extreme case of Leinster-ness appears to raise the hackles of the more dyed in the wool Munster crew - at least more so than his other Dublin-based colleagues.
4. Paul O'Connell's foot slipped when it collided with Dave Kearney's head

We're entering dubious territory. Most prefer to forget this incident ever happened. We're on Munster's fans side here and not just because O'Connell's almost Kim Jong Il like popularity. It's generally agreed that it wasn't intentional (why would it be?)
5. Why can't we (Limerick) get a player in the Irish team? (Pre-1999 complaint which re-surfaces intermittently)
Best seen in this London Independent article from February 1993 entitled 'Red meat but no green line', which was written when Irish rugby was deep in crisis.
The (AIL) league is the big thing in these parts, so much so that my rugby-obsessed taxi-driver told me, between expletives, he hoped Ireland lost every match because that way more Limerick men might make the side. It would be better, he added, to give up the green jersey of Ireland for the red of Munster.
Middle-aged guys who frequented AIL games in the glory days will start telling you all about Ger Earls.
Or else think Richard Harris mocking the Lansdowne dinner dance crowd at his old pal Mick English's benefit dinner.
6. Give me ROG over your man any day for a last minute kick under pressure
All but the most incurably blinkered have long since given up casting aspersions on Johnny Sexton's abilities but this remains a popular opinion. Grain of truth, too.
7. Something about Simon Zebo struggling to nail down a place in the Irish team
'What has Schmidt got against Zebo?' And how the hell is Dave Kearney still getting in the team?
8. 'Typical Dublin media'
Typical Dublin media indeed. Doing Munster first.
@IndoRugby Dublin based media taking any opportunity possible to lay into Munster supporters. Surprise surprise.

— Ciall Nollins (@Colliniho) December 14, 2015