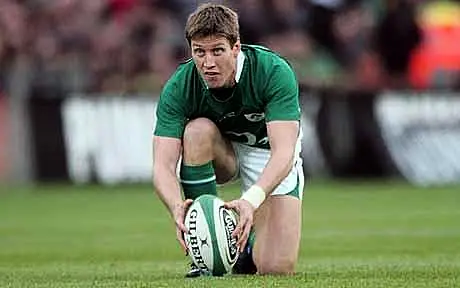 When Ronan O'Gara took to the field in the wet and soggy conditions for his 127th cap last Sunday, there was a mixed feeling around the Aviva Stadium.
I was with the majority who felt that it was a game made for the cool head of O'Gara but there were plenty around me who disagreed and made their feelings known. Sitting in the press box, one particular individual nearby felt the need to hammer the Munster outhalf from the moment he stepped onto the field of play. Why? Because he wasn't Ian Madigan.
I sat there waiting for ROG to prove this guy wrong. I waited and waited until it became clear that he was right. O'Gara was completely off the pace of the game and aside from a fine left-footed clearance, his usually reliable kicking from hand was, for the most part, atrocious.
The tiresome debate between who should be Ireland's first choice outhalf has thankfully been put to bed. But O'Gara, who was at the centre of that heated discussion, has now found himself at the heart of another debate: is he even Ireland's second-best out half?
When the 2015 World Cup comes around, O'Gara will be 38 years-old. There was a time when Irish rugby wouldn't have had such a luxury but right now there are three young pretenders all lying in wait of their opportunity to shine.
The majority of Irish supporters seem to be in agreement with my friend on Sunday, that Ian Madigan is due his opportunity in a green jersey.
With Jonathan Sexton off to France next season, it remains to be seen if Leinster will sign a marquee name to replace their star player. Madigan has made 44 appearances for Leinster, but is yet to feature for Ireland at senior level.
There were concerns about his kicking abilities earlier in his career but he has improved this aspect of his game immeasurably. He has an excellent passing game which was epitomised by his sumptuous pass to set up Sean Cronin to score in last year's Heineken Cup final.
Ulster's Paddy Jackson has benefited greatly from the departure of Ian Humphreys from Ulster this season. He had a major say in his side reaching last season's Heineken Cup final with a particularly excellent display against Edinburgh in the semifinal at Lansdowne.
A former captain of the Ireland Under-20s side, Jackson made his senior debut against Fiji last November. Although it was against poor opposition, Jackson was impressive and won plenty of plaudits from Declan Kidney.
Like Madigan, Jackson has had his problems with the boot and hasn't always looked comfortable in his place kicking. With the imperious Ruan Pienaar alongside him at Ulster, the 21 year-old has plenty of time on his side to learn a thing or two from one of the best place kickers in world rugby.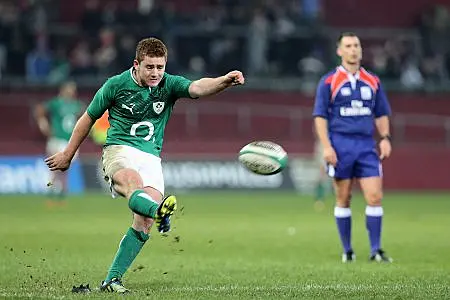 Since making the move to Munster from Connacht, Ian Keatley has been quite impressive when giving the opportunity at outhalf. Like Madigan, Keatley has also been played at full back. Signed as a back up to Ronan O'Gara, Keatley looks more and more suited to the running game that Rob Penney is trying to implement at Munster.
Keatley has made two appearances for the Irish senior side, the last of which came four years ago against USA - a game in which Keatley scored a try. Keatley's defence is excellent and compared to his two rivals, is probably the more accomplished place kicker.
He recently signed a two year extension with Munster that keeps him at the club until 2015 by which time we will have a better idea of whether or not he is O'Gara's long term replacement at club level.
With the news today that Sexton will definitely miss Ireland's upcoming game against Scotland and possibly the game against France too, there will be an opportunity for one of these younger guys to shine.
No one can deny that O'Gara has been a fantastic servant to his country over the years but now is as good a time as any to see a fresh face blooded ahead of Ireland's World Cup campaign.
Kidney is highly unlikely to overlook O'Gara for a starting role against Scotland. And in many ways, it could be risky to throw a young player into the deep end like that. But there will certainly be an opportunity for someone to impress from the bench.
All three of the youngsters deserve their opportunity but the fact that it was Jackson who was given the nod over both Madigan and Keatley in November,suggests that it will be he who starts on the bench for Ireland against Scotland in nine days time.
The question is: can he stake an early claim to become Ireland's new second choice out half?