If you want to show the Arsenal fans in your life that you appreciate them, this is how you do it. Gunners fans are a special bunch so make them feel it with a perfect gift.
Whether you're buying for mums, dads, kids, teenagers, husbands or boyfriends, there's a unique Arsenal gift for the special people in your life.
From big gifts to just stocking fillers, you'll find a wide range of ideas below, and they're all designed to make your arsenal fan happy indeed. We've researched a range of retailers including Amazon, JD Sports, Adidas and Arsenal Direct to find the best possible gifts. After all, they deserve the best.
Arsenal Jerseys
There are plenty of amazing jerseys for Arsenal for you to pick out for your Arsenal fan. If they have the home kit, why not get the fetching pink third kit. Made from lightweight breathable recycled materials and designed for performance, this official Adidas jersey is the same one players wear on the pitch for away games.
Get it at: Adidas or JD Sports
Arsenal Mini Kits / Juniors Kits
This arsenal mini home kit is a great offering which looks fantastic. It's great for the young people and teenagers who want to show off their love of Arsenal.
Get all variations at either: Adidas or JD Sports
Arsenal Signed Kits & Memorabilia
You know that legendary player they keep going on about? What if you gave them a special edition kit or framed photo of their hero, signed by the man himself. Arsenal's official shop has a selection of signed memorabilia for those looking for a unique gift for a diehard fan of the club.
Get it at: Arsenal Direct
Arsenal Dressing Gown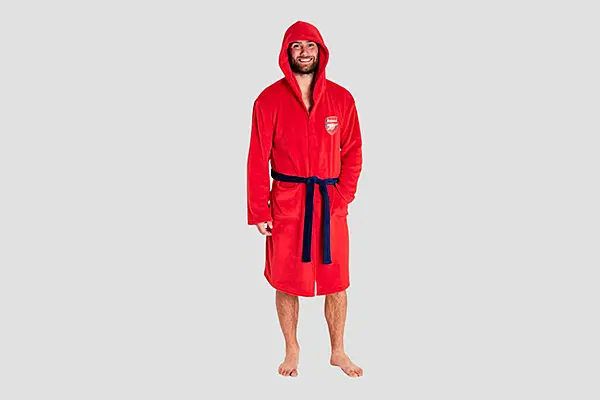 Give the gift of staying warm and not getting dressed with this comfortable dressing gown that proudly shows the Arsenal team crest.
Get it at: Amazon
Affiliate disclosure: Balls.ie may earn commission from purchases.
Arsenal Stadium Tours
A unique chance to walk in the steps of Arsenal heroes, an Arsenal Stadium tour would be a great gift for anyone who loves the team. Upgrade to a Legend Tour and you'll get a personal behind-the-scenes guided tour from a Gunners legend of your choice. An unforgettable experience gift.
Get it at: Arsenal Direct
Arsenal Scarf
This amazing arsenal scarf is a great choice which looks fantastic and is a perfect gift idea for any arsenal fan. Suitable for all game days too!
Get it at: Arsenal Direct
Arsenal Bucket Hat
Made from upcycled Arsenal shirts, these bucket hats make a trendy present for a hat-loving boyfriend or brother.
Get it at: Arsenal Direct
Arsenal Crossbody Bag
This one-of-a-kind recycled kit crossbody bag looks great on men or women. A perfect gift for a Gunners fan who doesn't like putting stuff in their pockets.
Get it at: Arsenal Direct
Arsenal Emirates Stadium Print
This atmospheric Arsenal print is a winning option which looks great and is going to be fantastic hung up around the home. Available in a range of sizes.
Get it at: Notonthehighstreet.com
Arsenal Beer Mats x9
These beer mats are brightly coloured and adorned with the classic Arsenal logos. They would be a perfect gift for any dad who wants to use them around the house.
Still looking for more football gift ideas? Try these links
Gifts Ideas for Man United Fans
Affiliate disclosure: Balls.ie may earn commission from purchases.