Welcome along to our minute by minute breakdown of the finalists for our vote on Ireland's Greatest YouTube Video. Ahead of the vote closing at 3pm today we're watching both videos in depth and describing everything that goes on.
Have a read below.
19 seconds:
The Den's 'What's Snots?' competition has gotten off to a solid start. Francie has doublechecked with Kevin that he's au fait with what's happening and 'the computer' has decided Amy will go first. She asks Snotser the perfectly cromulent question "Is it a person?" It is not.
------
Meanwhile in the RTÉ sport studio, the lads have opened their coverage of Liverpool v Real Betis with a montage of Roy Keane's Man United career, set to Johnny Cash's rendition of 'One.' The montage takes a sudden mood change when they cut from Keane scoring goals and winning titles to a clip of him stamping on Vítor Baía.
After the montage Giles and Brady start giving their take on Keane's recent departure from United but we're bored of all this so we're skipping to the bit when Dunphy starts to talk.
37 seconds:
Kevin in Co Galway opens the bidding with "Where'd you get your shades"?
------
Dunphy begins his contribution by saying "I'm not going to address the Niall Quinn agenda. I think Niall Quinn is a creep."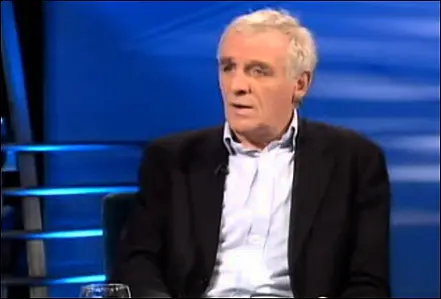 A strong first showing from both parties.
70 seconds:
Francie struggles to contain his laughter as Snotser tells Kevin he got his shades from Bono, while Dustin emerges as the voice of reason and tells Kevin to ask another question. Francie explains the rules again and tells Kevin it can be a "person, place or object."
Now that we've gone over that again it's time for Kevin to ask a proper question this time. He offers up: "Where'd you get your shades?"
------
Dunphy addresses Liam Brady's comments about Keane's friends in the press and brands it a personal insult to him. He then moves on to declare Keane the greatest player in the history of Manchester United Football Club and one of the greatest professionals in the history of the game as a whole.
90 seconds:
Snotser tell Kevin he got his hairstyle from Mark Peters and a panicked Francie goes back to Amy in Cavan for a question, as his voice begins to quiver. Amy asks if it's an object and now we're off to the races. She gets to ask a second question.
"Does it cut anything?" ... Oh dear.
------
He threw a heap of shade at Niall Quinn in his first sentence but not even 50 seconds later Dunphy has ramped things up to the next level with his comments about his colleagues, Giles and Brady, in comparison to Keane.
"There's never been a greater Irish player. And these two are the two next best. But in terms of courage, and conviction, and achievement, he's way ahead of these two guys."
2 minutes:
Turns out you can't cut anything with it so we're back to Kevin in Galway, but Kevin's a bit busy. "Wait one minute, I just have to do something," he says. "You takes your time. It's only live national television so don't worry about that," Snotser tells him.
------
Brady and Dunphy are now arguing about the details of Keane's transfer from Nottingham Forest, 12 years previously. Dunphy maintains there was a clause that allowed him to leave for £1m if Forest were relegated but Brady points out he went for £3.75m (a British transfer record).
"Get your facts right," says Brady before Dunphy asks "Are you going to let me talk or do you want more insults?" "THERE WAS A BIDDING WAR!" says Dunphy.
He has the reading glasses on now. Things are about to get serious.
2 minutes 10 seconds:
Francie is speechless and Dustin has gone off screen. In desparation they go back to Amy in Cavan, the girl with the most ridiculously particular questions in the world. "Could you write on it?" asks Amy. NO, YOU CAN'T FECKIN WRITE ON IT, AMY!!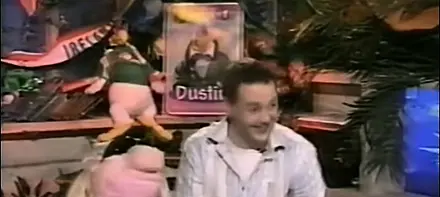 ------
Dunphy's reading quotes from various players talking about how great Keane was. Bill and Liam point out of that that's not the issue, it's the way he behaved. And now Billo becomes the spark that lights the match, as he quotes an article where Keane was branded a "thug."
Eamon has had enough: "If you're going to start quoting gutter journalists, calling Roy Keane a thug, you can do it on your own. If you're going to throw Niall Quinn, 'Mother Teresa', you can do that on your own as well. There's lots of tabloid journalists out there, I'm not going to listen to that crap!" as he takes off his mic.
Is he about to walk off?
2 minutes 40 seconds:
Back on The Den we're going back to Kevin in Galway and Francie is about to have a breakdown. He sounds like a teenager whose voice has suddenly broken mid-sentence as he throws to Kevin.
"I can't really hear you," says Kevin, so Francie starts to explain the concept of the game again. It can be a person, place, animal or object, Francie tells him before giving Kevin an example of the type of question he could ask: "Would you like to ask a question to Snotser, like 'Are you a cow?' or something?"
...
...
...
"Are you a sheep?"
------
"Written down in the annals of football will be tributes to this man," says Eamon. His finger is wagging now with the intent of a man possessed. "This is a man who doesn't showboat, like Niall Quinn [Renowned showboater], this is a man who actually goes and sees sick children in hospital. This is a family man with five children, who's a credit to his country and to his family.
"AND I'M NOT GOING LISTEN TO HIM BENG CALLED A THUG BY YOU!"
3 minutes 15 seconds:
Francie's gone. His head is in his hands and he can't even respond. "No I am not a sheep," says Snotser. "I am going to speed things up and say that I'm a ting. I'm a ting! I'm a ting! I'm a tingggggg!"
Dustin goes back to Amy and gives her a hint. This thing might have a stairs. Some of them do and some of them don't. Amy can't hear so she asks him to say it again. This appears to be the straw that has broken Francie's back.
"I apologise," he exclaims before releasing muffled giggles of laughter into his shirt.
------
"Hang on a second, don't misquote me," warns Billo, before explaining that he was simply presenting an alternative view from a column in The Sunday Times. Dunphy wants Bill to tell him who wrote it but he can't remember.
"I'll tell you who wrote it. I can remember his name. Rod Liddle. He's the guy who ran away and left his wife for a young one."
And there we have it. The pièce de résistance.

3 minutes 41 seconds:
Amy is on the blower again and she asks "Do you go up stairs?" Finally we're back on track. You can go up stairs in this thing so Amy gets to ask another question.
She asks: "Could you go up to the ceiling?" and now everyone is getting their wires crossed again. In a desperate attempt not to go back to Kevin, they say "Yes, it does have a ceiling," which wasn't exactly what Amy asked but sure what's the worst that can happen?
"Is it a ladder that you go up to the ceiling with?" Ah shite.
------
Bill tells Eamon that's out of order but Dunphy says "No it's not, you started it," as a wry smile draws across his face. "I'll tell you what he [Keane] is. He's a gentleman. He's a class act and he stands up to bullies!"
Liam makes a point which is decorated throughout by random inputs of '"Wrong!"" from Eamon. John Giles weighs in that he thinks Keane was wrong in the way he behaved when maneuvering for a new contract. Dunphy responds:
"Vieira fannied and flipped and flopped. Henry's at it now, won't sign a new contract at Arsenal and I've got Liam Brady who works for Arsenal, telling me that Roy Keane's wrong, because Roy Keane was doing a little bit of bidding on the telly for a new contract?"
4 minutes 10 seconds:
It's not a ladder that you go up to the ceiling with so it's back to Kevin in Galway and Snotser tells him it rhymes with mouse. "Ehhhhhhhhhh..........A car?"
God, save us!
Francie's at his wit's end so Dustin goes back to Amy. Snotser and Francie tell her "There's a saying that you could be as safe as a H****, as safe as a H****."
Get there, Amy!
------
As the discussion about Keane's Man Utd departure continues, Dunphy randomly exclaims "Saipan was right!"
Giles says that if the Keane MUTV interview was OK then Ferguson wouldn't have fallen out with him. "Ferguson's lost the plot, John." says Eamon, Keane is "right about EVERYTHING!"
4 minutes 17 seconds:
"As safe as a H****.... Rhymes with mouses..."
"As safe as a hatter?"

------
Dunphy is now back talking about Niall Quinn: "We've got an idiot like Niall Quinn writing a column." "You can't be saying things like that,. That's grossly unfair to him," says Bill. Eamon finishes with "You want to see Quinn? Go down to the Olympia, he's in "I, Keano". That's what he is!"
Bill throws to footage from last night's match and with that ends the greatest football studio segment in the history of television.
4 minutes 21 seconds:
Both of you win a bike!
You can watch the two videos in full here and vote below: