Gavan Hennigan tells Balls.ie about his amazing story. From entering rehab for drug addiction at just 21 to rowing across the Atlantic solo later this year, it's been an incredible journey.
------
I quit my job to row the Atlantic. Solo.
I am not a rower and before the start of this year I had not rowed a single stroke. But as Gary and Paul O'Donovan said, after winning the silver medal for Ireland at the Rio Olympics "there are plenty of people out there with 2 arms and 2 legs" and I am one of them!
On December 15th of this year I will set off from La Gomera in the Canary Islands and row 3,000 nautical miles (5,000km) to Antigua in the Caribbean. I will contend with 40 foot waves, sleep deprivation, salt sores, blisters and be all alone for up to 90 days in one of the most inhospitable places on Earth.
111 days to go.. Packing 90 days of food into daily ration packs #conquertheocean pic.twitter.com/bwMDFEWgeX

— Gavan Hennigan (@soulogav) August 24, 2016
But why?
Well while most folk would rather fly across the Atlantic, I want to row it. I'm part of that tribe of people who are out cycling early on a Sunday morning, sea swimming, climbing mountains and doing triathlons but I've taken it to the next level.
When I was 21 I went into rehab for alcohol and drug addiction. In the years before that, my biggest claim to fame would have been that I could do more Es than anyone I know. I was like a lot of teenagers in Ireland in the late 90's but I took it too far. I ended up on the brink of suicide and in rehab at the tender age of 21.
What has happened to me since is nothing short of a miracle. I've stayed clean and sober all this time, nearly 14 years. I've visited all seven continents.
I've spent ten years working in one of the world's most dangerous jobs - a deep sea saturation diver - diving to depths of up to 200m to do heavy construction on the oil platforms of the world, all the while living inside a small diving chamber for up to 28 days with other blokes. I've seen sharks of all sizes, witnessed a kidnapping in Nigeria, and have been thrown in a jail cell in Kuwait for a visa mix up.
I've spent hundreds of hours underwater in the pitch dark sometimes not even being able to see my hand in front of me, working by feel, yet all the while thinking to myself; "this is pure savage!"
During my time off from diving, I've haven't stopped for a rest, from surfing the remote islands of Indonesia to snowboarding unnamed peaks on the Antarctic peninsula. Since I've stopped drinking and using, my life has been about the adventure. I love pushing myself. While most people might take the easy route, I always look to make things harder. This is where I thrive, this is my playground.
In February of this year I was in Canada to compete in the Yukon Arctic Ultra, a 500km Winter Ultra Marathon where racers run through -40c degree temperatures pulling a sled weighing 30kg behind them with all their supplies. I finished up in 2nd place in just over five days, clocking the 3rd fastest time on the course since it's induction in 2003. I had a mind bending few days as I only slept a total of 6 hours along the way. Having done a few drugs in my day I can honestly say i've never hallucinated like that before. The terrain was through snow covered rivers, lakes and forests, so every tree resembled aliens with ray guns, T-Rex's and cowboys!
Sled fully loaded,drop bags sorted,it's nearly time! 😆😆😆 #yukonarcticultra pic.twitter.com/KyCfOfH3RQ

— Gavan Hennigan (@soulogav) February 3, 2016
Three weeks after the Yukon I was stood in the small village of Kultuk deep in Siberia on the shores of Lake Baikal, the deepest and biggest fresh water lake in the world. My objective was to walk and run solo and unsupported 700km from south to north and beat a long standing speed record.
I had barely recovered from the 'The Coldest and Toughest' winter ultra but I didn't care, I had a deep hunger to push beyond what I thought was possible.
For 17 days averaging a marathon a day pulling a 60kg sled behind me, I battled near hurricane force winds almost ripping me off the ice.
Both my stoves broke, leaving me with near frost bitten fingers in a desperate attempt to fix them or face rescue. By the half way point my sleeping bag was frozen solid beyond thawing and my tent felt like an ice cocooned coffin. Two weeks into the expedition I was buried in two foot of snow during a storm. I was rationing at this stage and my main source of food was the 150 sachets of dairy gold butter I brought with me!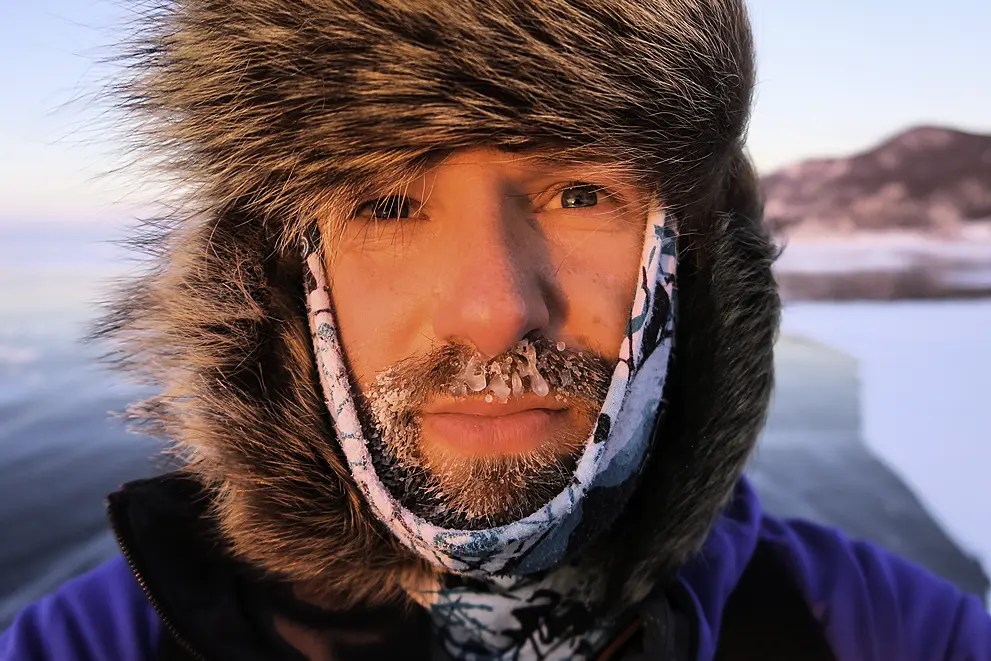 It was quite the adventure, but totally worth it.
Now, it's time for an even bigger challenge.
Nine months ago I quit my job as a commercial diver to focus on these expeditions and rowing the Atlantic. I probably should have done something sensible and bought a house but I spent all my life savings on an Ocean Rowing boat, but I value experience over material gain.
To this day many more people have climbed Everest, been to the North Pole or ventured into space than have successfully rowed an ocean solo.
Make sure you follow along at www.gavanhennigan.com and @soulogav IG / Twitter / FB