As part of Balls.ie's Cork Week, we are carving out a Cork Mount Rushmore.
Over these four days, we'll be presenting you with a list of nominees - Cork sporting heroes - from a range of sports and the readers will vote for the Cork sporting hero they wish to see on Mount Rushmore.
At the moment, we're looking at sculpting the faces of winners into the Slieve Miskish Mountains in the Beara Peninsula although if this becomes unfeasible there is talk of giant sculpture floating up the Lee.
Yesterday, Ronan O'Gara was selected as the rugby representative, joining Roy Maurice on the wall. His face has already been carved in.
Today it's GAA. Too many to apologise to... Vote below...
Christy Ring
Even for history-averse millenials, the uniformity of opinion from the old-timers on Ringy's standing commands attention. To a man, they proclaim him the best of all-time.
A Cloyne man who later transferred to famed city outift, Glen Rovers. Ring kept playing for the county until his early 40s, winning eight All-Ireland titles. Just the 14 Cork county titles.
Famous moments include his hat-trick late in the 1956 Munster Final, having been held scoreless for most of the game.
In his final years, he was selector on the three-in-a-row team. He didn't get the chance to see them win a four in a row.
His funeral was famously the biggest in Cork since the death of Tomas MacCurtain in 1920. MacCuratin was a Sinn Féin Lord Mayor who died on hunger strike.
One woman was so upset by his death that she proclaimed it "a sin to bury that man."
Jimmy Barry Murphy
Dave Hannigan wrote about the photograph of Christy Ring and Jimmy Barry Murphy deep in conversation in Pairc Ui Chaoimh shortly before half-time in the 1976 Munster semi-final.
It isn't quite the Ring-Mackey shot, yet for a generation, it is a picture that draws a line between the different eras, one sepia, one technicolour.
He retired from the inter-county scene thirty years ago but Jimmy Barry Murphy retains a reputation for being the coolest GAA player in the history of the world.
This rests on everything he accomplished as both a player and a manager. Notwithstanding his difficult last year in charge, JBM still personifies Cork success. His coolness was most vividly illustrated early on, in the 1973 All-Ireland football final.
Just a month past his 19th birthday, he nailed an unforgettable early goal in the All-Ireland final against Galway. Just before he rifled the ball to the net, he soloed the ball on the spot, toying with defenders.
"Jimmy Barry on the 14, what's he going to do? It's a goal!!"
These days, if you're watching a GAA clip on youtube and fail to close to tab after it finishes, the site will trap you in a Laochra Gael cycle, and you'll waste hours upon hours watching breezy tributes to men like Mikey Sheehy and DJ Carey.
The JBM Laochra Gael is particularly instructive.
Like Sheehy, Jimmy Barry Murphy looks like he's cut from more modern cloth than the rest of the players on the pitch. While the rest of the combatants are playing '60s ball, shutting their eyes and horsing through the ball, these men stand out for their balance and poise. They appear to be 20 years ahead of everyone else on the pitch.
Between 1973 and 1986, he won five hurling All-Ireland titles and one football title. The '76 final, which he turned in Cork's favour after a positional switch emerges as the most memorable.
His legendary goal against Galway in the 1983 All-Ireland semi-final is invariably placed at #1 in lists of the greatest goals ever scored.
Managerially, he twice assumed the top job with Cork in the doldrums. On both occasions, they revived under his leadership. From the first spell, they mined an All-Ireland title.
From the second, they came within thirty additional seconds in a drawn All-Ireland of doing so. Cork's continued decline since his departure has only shone a spotlight on his good work.
Jack Lynch
Allegedly called Pat Spillane "a bollocks" under his breath while RTE cameras lingered only five yards away. That's the least of his achievements.
Managed to remain in high standing among the public at large despite serving nine years as Taoiseach across two terms. Yet neither is this his finest achievement. The 70s were more deferential times, anyway.
Jack Lynch's finest achievement remains his role in the Cork team of the 1940s, then heralded as the greatest team ever to play.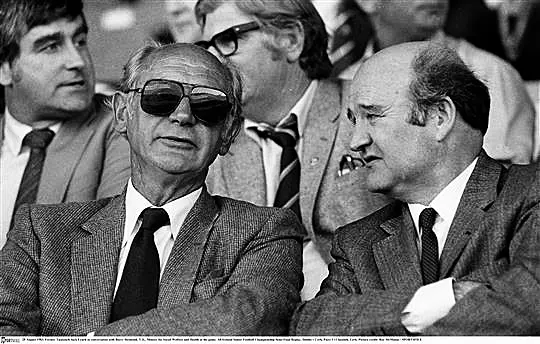 He remains the only man to win six All-Ireland titles in a row, five of them won in hurling (1940, 42, 43, 44, 45) with a football win (1941) nestled among them.
He's been selected on all the teams of GAA greats, the Cork Team of the Century, the Munster Team of the Millenium, the Team of the Century (1984), and yes, the Team of the Millennium (1999).
Cork didn't forget this. During his political heyday, he used to collect the kind of vote that would drive Willie O'Dea demented with jealousy. Two quotas.
Brian Corcoran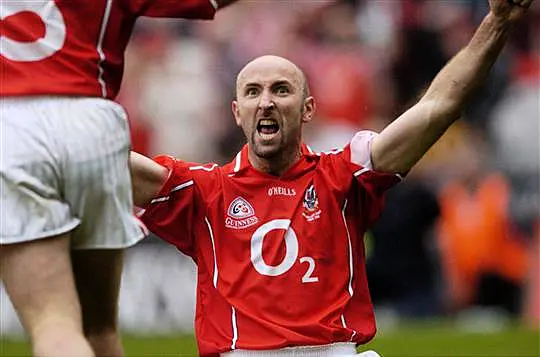 The only man to win the Hurler of the Year award in his debut season. Not Young Hurler of the Year award, the overall Hurler of the Year award (the Texaco one was still the primary award at that time). Take that Austin Gleeson!!
Corcoran made his senior debut as a corner back in the 1992 season. It was one of the most stunning debuts in history.
In his first championship match, he was assigned to mark Pat Fox, the reigning Hurler of the Year from the reigning All-Ireland champions.
Fox was shut out completely as Cork saw off the All-Ireland champions in Pairc Ui Chaoimh. In these pre-revoution years, this set them on track for an All-Ireland final.
Aided by Tomás Mulcahy's comically ilegall goal, they beat Limerick in the Munster Final in Pairc Ui Chaoimh. They entered the All-Ireland final as favourites but Kilkenny and DJ Carey's time had come after nine long years.
Defeat in the final only makes Corcoran's Hurler of the Year award look even more impressive. Like 80% of Cork players between 1970 and 2000, he was a dual player.
Exasperated by Cork's procession of short summers in the mid- 1990s, he focused on the footballers who at that stage still had the whip hand over Kerry in Munster. He was rewarded with another All-Ireland final defeat against Derry in 1993.
It wasn't until later years, that the breakthrough was made. Corcoran was central to the rennaissance. Despite taking a two-year break after 2001, he returned to claim a couple more All-Ireland's. Surely the greatest Cork hurler of the modern era.
As Donal O'Grady said, when it comes to Corcoran's place on the all-time Cork XV, you'd play centre-back against the wind, and play him full-forward with the wind.
Billy Morgan
As Balls.ie humbly noted the other day, Billy Morgan knew how to give referees some stick.
Billy Morgan knew how to give the ref the business. None of this kicking water bottles shite -- tell him how you feel to his face! #corkweek pic.twitter.com/AcPrh2a4Yq

— Balls.ie (@ballsdotie) December 5, 2016
He spent his life fighting Kerry supremacy in Munster and earned a mention in Jack O'Connor's book for being a truculent bollocks. Coming from a Kerry manager, there is no higher praise.
Alex Ferguson thought he had to knock Liverpool off their 'fuckin' perch'. If anyone can talk about dislodging proud birds from their perches, it's Billy.
Morgan captained and managed both Cork and Nemo Rangers to All-Ireland titles. As a player, he was goalkeeper and captain on the 1973 All-Ireland winning team.
It was presumed they'd add a few more titles to their collection but Heffo's Army, and then Micko's heroes, intervened and Cork football endured long and tortuous years of watching the All-Ireland final on the television.
Morgan kept plugging away until 1981. Then, there is his illustrious managerial record in the Charlton years, when he brought Sam Maguire back to Cork, winning back-to-back titles in 1989 and 1990.
With Nemo, he won scores of county titles and three All-Ireland titles as player and manager, in 1973, 1978 (player) and 2003 (manager).
There is a sense that if the Cork county board couldn't find a suitable candidate and arrived, in desperation, at Billy's door once more, he'd take on the job in a shot.
Less than two weeks ago, he was calling out those who've presided over a decline in Cork football.
Ray Cummins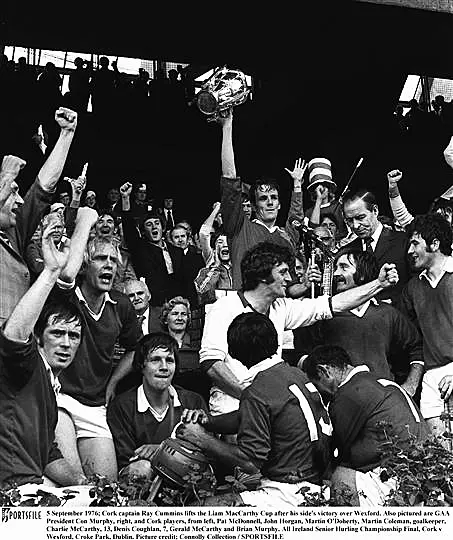 Another Team of the Millennium player. Bizarrely, he replaced Nicky Rackard from the Team of the Century team despite the fact that neither of them had pucked a ball in the intervening fifteen years.
The whims of the selection committee. Cummins' elegance in the full forward line was more in fashion by the turn of the century clearly. More likely, the Team of the Century committee couldn't countenance picking him because his playing days were too fresh in the memory.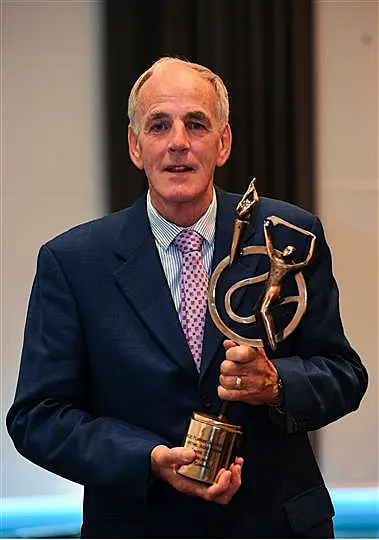 Yet another Cork dual hero, Cummins said that in one year, he had only had one weekend where there was no match to by played (think it was 1972).
With Blackrock, he picked up five county championship medals and three All-Ireland titles. Cork-wise, he was a core player in the three-in-a-row team, having already picked up an All-Ireland title at the start of the decade. He was part of the same Cork full-forward line as Jimmy Barry Murphy that won Sam in 1973.
Vote below: