It's been a pretty poor start to the Champions Cup for Irish rugby teams this season, in particular Leinster. There was a hope that the return of the familiar faces of Isa Nacewa and Jonny Sexton might mean that Leinster would shake off the torpor of the O'Connor years, but Leinster have lost their first two European games for the first time since 1996.
Their stuttering start to the season has left many scratching their heads, and the one common excuse is that the below-average performances are down to a 'World Cup hangover'.
On one level, it's a perfectly rational theory: a large group of players spend months in camp, play a number of intense Test matches on consecutive weeks, suffer a debilitating defeat and then struggle to regain form when returning to club rugby. That condition seems likely to be exacerbated by arriving cold into a brand-new regime with a coach learning on the job. When you look at the form of Sexton and Heaslip, in particular, or any of Dave Kearney's gaffes versus Wasps, the 'World Cup hangover' seems like the only plausible explanation for their less-than-stellar play.
There's only one problem - history tells us there in no such thing as the 'World Cup hangover', at least not for Irish teams.
A myth in the long term
The most obvious way to disprove the so-called 'World Cup hangover' theory is to take the longview: Irish clubs - Munster in '08, Leinster in '12 - have won the Heineken Cup in the seasons that followed the previous two World Cups. Ireland's Six Nations campaigns in 2008 and 2012 were both indifferent (2004 was stellar however) but if the World Cup hangover really exists, its symptoms are not debilitating at a season-long level.
A myth in the short term
When examining the Irish club results immediately after World Cups, the World Cup hangover theory feels even fishier.
In 2011 Ireland exited the World Cup at the quarterfinal stage following a deflating 22-10 defeat to Wales in New Zealand. Less than three weeks later a number of players from that squad returned to Leinster and played a role in their impressive away victory at Edinburgh in the Pro 12. In the European Cup a few weeks later they faced a tricky tie away to Montpelier which ended in a draw. The next week, they hammered Glasgow at home.
Munster, meanwhile, emboldened by the return of O'Gara, O'Connell, Murray et al, also won their first two Heineken Cup fixtures in the 2011 campaign --- beating Northampton in that famous '41 phase' game at Thomand and then travelling to France the next weekend to beat Castres 27-24.
Ulster let Ireland down by losing one of their first two fixtures - beating Clermont at home and then losing to Leicester away.
Back in 2007 Munster were the ones at risk of a World Cup hangover after they supplied a huge bulk of the Ireland squad, primarily in the forward line. They suffered a one point loss away to defending Heineken Cup champions Wasps in their opening European game but managed to bounce back the following week with a resounding win over Clermont.
That same year, Leinster managed a convincing home win against Leicester before losing away to eventual runners-up Toulouse. Leinster were hardly scintillating in the group stage in 2007 - they won their home games and lost their away games en route to a third-place finish - but it seems more likely that this was because of the quality in their group.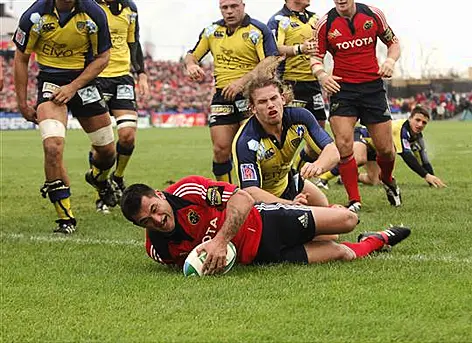 Looking at the performances of English clubs in this year's Champions Cup further debunks the theory. If any country was entitled to a World Cup hangover, it would be England. Instead, Saracens, Wasps, Northampton and Leicester are two from two in their respective Champions Cup groups. George Ford and Owen Farrell are showing no signs of World Cup malaise. They've had one more week of distance from the World Cup compared to their Irish brethren: perhaps that explains it.
With Leinster needing a few miracles against Toulon and Ulster facing an uphill battle after losing at home to Saracens, Ireland's most realistic hopes rest firmly on Munster to fly the flag for Irish rugby in Europe. The presence of no Irish clubs in the knock-out stages of the Champions Cup remains a distinct possibility. If that happens, it could kickstart an exodus of Irish players to more successful and lucrative European clubs, which could be extremely detrimental to rugby in Ireland, both at provincial and national level.
There are reasons that explain why the likes of Leinster have been poor this November but the World Cup shouldn't be seen as one of them.