English football pundits are running out of new things to say in these grim postmortems. Once more they are casting around for a new manager.
Roy Hodgson's reign has seen England take no steps forward and a good few steps back. Before the tournament, Declan Lynch of the Sunday Independent told us that Roy Hodgson's great genius in life was 'lowering expectations'.
So successful had Hodgson been in this quest that he had managed to remain on as manager after leading the team to a First Round exit in the World Cup in Brazil.
It was the first time England had crashed out in the group phase since 1954 (to be fair they missed out on three World Cups altogether in the intervening years, so at least Roy wasn't responsible for adding to that tally).
But Roy was so well got with the FA hierarchy and his expectation lowering rhetoric had proven so effective that he was allowed another spin in the bumper car.
Alas, he hadn't quite succeeded in lowering expectations to the extent that defeat to Iceland would be regarded as a mild setback. It turns out that even his expectation lowering abilities have their limits.
Instantly realising this, he resigned as quick as was humanly possible late on Monday evening.
We spoke to our Ladbrokes Prophets for Profit, Miguel Delaney and Nathan Murphy, about the week that has passed and their flailing reputations as tipsters.
After initially proposing Sam Allardyce as a replacement, Miguel proffered an interesting option for manager.
Sam Allardyce usually causes eyebrows to roll. It's not like he's a relic, he's very forward-thinking in many ways. He would give a real resilience to the team. They wouldn't be so easily beaten. I think they'd put in more of an effort in a situation against Iceland where they're 2-1 down.

But I still think given the quality of the players and given that they've a plenty of good technical players I think they're best going for, and people might sneer at this, but someone like Brendan Rodgers. Particularly in an international situation where players wouldn't see him everyday so certain aspects of his man-management style wouldn't grate as much.

How, he's taken the Celtic job so he's gone for at least a year. But that even mightn't matter so much because England should do their usual and cruise through qualifying.

If not Rodgers then maybe someone like Eddie Howe. But I certainly don't think it's all doom and gloom the way other people in England are portraying it.
Brendan for England manager has an intriguing ring. His energy and enthusiasm would rub off on the players and the nature of international management means that the players would be spared the full Brendan for forty hours a week.
[soundcloud url="https://api.soundcloud.com/tracks/271717224" params="auto_play=false&hide_related=false&show_comments=true&show_user=true&show_reposts=false&visual=true" width="100%" height="450" iframe="true" /]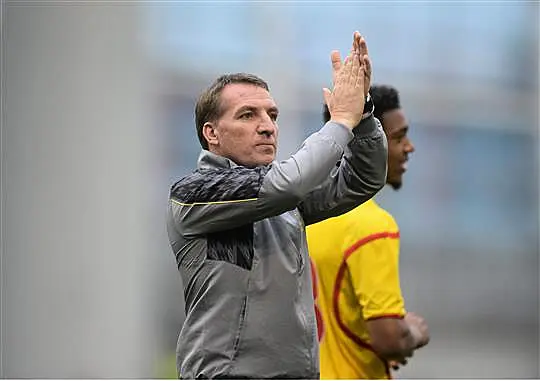 Ladbrokes Bet of the Day
The Belgians claimed only one point against the Welsh in qualifying and haven't shed their reputation for mental frailty when the heat is turned up. A match in which the Belgians are keen to dominate the ball should suit Wales more than last weekend's uncomfortable encounter with Northern Ireland.
We have plumped for Wales to lead at half-time with the game being drawn at full-time. Whatever occurs in extra-time is beyond our concern for these purposes. The price is 14/1.