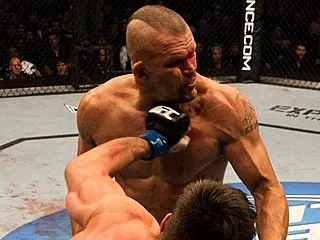 Former UFC light heavyweight champion Chuck Liddell lost by first round knockout to Rich "Ace" Franklin, at UFC 115 on Saturday night in Vancouver. The 40 year old Liddell, who hadn't fought in 14 months, and was last seen on Dancing With The Stars, started strongly in what was an entertaining fight. He had most of the offence early on, but Franklin counter-punched cleverly and knocked out Liddell with a brutal right hand to the chin.
After the fight Franklin stated that his left arm had been broken by a Liddell kick, but that didn't stop him from punching with it, as he opened up the Iceman on three occasions. Franklin was a late replacement for the fight after Tito Ortiz dropped out last month and the former maths teacher had very little training going in.
After last year's loss to Vitor Belfort, this might be his stepping stone back to the championship picture.

As for Liddell, this was almost certainly his last fight in the Octagon. UFC president Dana White, in the post event press conference guaranteed that Liddell would not fight in the UFC again.

Liddell had a twelve year run in the UFC, defending the Championship belt on five occasions, and being inducted into the Hall Of Fame, but after losing his last three fights, the time has surely come for him to step down.

Video of the fight is here.