Ireland head for Vienna with a dismal historical record and a discouraging injury list but, hey, Martin O'Neill's team has dug out results in unpromising circumstances before. You could say we the Austrians at the very worst an away draw at this point. To make you all that bit more nervous about Saturday evening, here are Ireland's five biggest bogey teams.
5. Russia
It was a game against Russia that gave us Richard Dunne Day and all the assorted celebrations. In our household, we celebrate the 6th September with the traditional meal of Lion Heart and Rhinocerous Arse.
Given this, it might seem odd to toss Russia in here. But there can be no escaping the truth that we usually play shite against the Russians.
This is especially upsetting considering that they are one of John Giles's achetypal Eastern European sides, aka, a gutless team "who probably won't fancy it" [Dangerhere.com] when it's properly put up to them.
And thus one would have thought they are precisely the sort of team against whom we would prosper. Far from it.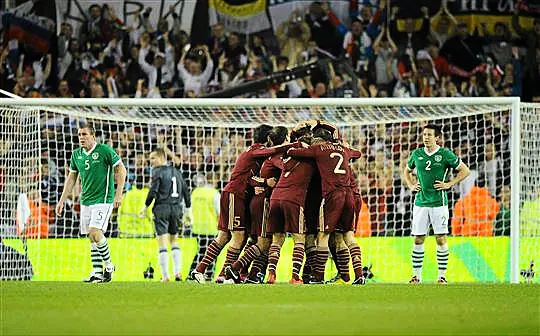 Ireland have lost two big qualifier games against Russia this century. We plunged down to earth in Moscow in September 2002, losing 4-2. This result would set the tone for the Euro 2004 qualifiers and we never properly recovered.
We were outclassed 3-2 in Euro 2012 qualifier at the end of 2010. Only for a frantic, harum scarum finish, the match would have finished 3-0.
They also served as the opposition for Mick McCarthy's first game in charge, an abject 2-0 loss in which new captain Roy Keane made a frank decision to get himself sent off near the end.
4. Israel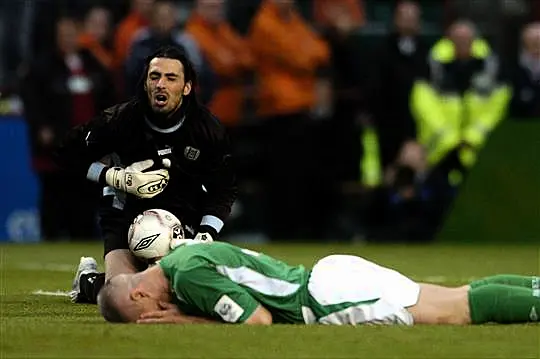 Israel's presence in our top 5 bogey teams is a tribute to the infuriating role they played in mucking up our 2006 World Cup qualification chances.
A nation which has been traditionally rubbish at football, Israel have met Ireland five times, and we've only managed one victory. Now, the Israelis have only managed one victory in the fixture themselves with the remaining three games finishing in draws.
Ireland's sole victory was a whopping 5-0 win in a friendly in Dalymount Park, played the day before Scotland met Bulgaria in the final game of Euro 88 qualifying. Chatting with the media after the game, Jack Charlton promised Andy Roxburgh the traditional bottle of champagne if his team got the job done in Sofia, which, of course, they did in rare style.
Aside from that, Ireland somehow lost 3-0 in Jaffa in 1984. But it is their memorable role in stymieing our hopes of making it to Germany '06 that has them numbered among our bogey teams.
From two games, we somehow conspired to not beat them in 2004/05. Having led the whole way in Tel Aviv, Ireland conceded a goal in the final seconds. And then proceeded to blow a 2-0 lead in the Lansdowne Road fixture when the game looked set to be a cakewalk early doors.
Playacting and theatrical opposition goalkeepers have long functioned as the pantomime villains on big game nights in Lansdowne Road. But even by those standards, Israel's Dudu Aouate is a villainous league of his own.
The most despised athlete to ever stumble - clutching his face - into the bad books of Irish football fans.
3. Macedonia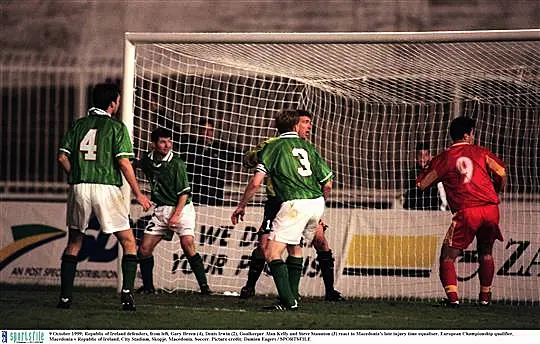 Ireland have lost 16 out of 26 matches against Spain. But hard numbers does not alone a bogey team make. Ireland's poor numbers against Spain are no mystery for they are patently a stronger and more powerful footall nation. And even at that we have achieved a couple of decent results, the 1-0 win in 1989 which set us on the road to Italia 90, and the 0-0 draw in Seville in November 1992, after which Maradona proclaimed Roy Keane the best young midfielder in Europe.
No, bogey teams are sides against one has an unreasonably poor record or smaller teams who have delighted in tripping you up. Irish football fans shudder at the memory of Macedonia games.
Ireland have played six games against this Former Yugoslav Republic in the past twenty years and won four of them. But the wins are nearly all forgotten. All that's remembered are the missteps. The Macedonians scarred two successive Ireland qualifying campaigns.
In 1997, with Irish football already suffering a crisis of confidence, we shipped an appalling 3-2 defeat in Macedonia, a game which ended with Jason McAteer almost decapitating a Macedonian player with a kung-fu kick. As a result, the superstitious folk in the FAI decided the orange shirts weren't long for international football.
Even more harrowingly was Goran Stavrevski's last minute free header which denied us top spot in our Euro 2000 qualifier.
As a mark of the seriousness of the situation, we were treated to the incongruous sight of the notoriously reserved Denis Irwin almost punching the ground Sami Kuffour-style in dismay as the ball hit the net. Whereas Sami looked heartbroken, Irwin simply came across as furious.
The phrase 'I've had a Macedonia' has even transcended sport.
2. Belgium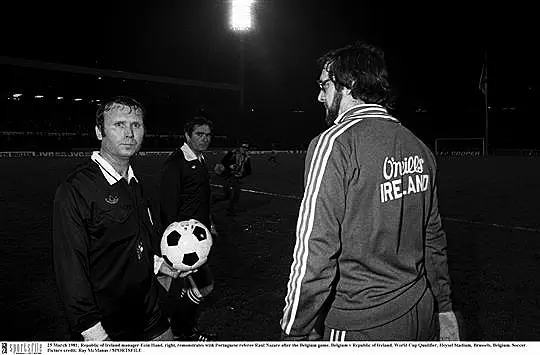 Ireland's head to head record with the Belgians is reasonably respectable but this is purely a consequence of our three game long winning streak between 1928 and 1930.
Since then, we've got little joy from the fixture and an inordinate amount of heartache. Belgium rank high among Ireland's bogey teams because they've been the beneficiaries on a couple of occasions when we went away cursing our bad luck.
Children of the 1990s - a large constituency among our readers - will remember the 1998 World Cup playoff and the more historically curious of them will have learned from their parents about a far more notorious episode in 1981.
In the November 1997 playoff, the controversy centred around a fairly low-key incident where a throw-in was wrongly awarded to the Belgians with the score tied at 2-2 on aggregate. From the resultant throw-in, the ball quickly found its way to Luc Nilis who stabbed it home.
This is a fairly innocent incident when set alongside the sinister events of March 1981. Ireland were attempting to qualify for the World Cup in Spain in a group loaded with sharks - France, Holland and the Belgians with Cyprus making up the numbers.
Ireland beat both France and Holland in Lansdowne Road, taking a point off the Dutch in Amsterdam. They pushed Holland, runners-up in the two previous World Cups, into fourth spot in the group, as they harried the Belgians and the French for a spot in the top two.
They were ultimately screwed out of a place in Spain by a 1-0 defeat in Brussels and the refereeing of Portuguese official Raul Nazare.
He first disallowed a Frank Stapleton goal for reasons that remain a mystery to everyone. In the final minute, with a precious point almost secured, he awarded a free to Eric Gerets on the edge of the box following one of the most comical and artless dives ever recorded on camera.
Seamus McDonagh got a hand to the free-kick but only punched it skywards. When the ball hurtled downwards still inside the six yard box, Jan Ceulemans rose above the rest and nodded it downwards into the net.
Accosting him on the pitch afterwards, Ireland manager Eoin Hand accused Nazare of taking a bribe.
When Paul Howard travelled to Portugal to interview Nazare for the Sunday Tribune ahead of the 2002 World Cup, the then retired referee was unable to satisfactorily explain his reasons for disallowing Stapleton's goal, changing his story three times after watching the replay again and again. Of Gerets, he acknowledged that he was "clowning" but that there had been contact with Heighway. It is an extraordinary interview.
Read more about Ireland's 1982 World Cup qualification campaign here.
Our recent experience against the Belgians was a chastening and borderline humiliating experience.
1. Austria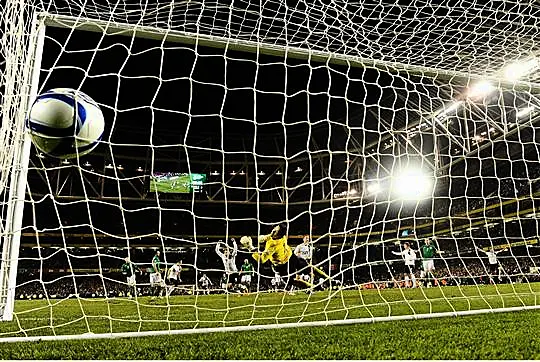 Ireland have a knack of bumping into the Austrians just when everything is going to pot in Irish football. In total, we've lost nine from 14 meetings against Austria and only won twice.
We met them frequently during our five year win drought in the late 1960s and early 70s. Eamon Dunphy did once disclose that he played 23 times for Ireland and enjoyed two victories (against Turkey and Czechoslovakia). He played throughout this period. A 6-0 defeat to the Austrians in October 1971 may well have marked the nadir of Irish football in the period (For the record, no blame is attached to Eamo for that as he didn't play that night).
During our late 80s and early 90s heyday, there was ne'er a sign of a game against Austria on the horizon. While they had qualified for Italia 90, they hardly distinguished themselves, and we would assuredly have enjoyed the upper hand over them in the 1987-1994 period.
We were drawn with them in qualifying for Euro 96, meeting up with them just in time for our precipitous mid-90s decline. Indeed, it was the shocking 3-1 defeats against Austria home and away that properly marked our decline.
The home loss was especially startling to witness. When Ray Houghton put Ireland 1-0 ahead in the second half, there was relief that we wouldn't be held to a scoreless draw. Austria promtply scored three goals between the 69th and 78th minutes and an ageing Irish team were in big trouble.
For younger supporters accustomed to consistent Irish over-achievement, to the extent that they didn't recognise it as such, it was a surreal defeat to witness.
The latest campaign - apart from this one - that saw us collide with the Austrians was the 2014 World Cup campaign, in which Ireland, low on morale after the Euros humilation, barely had the stomach for the fight.
A 2-2 draw at home to Austrians dealt a crushing blow to our chances halfway through the campaign while the final 1-0 loss in Vienna brought an end to Giovanni Trapattoni's reign.