A few months ago, we brought you '5 Genuinely Entertaining Clips From When Soccer AM Wasn't Complete Garbage' as we didn't see the changes that Sky had lined up for the new season.
Now, it's certainly not what it once was at it's peak, but tweaks have been made and new features have been added which mean that you can watch the show and not absolutely hate yourself for it.
It still has it's share of horrible jokes and awkward moments of nothingness, as with any live TV show, but the following adjustments have made it a much better show:
Fenners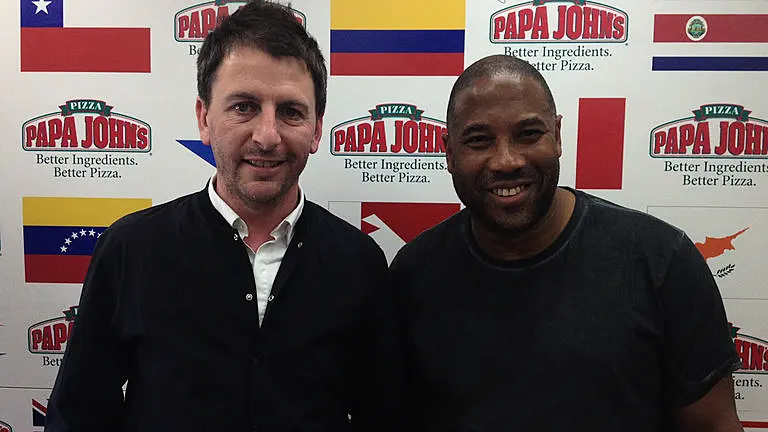 He may not be everybody's cup of tea, but Fenners is so much better than Max Rushden or Andy Goldstein, and brings moments of genuine humour to the show.
Him and Rushden have actually switched places, with Max now co-presenting The Fantasy Football Club with Paul Merson. Good for Soccer AM, bad for Paul Merson.
The F2 Freestylers
YouTube sensations the F2 Freestylers are a welcome addition to TV, as their ability with a football is quite frankly outrageous.
Typically used to break up the chat with some mind-blowing tricks, they were initially brought on as guests but now appear every week.
The Strip Club
The best types of TV quizzes are ones where the viewer can play along too, and it is almost impossible to watch this quiz of football teams' kits without blurting out the ones you recognise.
Plus it's fun to see people win money.
You Know The Drill
Jimmy Bullard goes around to professional clubs' training grounds and challenges pros in a series of training drills.
It's very entertaining, and also provides fun drills to try if you play for a football team.
Last Man Standing
Yes it's an entertaining challenge among future pro footballers, but also, it is SO important that the future stars of the Premier League are on TV when they are teenagers, so that we can look back and laugh when they get famous.
Just like we did with Danny Ings.
BONUS: They Had Ireland Kitman Dick Redmond On
What a man.