1. David Forde stakes his claim to the #1 jersey



Much was made of the decision to play David Forde ahead of Kieren Westwood for last night's game. Forde, who is playing regular first team football for Millwall, was given the nod ahead of Westwood, who hasn't played a single minute for Sunderland in the Premiership this season.


Forde started well after coming off his line to clear on a couple of occasions. However his kicking from back passes was dreadful throughout the game. It put the Irish defence under needless pressure and had Poland been more clinical in front of goal, his errors could have been heavily punished. The issue with Forde's kicking was put to Giovanni Trapattoni in the press conference after the game: "No, it is not an issue for me because he was shooting only with his left. The passes came to his left foot, it was not his fault."
Forde's best moment of the night came after half an hour when he made a fantastic finger tip save from a Lewandowski volley. He reacted quickly to save the follow-up shot which gave him a huge confidence boost after those shaky clearances. When faced with a one-on-one with Lewandowski shortly after, Forde again showed great nerve to deny one of Europe's best strikers.
Other than that, it was a fairly quiet evening for Forde in the Irish goal as Poland didn't offer much attacking threat in the second half. His kicking is an obvious issue which will have to improve but for now, Forde looks to be in command of the goalkeeper's shirt.
2. Conor Sammon flounders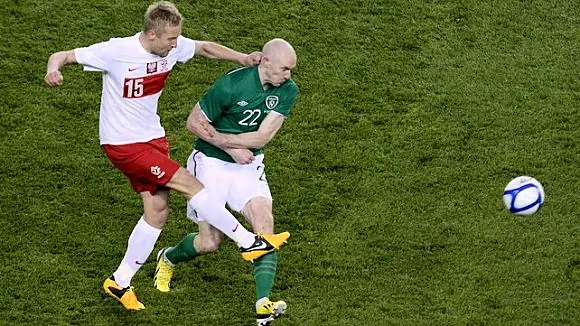 The Derby County striker was handed a big opportunity to impress tonight in what was his international debut. Sammon who has 7 goals for Derby this season has impressed Trapattoni enough for the Italian to travel to England to attend a few of his games earlier in the season.
However it was a largely frustrating night for Sammon, who in truth had to feed off scraps. He worked tirelessly for little reward but when his big moment fell to him on the hour mark, he squandered it with the goal gaping. A heavy first touch inside the six yard box summed up a night when the ball got away from him far too often.
Is he an option for the Sweden game? Well Trapattoni certainly thinks so: "I think he is a good option for Sweden because they play technical and also strong football. Being physical in football is very important."
Trapattoni's preference of a big target man looks set to continue in next month's qualifiers. Despite his misfiring last night, Sammon is now vying with Walters and Doyle for the role as the target man, if Trap is to be believed.
3. The Wes effect
On a night when the away supporters outnumbered the Irish fans by about four to one, there were three large cheers from the home support - two of which came courtesy of Wes Hoolahan. Hoolahan was introduced after 70 minutes, much to the delight of the Irish fans.
It took Hoolahan just fourteen minutes to make his impact. Fellow substitute Jeff Hendrick picked Hoolahan out with a quite brilliant pass before before the Norwich City playmaker expertly volleyed past a helpless Szczesny in the Poland goal. And so followed the largest roar of the night.
It was encouraging to see that Hoolahan was allowed to play in the position where he is most effective: off the main striker. The introduction of both Walters and Cox must have tempted Trap to shift Hoolahan to a wider role but he allowed him his preferred position, albeit for just twenty minutes.
With Robbie Keane set to come back into the side for both qualifiers in March, it's difficult to see where Hoolahan fits into Trapattoni's rigid system. The manager said: "Hoolahan showed that he can hurt opponents. He gave them fear in the second half." If he'll be allowed to "hurt" Sweden remains to be seen but it's safe to say there aren't many Irish fans who wouldn't pick Hoolahan from the start in Stockholm next month.
4. Plenty of Encouragement for Ireland's Fresh Faces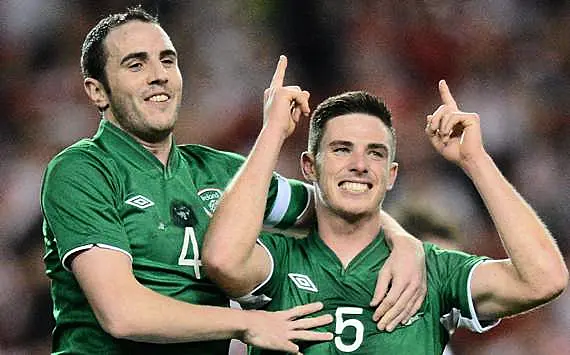 Ciaran Clark was solid at the heart of the defence for the majority of the night but there were a couple of occasions when was caught out of position by Lewandowski. He would have seen a definite yellow card after a quarter of an hour had it been a competitive game. He took his goal very well but Zlatan will provide a completely different test.
Greg Cunningham had a mixed night. He lost his footing at crucial times on a couple of occasions and was lucky not to be punished by the opposition for it. He offered very little going forward but presumably this was down to Trapattoni's restrictions. Nevertheless, Cunningham played the full ninety minutes which is encouraging for the youngster.
Robbie Brady and James McClean both had decent performances without doing anything spectacular. Both worked extremely hard in helping out their full backs but Irish fans will certainly want to see a lot more from both wingers as an attacking force.
Richard Keogh was only given a six minute run out which was disappointing, especially when you consider that Paul McShane was playing ahead of him. McShane has had plenty of opportunities in the past to show what he's got. It would have been interesting to see Keogh, who was making his debut at 26, would have done with more than a six minute cameo.
Besides Hoolahan, it was Jeff Hendrick who had the biggest impact out of all the fresh faces that were on show for Ireland last night and he was only on the pitch for twenty minutes. Trapattoni's decision to bring Paul Green on ahead of the 21 year-old was mindboggling but Hendrick made an immediate impact when he played that brilliant ball for one of the finest Irish goals that has been scored in quite a while. Afterwards Trapattoni was full of praise for the Derby midfielder: "I wanted to put Hendrick in for ninety minutes but he's new. It was difficult because I wish to give McCarthy the opportunity to grow. But I have followed Hendrick many, many times. He is physically good and I think he can do better again with more confidence and more aggression. He has a good strike pass and he can see things before he receives the ball."
5. So What Is Our Starting XI For Sweden?
Based on what we saw last night and from the friendly against Greece back in November, it seems that there are a few places up for grabs. David Forde should start in goal after playing in both friendlies and keeping a clean sheet last night.
At the back, we can expect to see Seamus Coleman (if fit) and John O'Shea while Ciaran Clark looks like he has played his way into the starting line up. Left back remains a problem area. If Richard Dunne was to be fit, we could see O'Shea revert to left back. The other option could mean Coleman going to left back, where he has played in the past, with Paul McShane starting at right full. That won't sit easy with a lot of Irish fans but Trap has a strange loyalty to the Wicklow man.
In midfield, both McCarthy and Whelan are nailed on to start in the middle. Assuming McGeady is fit, he will come straight back in, leaving Brady and McClean battling it out for the other wingers spot.
It seems that there is nothing Wes Hoolahan can do to earn a start in a green jersey. Sadly, it would be a major surprise to see him starting in Stockholm. Trapattoni admitted in the press room that he had overlooked Hoolahan for too long: "Maybe we have overlooked him because when we see him in his club he plays well in this position but his club is no Manchester or Arsenal." A Walters and Keane front duo looks the most likely scenario.
All in all, last night's friendly was a worthwhile exercise. Although the performance itself leaves plenty of room for improvement, it was a good morale-boosting result, while a few players have staked their claim to be on the plane to Arlanda airport in March.