We're living through strange times. And while it's sometimes easy to despair at the buffoons leading countries in the English-speaking world, there have been plenty of times since the death of the George Floyd that have proven ordinary (and extraordinary) people can actually change the world.
Take Marcus Rashford. Over the past few weeks, the 22-year-old has engaged directly with British politicians to campaign on an issue of conscience - free meals for poor children - and today, the Tories caved in. The public good won out.
🗣 to all MPs pic.twitter.com/Dc4weMvTHN

— Marcus Rashford MBE (@MarcusRashford) June 16, 2020
Footballers were such an obvious target during the start of the Covid-19 crisis, with many conservatives calling on them to take voluntary pay cuts. Rashford's intervention in the issue proves what athletes can do when they engage directly on important issues.
Unsurprisingly Rashford has been the toast of social media today.
A hero. An inspiration. One of our own.

We are so proud of you, @MarcusRashford ❤️ pic.twitter.com/haAb0m2I4u

— Manchester United (@ManUtd) June 16, 2020
Top class 👏👏

— Harry Maguire (@HarryMaguire93) June 16, 2020
Well done @MarcusRashford making a difference of the pitch with providing free schoolmeals and the government backing you also! Good luck with the restart on the pitch this weekend with @ManUtd.

— Edwin van der Sar (@vdsar1970) June 16, 2020
And the inevitable Katie Hopkins tweet merely proved Rashford was on the right side of history.
(Sadly, the tweet of Rashford purportedly telling Hopkins to fuck off was from a fake account.)
England and Northampton rugby player Courtney Lawes also congratulated Rashford. Though, he also included a suggestion - that child poverty could be prevented by people being married and financially secure before having children - which has understandably raised plenty of ire. Lawes subsequently deleted the tweet.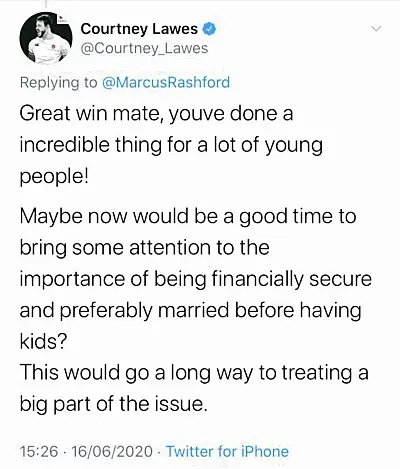 The links between sports and social change should not be overlooked. How many followed Colin Kaepernick by taking a knee over the past month? A Manchester United striker has changed Tory policy this afternoon. Long may it last.