One of the main talking points from the Euro 2016 final which saw Portugal defeat France in Paris on Sunday night was the tackle that caused Cristiano Ronaldo to have to withdraw from the action.
The match was barely 15 minutes old when a hard tackle from West Ham and France star Dimitri Payet left the Portuguese writhing in agony on the Stade de France pitch, and the slow-motion replays make it look rather painful.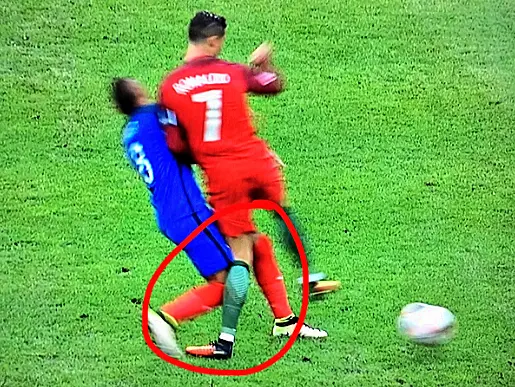 It was a robust challenge, but a fair one as Payet played the ball first and it appeared that Ronaldo's studs getting stuck in the turf is what really damaged his knee, but some suggested that there was more to the challenge.
The idea that Payet intended to "leave one on" Ronaldo early doors was clear to be seen across social media with many suggesting that the France winger should have seen red, but the player himself has rubbished these reports when they were presented to him after the match.
I came in for a tackle, full stop.

I got the ball back, but if I hurt him it wasn't intentional -- it's not in my nature to be a nasty player on the pitch. There's no question about that.
One person who was not buying that explanation from Payet at all was Cristiano Ronaldo's mammy, who tweeted the following shortly after the incident in an act that suggests it must be mortifying to be a world-famous sports star and have your Mother be active on twitter.
I cannot see my son in this way. The game is to kick the ball and not hurt the opponent.
Eu não posso vê-lo desta forma o meu filho. O jogo é chutar a bola e não ferir o adversário.#Euro2016Final pic.twitter.com/TQ7u4ercpf

— Dolores Aveiro (@DoloresAveiro) July 10, 2016
It doesn't matter if you're one of the best-paid athletes on the planet, your Mammy's world will come crashing down if you take a hard tackle, Dolores is no exception here.