Part of the thinking for starting this Couch to 5k diary was motivational. If I didn't tell people what I was doing, I could stop and no one would know. Now there's expectation and now I have extra commitments. Thanks for all the kind comments on the first week's entry and good to see others were motivated too.
@seidodge @ballsdotie Hey Dodge - what's the app you are using - I'm gonna join you on your journey to 5k!

— Gareth Penrose (@garethpenrose) November 12, 2015
@seidodge nice one, gonna try it meself, only thing I run these days is a search on windows 7 😅😅 best of luck with it 👍🏻

— Conor (@srfconor) November 12, 2015
So now on with Week Two...
Week Two, Day One - Saturday, 14th November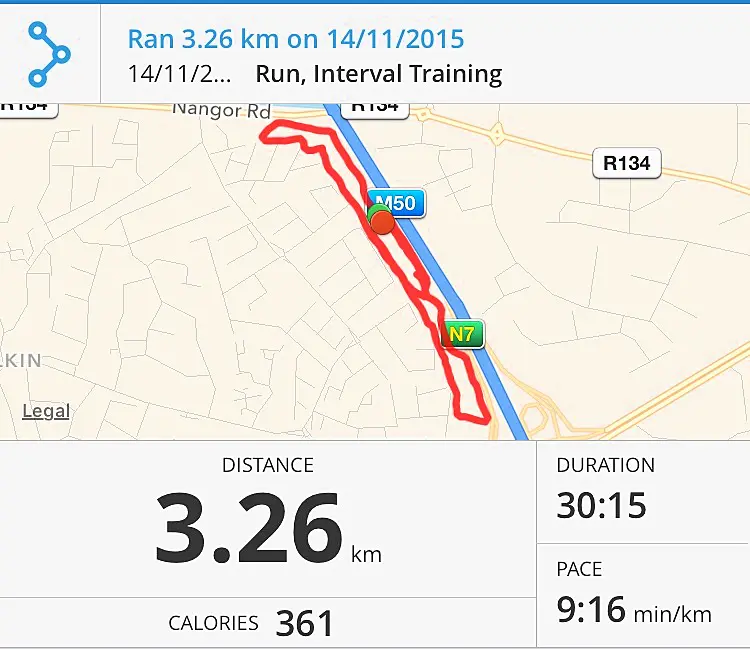 Week one ended on Wednesday so I was hoping to start two days later and continue to run every second day. I hadn't factored in football. I stayed in to watch the Ireland-Bosnia game and then events in Paris took over my Friday night so any running was delayed until Saturday. My daughter has a dance class at noon on Saturday so I used this as the perfect excuse to try four things for the first time.
running in the pissing rain
running in a different park
measuring the distance covered
running in broad daylight
All four scary in their own right. I downloaded the "Map My Run" app and off I went. Running was on a mix of grass and tarmac. Around the football pitches in Knockmitten Park were fine but some of the open grassland was a bit too damp for me. I found the tarmac running/walking far easier than concrete last week. The runs were longer this week but only on run five was a I looking for it to end. Once again I was happy not to be too tired after it. My nerves about people seeing me struggle was helped by the rain deterring all but the most committed of dog walkers. Covering 3.26 km was a surprise to me. It made me feel that I could actually run 5k in the near future for the first time.
Week Two, Day Two - Monday, 16th November
Damn you football! Mondays are always awkward for me. I usually get home about 7.30 and last week I went out to run while my wife made dinner. This week I wasn't missing Ireland's win over Bosnia in the EURO playoffs. I ended up having dinner just as the final 10 minutes approached. It meant I wasn't finished eating dinner (a huge homemade curry!) until near 10. I changed and headed out for 10.30. I could instantly feel heavier than previous runs. I again mixed up running on grass and tarmac and changed routes again (I don't think I realised how much grassland is near my house!).
I started out pretty quickly (blame Jon Walters for the adrenaline) but got to an even pace soon enough. I usually count the number of runs and was struggling after the 5th. Luckily for me I hadn't counted properly and I was actually finished all 6 runs. Huzzah! The lesson learnt was to not run on a full stomach. With the extra cool down walk added I covered 3.62km this time.
Week Two, Day One - Wednesday, 18th November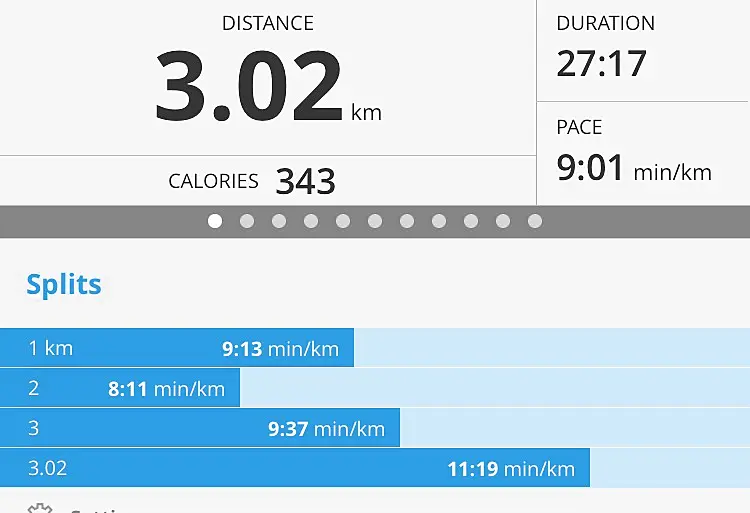 The third outing in week 2 was by far the hardest. I used the same route as last time out but spent the second half of it facing into a very strong wind. It might not have been Storm Barney levels but it was the strongest winds I've tried to exercise in. You might see in my splits above that my middle km was very quick. More than 40 seconds quicker than any other split so far. I don't think that speed helped on the way back.
By the end of the last run I was pretty tired and delighted to be only left with a walk. As a result my warm down walk was a few minutes shorter than usual. I'm still enjoying getting out and getting the exercise done but there's no doubt that this week threw a few new problems at me (weather and time mostly). I'm definitely glad to have stuck with it though.