Your body is a temple.
However, in order to ensure that it maintains itself, you need to look after it, both mentally and physically.
The WHOOP strap is equipped to measure the strain or stress you put on your body with a 24/7 heart rate monitor.
In the second episode of our series 'WHOOP Diaries with Lauren Guilfoyle', we take a deep dive into how WHOOP measures strain and how we can subsequently manage it. If you want to find out more on WHOOP and how it can help you manage strain, click here.
How WHOOP Measures Strain
WHOOP Strain is measured on a scale of 0-21, with the number corresponding to the amount of stress you're putting your body under.
The different levels of strain can be split into four categories:
0-9 - This is known as light strain, and is the level of exertion you'll find yourself at when you're putting minimal stress on your body.
10-13 - This is moderate strain, and indicates moderate stress which can help the body to maintain fitness.
14-17 - When you put increased stress on the body in order to build fitness gains in your training, this is known as high strain.
18-21 - Think of this as the fitness equivalent of trying to get a box of cereal off the top shelf in the supermarket, sometimes your arms just aren't long enough. This level is called overreaching and it usually indicates all out training or a day full of activities which are tough to fully recover from in the days following.
Track Your Weekly Activity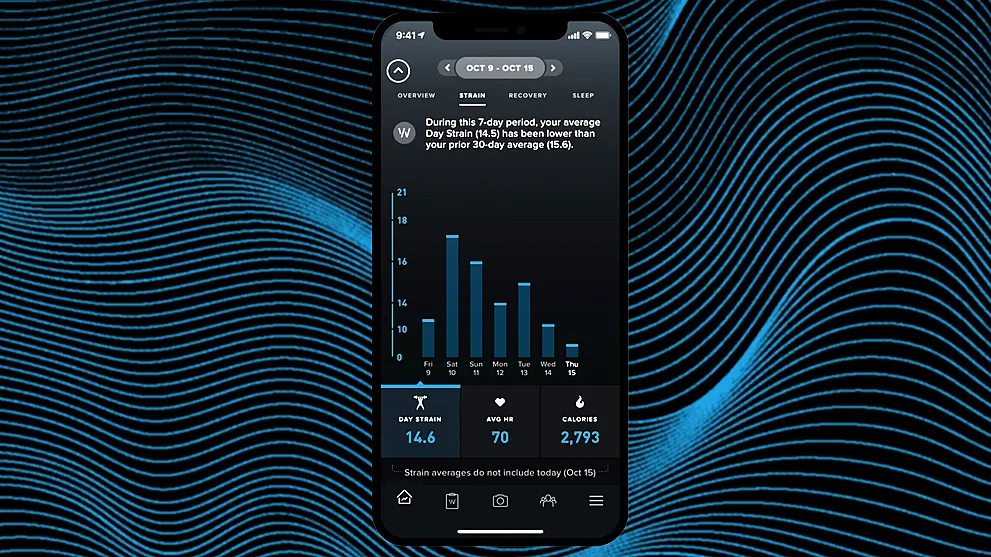 WHOOP can also track your activity across a whole week, thus giving your personalised insights into metrics like Day Strain, average heart rate and calories burned.
With day strain, you can understand how much stress is being put on your body on a day-to-day basis both inside and outside of training.
Your average heart rate can be compared and contrasted to see how it changes depending on your level of activity.
WHOOP also gives you a detailed look at your calories burned during a session, in a day or over a given week.
Automatically Track Activities
WHOOP detects activities automatically and will give you a detailed breakdown of each activity that you do.
You can tilt your phone whilst on the WHOOP app to get a detailed look at your raw heart rate data over the last week. This gives you a full picture of how your day has been and how your body has reacted to the different stressors that you faced - be it physical, mental or emotional.
In our 'WHOOP Diaries' series, Lauren inputs that she goes for a run around the marina beside Pairc Ui Chaoimh. However, she also let us know that WHOOP has specific measures for GAA activities.
So, if you're at County level or still cutting about at Junior B, WHOOP can help you track your performance with ease.
Personal Strain Coach
WHOOP can give you personalised insights into how much strain is optimal for your body.
Based on your body's recovery, your Personal Strain Coach will recommend a target range which you can monitor in real-time.
You can take three actions:
If you're actively recovering, you can undergo restorative action.
If you're maintaining your body's fitness levels, you're training at an optimal level.
If you're actively pushing hard for fitness gains, you're overreaching.
*********
Like we said at the beginning, your body is a temple. It needs to be maintained and managed in order to reach its optimum levels.
WHOOP allows you to understand how much strain your body can take, allowing you to make decisions that can benefit your fitness and health in the long run.
In the next episode of our WHOOP Diaries, Lauren focuses of recovery, so make sure to keep an eye on that across our socials.
If you want to find out more on WHOOP and how it can help you manage strain, click here.