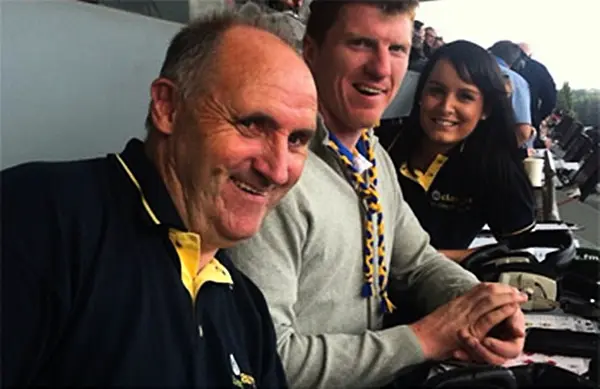 The BBC were traditionally famous for their staid, authoritative and scrupulously impartial commentary, American sports commentators are famous for their yelping excitability but Irish local commentators are usually known for their wild, unmannered, and often gloriously partisan commentary.
Here are ten of the finest exponents (we might as well sound like a GAA encyclopedia) of the art of local GAA commentary. Listen to them below and vote for your favoourite (no clips of Liam Spratt in action but we do have a selection of his fabled bon-mots)
We suggest that commentators lose marks for any hint of urbanity or impartiality. They should gain marks for strong accents, hyperbole after victories, complaints about the referee giving their team nothing, and politically incorrect remarks. Use of the phrase "onion bag" may also be rewarded.
*Mid-West Radio's Mike Finnerty is a fine commentator but is excluded because of his national prominence as one of Sky Sports' main commentators.
In no particular order, here are the top 10 - vote below
1. Syl O'Connor - Clare FM
Greatest Moment: His orgasmic noise when Donal O'Donovan struck the equalizer in last year's All-Ireland final
Finest Quote: "The voice is nearly gone... Surely say something" (To co-commentator Niall Gilligan at the end of the drawn All-Ireland)
Bias: Held it together and made a reasonable fist of concealing his dismay when Pa Horgan put Cork a point ahead in the final few minutes of 2013's drawn All-Ireland final
Rapport with co-commentator: Has established a great relationship with ex-Clare corner forward Niall "Gilly" Gilligan.
Voice Sounds Like: A hoarse but powerful voice, Syl sounds like Tom Waits when he decides to tear into a particularly aggressive ballad.
2. Weeshie Fogarty - Radio Kerry
Greatest Moment: His famous familiarity with Beyoncé
Bias: Flushed with commentating on years and years of success, Weeshie is unusually gracious in his calling of games. As proof, he was quick to describe Tadhg Kennelly's high tackle on Nicholas Murphy as a dangerous hit.
Rapport with co-commentator: Technically, Weeshie is actually a co-commentator except he is unusually prominent given that particular role.
Voice Sounds Like: Remarkably rhythmic and quick talking delivery.
[soundcloud url="https://api.soundcloud.com/tracks/168274137" params="auto_play=false&hide_related=false&show_comments=true&show_user=true&show_reposts=false&visual=true" width="100%" height="450" iframe="true" /]
3. Sean Walsh - Galway Bay FM
Greatest Moment: His calling of the 2012 drawn All-Ireland final
Rapport with co-commentator: Generally works with ex-Galway forward Francis 'Franny' Forde and former All-Ireland winning captain Conor Hayes.
Voice Sounds Like: When passing the speaking baton onto his co-commentator, he adopts the currently much in fashion local GAA commentator's inflection which can be best described as " jocular knowing culchie." This is where one says something like "You don't want to give the ball away to Joe Canning in that position, do you Franny Forde?" or "No better man than Joe Canning in that situation, is there Franny Forde?"
[soundcloud url="https://api.soundcloud.com/tracks/118114195" width="100%" height="166" iframe="true" /]
4. Willie Hegarty - Shannonside
Greatest Moment: Willie has too many great moments in his locker. His brilliant calling of the 2013 All-Ireland club final and the 2006 All-Ireland minor final were great days. When Tommy Grehan scored the winning goal against Sligo in 1998 to send the Rossies to that year's Connacht final, many who turned on Shannonside at that moment had to turn it off that instant mistaking Willie's frenzied hollering for distortion on the radio.
Bias: Knows the majority of Roscommon players by their nicknames
*This brings us to a (possibly apocryphal) tale often told about Willie. Roscommon were playing Wexford in the League one time in the late 90s. There was no programme and Willie only knew a few Wexford players, one of whom was stalwart John Browne. Needless to say Browne had a stormer that day and at one point appeared to be drilling 40 yard passes directly into his own chest. The five second snippet of commentary went something like this "John Browne comes out with the ball, he drives it clear, a Roscommon player is down injured, we can't see who it is, and John Browne claims if for Wexford..."
Voice Sounds Like: He pronounces the word 'greatest' "greashest"
Rapport with co-commentator: He links up superbly with his whooping and hollering co-commentator Seamus Duke. Duke had a stellar week during Roscommon's replay victory in the 2006 Minor Football Final announcing that Joe Brolly's comments during half time of the drawn All-Ireland would "sicken the backside" and then (as can be heard enough) declaring in a high-pitched voice that the replay victory was "the greatest day of my life."
[soundcloud url="http://api.soundcloud.com/tracks/83794418" params="" width=" 100%" height="166" iframe="true" /]
5. Liam Aherne - Live95FM
Greatest Moment: He was an aural adornment to the closing stages of the 2013 Munster Final.
Finest Quote: There's no competition here. This may well be the finest quote of any commentary ever.
"The referee would be well advised to blow it up here and let the session - I mean let the party begin" (Closing minutes of the 2013 Munster Final)
6. Brendan Hennessy - KCLR
Greatest moment: If one was inclined to be cruel, one could say that great moments are thin on the ground in Carlow. Certainly the inter-county side have given him precious little to work with. However, Mount Leinster Rangers' progress in last year's club championship provided a stage for him and his co-commentator Terence Kelly. Their defiant roar of "SHAME ON WEXFORD" at the end of the Leinster club final is arguably the finest moment in the history of local GAA commentary.
Sounds like: A trade unionist tearing into the government outside the GPO
Rapport with co-commentator: Commentator Terence Kelly is like his political advisor, egging him on when he gets going.
Bias: Not fond of Wexford on the evidence of this commentary
7. John Duffy - Shannonside
Greatest Moment: His voice went viral late last year as he brought news of the Cavan county final to the at first stressed then jubilant Ballinagh supporter Ciaran Brady
Bias: Duffy can commentate on his native Dromard and still retain some semblance of fairness. A Fred Rickwood style professional, when the microphone goes down, he barks out in frustration if Dromard end up on the wrong side of the result.
Rapport with co-commentator: Has had a long working relationship with former Longford and Ireland international rules star Liam Tierney on Longford games and Donal Keoghan when commentating on matches in Cavan
Voice Sounds Like: Duffy has a rousing, stirring voice that sounds like a politician addressing a rally in the 1960s and 70s. This is fitting as he is Fine Gael councillor in Longford. A quality job for a local GAA commentator.
8. Liam Spratt - South East Radio
Greatest moment: Liam Spratt has a faceboook page devoted to his own unique verbal constructions, Sprattisms. Here is a collection of the outstanding Sprattisms.
1. And here's Sean Flood - son of the late Tim Flood... hold on a minute, Tim's not dead!
2. 'Was the traffic bad on your way up, Billy?' 'About the same Liam, I was in your car'
3. And it's a lineball for Wexford. There's a break in play now while Seán Flood receives some attention……. And while there is I'd just like to offer my sincere condolences to the Murphy family in Clonroche on the sad passing of Mary last weekend…. She was a loving wife and mother and all were fond of her in the community…… Herself and her husband Tim were always involved in the local scene and especially the GAA…….Mary always gave her time up for others and I still remember the time when I met…..GOOOAAAALLLL!!! A GOAL FOR WEXFORD!!!!
4. And the ball is hit in………and AND ITS A GOOOAL FOR WEXFORD…. and when I say Wexford of course I mean Laois
9. Ollie Turner - Galway Bay FM
Greatest Moments: Unlike in Cork, where every second player is a dual player, there are firm lines of demarcation in Galway between hurling and football. And Galway Bay FM's football guy is the sports editor Ollie Turner.
Despite the bleak turn Galway's football fortunes took in the past decade, Ollie has had many fine moments, but none so brilliant as last Sunday, when the incoming Galway football manager decided he couldn't sit still and watch his Killanin side against Moycullen in the Galway intermediate county final.
Rapport with co-commentator: His usual co-commentator these days in former Galway centre-half back Diarmuid Blake.
[soundcloud url="https://api.soundcloud.com/tracks/171012150" params="auto_play=false&hide_related=false&show_comments=true&show_user=true&show_reposts=false&visual=true" width="100%" height="450" iframe="true" /]
10. Oisin Kelly - Highland Radio
Greatest moment: Oisin's voice perfectly captured the giddy euphoria of Donegal's surprising win over the Dubs this year. Oisin has had a glorious few years with Jim McGuinness.
Finest Quote: Kelly reputedly once finished a news broadcast with 'that's the sports news and I'm Chris Ashmore (pause followed by cough) No, I'm not, I'm Oisin Kelly'
Here he is interspersed with Weeshie Fogarty again.
[soundcloud url="https://api.soundcloud.com/tracks/168274137" params="auto_play=false&hide_related=false&show_comments=true&show_user=true&show_reposts=false&visual=true" width="100%" height="450" iframe="true" /]