The UFC will be making its highly anticipated return to Ireland in just over a week. We have put together a handy guide for complete newcomers to mixed martial arts who don't want to get left behind when it sweeps the nation on July 19.
Q: MMA,...what is it?
Answer: MMA stands for mixed martial arts. It is a combat sport that combines all the fighting styles and disciplines of combative martial arts including boxing, muay thai, wrestling, jiu-jitsu, judo, karate etc. In the early stages of the sport, it was normal for fighters to only one discipline. However, the modern sport has progressed to a level where all fighters have to be well-versed in multiple disciplines to make it at the highest level.
Flyweight champion Demetrious Johnson is one of the most well-rounded fighters in the world. He is highly skilled in several martial arts including wrestling, muay thai and jiu-jitsu.
Q: So, MMA and UFC are the same thing, right?
Answer: No. This is a common mistake made by casual fans of the sport. MMA is the name of the sport while UFC ( Ultimate Fighting Championship) is an MMA promotion. Calling the sport UFC would be the equivalent of calling soccer "Premiership" or wrestling "WWE". The two are not interchangeable.
The UFC is the world's largest and most famous MMA promotion. It is widely regarded as the company that grew the niche sport into this massive global phenomenon. It is owned by Dana White and brothers Lorenzo and Frank Fertitta.
Q: What the hell is an Octagon?
Answer: The Octagon is where bouts are fought in the UFC. It is an eight-sided ring surrounded by a 6ft high metal chain link fence.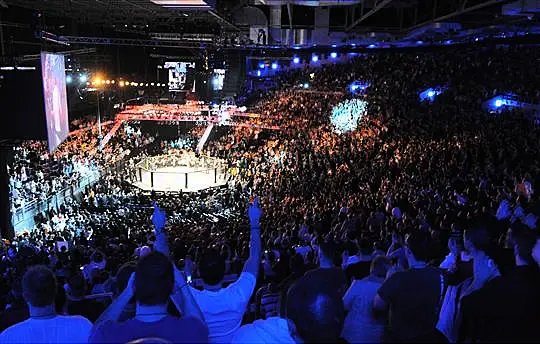 Q: How do you win?
Answer: Fights are three five minute rounds while championship bouts last five rounds. Rounds are scored using the same system as boxing. A fighter is given 10 points for winning a round and nine points or less for losing it.
Points are awarded based on number of strikes landed (punches, elbows, kicks, knees), Octagon control (dictating the pace of the fight) and work on the ground (attempting to submit your opponent). A knockout, TKO or a fighter tapping out from a submission also ends the fight.
Q: Is it a no holds barred type of thing?
Answer: No, there are several rules and regulations in modern MMA. Biting, head-butting, strikes to the groin, fish-hooking, eye-gouging, soccer kicks and kneeing to downed opponents are all illegal in the sport. Grabbing the cage or your opponent's gloves or shorts can also result in point deductions. 12-6 elbows (landed vertically without an angle) and strikes to back of the head are also banned.
Like in most martial arts, there is an emphasis on respecting your opponent in MMA. Fighters have been fined and even thrown out of the promotion for taking cheap shots after fights, pushing the ref and holding on to submissions after the ref has stopped the fight. There is a zero tolerance policy for this sort of behaviour in the UFC.
Here's are some of the darker moments in the sport.
https://www.youtube.com/watch?v=w3-RfOTlaQw
Q: Are the athletes well-paid?
Answer: It depends on the promotion and the fighter. For example, it was reported that a marquee fighter in the UFC such as former welterweight champion George St-Pierre earned a purse of $400,000 for his title fight against Johny Hendricks last year. Whereas a promotional newcomer would earn a lot less. Irishman Neil Seery made $8,000 for his first UFC fight in London this year. Bonuses are also given for Fight of the Night and the two best performances of the night. These are generally $50,000 apiece.
Q: Are there many Irish lads involved?
Answer: There are loads. You've probably heard of Conor McGregor before, who's the most famous fighter to come from Ireland but he's not the only Irishman on the Dublin card. Dubliners Neil Seery, Cathal Pendred and Paddy Holohan will all fight in the O2 on July 19. Northern Ireland's Norman Parke will also feature, while the Icelandic Gunnar Nelson – who is fighting in the co-main event – is an adopted Irishman of sorts as he trains in SBG in Dublin.
Q: Is it not just an excuse for meatheads to knock seven shades of shit out of each other?
Answer: Yes and no. It is first and foremost a martial art, so most fights are akin to a chess matches with opponents reading each other's styles and adjusting their game plan accordingly. Some fights can be gruelling wrestling matches others can take place completely on the ground. Every once in a while both fighters will come out swinging for the fences, disregrading their own and their opponent's personal safety which can be massively entertaining.