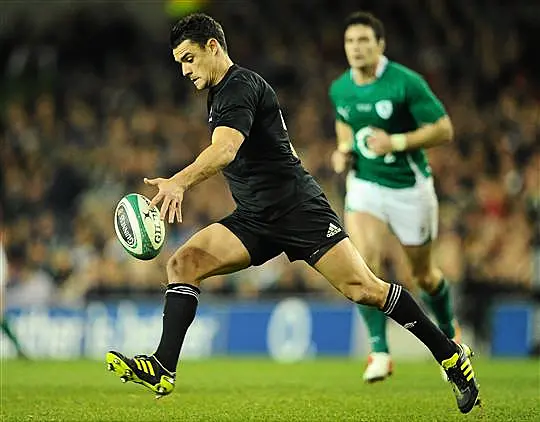 There was a chance that instead of winning 112 caps and two World Cups with the All Blacks, Dan Carter could have worn the green jersey.
In his autobiography, released today, Carter reveals that early in his career he was offered the opportunity to play semi-professionally in Ireland.
A friend of the out-half's father was working on these shores at the time and had discovered roots which could have allowed Carter play for Ireland.
Instead, the young player took up a deal with Canterbury and a year later Super Rugby side Crusaders.
I was now a professional rugby player. Super Rugby players earned $65,000 a year as a base salary - a vast sum for a small-town boy like me. That came on top of the $10,000 a year base salary I was getting from Canterbury. I signed that deal for three years, which seemed pretty amazing for me at the time. I was still surprised that anyone wanted to pay me for playing the sport that I loved. In three years' time, when I was an All Black and was starting to be pretty well known, that $10,000 contract would look like a bargain.

I also didn't have anyone advising me yet. Remember that rugby was still a baby when it came to professionalism. Along with the Canterbury contract, I was also offered a deal to play semi-professionally in Ireland. A friend of Dad's was working over there, and had found some Irish blood which allowed me to turn out for them. Luckily the Canterbury deal was a little closer to home, otherwise who knows what colour jersey I'd have ended up wearing?
The club which Carter was courted by was Instonians.
I was mate! "@cmcm52irfc: @DanCarter were you on the verge of signing for Instonians from Belfast, Ireland when you were 19?#clubrumour"

— Dan Carter (@DanCarter) August 1, 2013
Thanks to reader Gareth Rea for alerting us to Carter's tweet.
Picture credit: Stephen McCarthy / SPORTSFILE