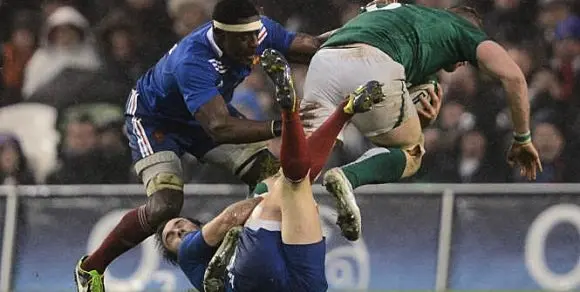 'Much Better Than I Feared'
As Freddie Michalak recklessly kicked the ball dead and the dashing Steve Walsh blew for the end of the match, the overwhelming emotion was one of disappointment. Having controlled the game for large periods, Ireland had thrown away a 10 point half-time lead to draw with a below par French team.
However, on reflection, this was a fine performance by an Irish side hobbled by injury and a coaching team that is clearly in a flat spin headed out to sea, if the week running up to the game is anything to go by. There were fine performances by young and old alike, but in the end, an extraordinarily brave Ireland ran out of steam. O'Driscoll, as ever, showed reckless disregard for his wellbeing, by limping back onto the pitch having left briefly for some treatment, accompanied by Luke Marshall who looked like he had little idea of where he was and certainly wasn't returning after another assured performance. During the time BOD was off, the Irish backline contained two scrum-halves and two fly-halves. Despite Madigan's ability to play almost anywhere, and he looked pretty good in his short cameo at 9, it is enormously difficult to keep the line with so many playing out of position (as Ulster found against Treviso). Therefore it was no disgrace that after sustained French pressure, the fantastic Louis Picamoles crossed for a try even if it was somewhat surprising that Michalak split the sticks to bring the scores level.
Coming into the game, I feared that Ireland could take a bit of a beating given their mental and physical condition and the quality of the individuals lining up against them. Fortuitously, the French team performance was some way off the sum of its parts but that was not entirely down to the obtuse stubbornness of their coach. Ireland had a sensible game plan and executed well. Their maul, no doubt drilled meticulously by Anthony Foley, rumbled – no – stampeded through the French pack. The two passages of play leading up to Heaslip's try had the fatties in the commentary box struggling to maintain their decency. And no wonder – this was a grizzly French pack being made to look hugely ordinary.
The springboard for these fabulous drives was the lineout where Rory Best was finding Ryan, SOB and O'Mahony with consummate ease. The quality of Best's all round performance probably secured his seat on the plane to Australia, and perhaps the test number 2 shirt. Alongside him, Healy scrummaged well and carried effectively as always, but got the wrong side of Steve Walsh at scrum-time. Church seemed confused by this, as I think was everyone. On the other side of the scrum Mike Ross had a very tough day at the office. It appears that the squat Thomas Domingo has his number. Not having a credible replacement meant that we were in danger of being flayed badly towards the end of the match, but the French failed to take advantage. However, the tight-head crisis remains as serious as ever.
Talking of the bench, I was frustrated again by Kidney's unwillingness to bring on fresh legs. Peter O'Mahony had one of his best games in an Ireland shirt, topping the tackle count and looking more like an international blindside flanker than he has ever done. Indeed, the backrow more than matched their illustrious opponents, with Heaslip greatly improved and SOB heroic as ever. But Iain Henderson, who has been tearing up trees for Ulster, was not deployed until the 76th minute, long after O'Mahony in particular had started to flag. That Archer wasn't deployed was little surprise given that Ross didn't lose any limbs, but Healy and Best were also required to play the full 80, although Cronin did get a run on the wing when the unfortunate Reddan, whom I wish the speediest of recoveries, was stretchered from the field. Clearly Deccie doesn't trust Nugget to hit a barn door at three paces, but then why pick him on the bench in the first place? As much as Stuart Lancaster's use of the bench has taken England to the brink of a Grand Slam, Ireland's bench, and our coach's unwillingness to use it, is a large part of why we head to Rome with a realistic chance of finishing last.
On a positive note, our young half-backs had fine games. Murray's kicking was good and the source of much of our go forward in the first half. His passing was decent although if he is going to run laterally, he needs to pass it to someone running from deep. On balance he probably did enough for man-of-the-match although I would have given it to Picamoles. Murray's partner, Paddy Jackson looked very assured and justified Kidney's faith in him with 2 difficult penalties and a conversion. McFadden was full of energy and physicality though will be disappointed with a couple of highly visible errors early in the second half. Neither he nor Earls did anything wrong, but I would love to see Trimble return for the trip to Rome. At the back, Rob Kearney was back to something approaching his form of last season. He was very secure under the high ball on a foul afternoon and put in some really excellent tactical kicks. He also ran with purpose. At least he may be mentioned alongside Hogg and .5p in discussions about the Lions full-back again.
So, although it was ultimately a disappointing end, the result was much better than I feared before the match. Our young players will have got a lot out of the game and we are, probably more by accident than design, starting to develop a squad for the future. With Italy having given England a mighty scare yesterday, they will fancy their chances when Ireland travel to Rome next week. Selection will be interesting, though eased somewhat by the lack of fit players from whom to choose given the ludicrously long injury list.
Ireland's Lost Leads
Ireland led France 13-3 at half time on Saturday only to go scoreless in the second half and finish with a 13-13 draw. At half time the crowd would have been generally much happier with the skill levels that Ireland showed in what were hugely difficult playing conditions - a squally rain gusted in over the top of the Aviva stadium for the entire match, growing worse in the second half. With a greasy ball Ireland's execution was light years better than they had managed against England just two weeks beforehand, with good tactical kicking, sensible passing and mostly excellent handling.
The second half was a different matter with Ireland coming out fairly flat and allowing the French back into the game. Ireland were even the beneficiaries of a number of soft decisions by referee Steve Walsh, one scrum decision at midfield - awarding a wheel to Ireland when one might have rather thought that the French had driven straight through the Irish pack - notable for the understandably angry reaction it provoked from the many thousands of travelling French fans. Those fans would boo later in the game too, not at their side failing to achieve a thrilling comeback win in Dublin, but rather at their out-half, Freddie Michalak, kicking possession away when France had their tails up and Ireland were very obviously on the ropes.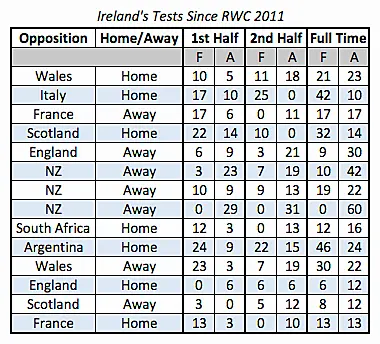 Ireland being on the ropes in the second half of a rugby test match is something that has become a common sight in recent months. In the 14 tests Ireland have played since the 2011 Rugby World Cup, they have been leading at half time on ten occasions. That's most certainly a positive. The problem for Ireland, and the grist to the mill for those seeking to unseat Declan Kidney, is they've managed to retain that lead at full time just four times.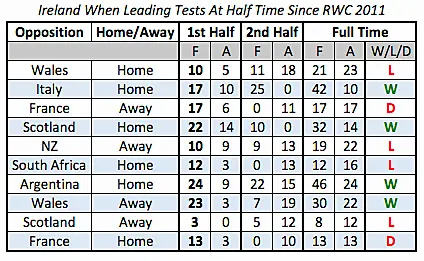 Going back to the second test in New Zealand in summer 2012 where points-scoring is concerned only twice have Ireland raised their game in the second half - against England and Scotland in this year's Six Nations. Looking at points scored only tells part of the story, obviously. Against Wales in 2013 Ireland scored so many points in the first half that it would have been extremely unlikely that they would score the same number again. They had almost managed it against Argentina in the previous test, scoring 24 points in the first and 22 in the second, but in Wales they managed just another seven in the second period. Equally, in those games against England and Scotland, Ireland had managed zero and three points in the respective first halves.
The graph below shows the difference between Ireland's points scored in the first and second halves of all tests played in 2012 and 2013 compared with what they've allowed the opposition to do. A positive value on either line means that Ireland have scored/allowed more points in the second half than they scored/allowed in the first half.

The pattern is fairly clear.
Leaping out to a strong lead then soaking up opposition pressure is a perfectly good recipe for winning rugby matches. Unfortunately, Ireland haven't been very good at holding up the second half of that equation. Since last Autumn against South Africa, Argentina, Wales, Scotland and France, Ireland allowed their opponents to come back in the second half of every match but one. The lone exceptions, England, were already in the lead at half time and Ireland only managed a six-all draw in the second period.
There could be many factors in play here. For example, it's fair to point out that Ireland have introduced younger players due to injury and perhaps they just don't have the experience of "seeing out a game" that more wise old heads would do. Maybe some English-based writers might point to the lack of promotion or relegation in the Rabodirect Pro 12 and deduce that it breeds "softer" players than those of the battle-hardened Premiership or Top 14. Others might point to the number of injuries Ireland have endured and determine that the bench depth just isn't there to have late game impact, or perhaps the depth is still there and isn't being used properly.
The above are all possible causes; the only thing that is absolutely clear is that Ireland's second half woes are very, very real and considering what Italy almost managed to do in their second half in Twickenham on Sunday combined with yet more Irish injuries, that could spell huge danger for Ireland in Rome.
As the cardinals prepare to be sealed into the Sistine Chapel to begin the papal conclave one must presume that Declan Kidney is feverishly working on a second half masterplan to face Italy on the weekend
And if he isn't, he should be.
---Andy McGeady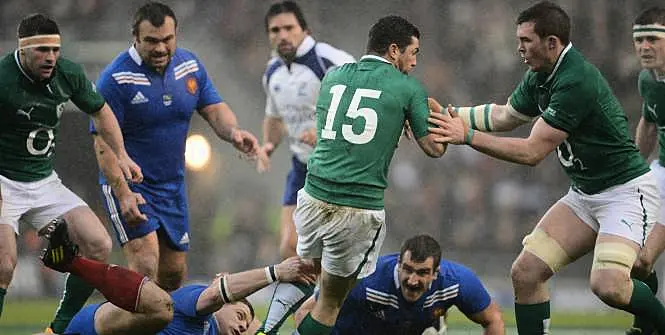 A Team With A Chip On Its Shoulder
The draw is the most dissatisfying sporting result of all. It's OK in soccer, but not in most other sports, and certainly not in rugby. No team has ever played for the draw in the Six Nations, so to get one leaves an irksome taste in the mouth. Then again, given the way this campaign has for Ireland gone so far, that fits in quite nicely with all that has preceded it.
Fatigue, caused by a lack of squad depth and an injury list that just won't stop growing, cost Ireland the much needed and probably deserved win. A game plan which relied on a high energy, committed defensive approach stifled France for the majority of the game, but as has been the story of this Spring, Ireland weren't able to capitalize on their advantage to hold off the inevitable late fight-back.
The first half was pretty close to perfect. Jackson's goal-kicking woes against Scotland were nowhere to be seen, while Murray dictated play nicely in the way many had sought. More importantly, despite the poor conditions (two soggy days in our two home internationals do not a good ad for The Gathering make by the by) our handling errors were few and far between. This kept the number of strength-sapping scrums to a minimum, helping with the committed defensive plan by keeping players fresh.
In the second half, when pressure/fatigue built up, cracks appeared in the Irish tactics. Murray's effectiveness waned somewhat, and the conditions took their toll. In spite of Saint-Andre's man-love for Michalak, France drew level with their only gilt-edged chance to score a try. They were helped at this point by the lack of options, or perhaps an unwillingness to use players from the Irish bench - a brief Sean Cronin cameo aside, the three front row replacements were mere spectators. Ireland's energy levels tapered off, understandably, and once France had drawn level, the chances of a comeback were all but ended by mounting injuries. The dynamism and creativity Ireland needed was again not there, and the energy levels to create enough pressure to force a telling late penalty were no more.
Yet while the bodies were flagging, the minds were willing. Ireland did not capitulate. The commitment of each of the 21 players who took part cannot be questioned, be it BOD or Reddan playing on with injuries or Rob Kearney nearly going headfirst into a pitch-side TV to prevent a try in the game's dying moment. There are plenty of reasons for this - pride in the jersey, nation and self, the prospect of a Lions trip down under - but this was an Irish team who were united from first whistle to last. They struck me as a team with a chip on their shoulder, doing all they could (as evidenced by the near-kamikaze levels of commitment in the first half) to prove the doubters wrong. And while the tenure of Declan Kidney remains very much in doubt, it certainly bodes well for the coach that the team played in this singular fashion despite all of the questions surrounding him. That discussion, though, is for another day.
The One That Got Away
There's nothing quite as anti-climactic as a Six Nations draw. But the feeling for Ireland will be more of disappointment. This would be 'the one that got away' had Ireland not let the French off the hook last year too.
A Game of One Half... at least that's how Ireland play it these days.The second half crisis persists. While performances have varied wildly over the past two seasons one thing has remained constant, the struggle to hold onto a lead (or indeed score points after halftime now). We all know the litany of leads lost in important games. Injuries have blunted Ireland's bench and it's having minimal impact, but it's composition and use have also been questionable.
No Relief: While the players from both teams might feel some relief at avoiding another defeat, the heat won't have moved from either coach with a draw. Specifically poor decision making from Kidney and Saint-Andre regarding their halfbacks will be under the spotlight. The call to remove Conor Murray with 20 mins to play, smacked of a pre-planned substitution which completely ignored the game that was transpiring. The young scrum half had been controlling the game well for Ireland in the conditions and taken pressure off his novice halfback partner. On the French side, the decision to give Freddie Michalak kicking duties first off and then to leave him on for the full 80 played into Ireland's hands.
Young Guns: On the whole there were actually plenty of positives for Ireland to take, especially the increasing maturity and effectiveness of Ireland's new generation. Playing the French will always be one of the toughest days of the Six Nations and watching young Irish players matching up to the occasion is very encouraging. In their second caps Jackson and Marshall are looking at ease at test level. Murray and Peter O'Mahony had their best games in green in just their second Six Nations seasons. And, while far from a youngsters, Mike McCarthy and Donnacha Ryan's hardworking and effective partnership is still in its first season.
---Ronan Murphy

Rugby on Balls.ie brought to you by the O2 Online Shop