It's a massive, massive weekend of sport - between the Six Nations, the Super Bowl, the racing at Leopardstown tomorrow and even the league - and not only do we plan on enjoying it, we're hoping to make a bit of cash as well.
We, of course, are hopeless at gambling, which is why we consulted with you, the esteemed and wise Balls.ie reader for advice. And you have provided.
@ballsdotie Greg Olsen anytime td scorer and Carolina win 11/4

— Johnny j (@xxxjohnnyj) February 5, 2016
@ballsdotie Louth away to Waterford, 4/6 #banker

— Michael Donnelly (@MickDonnelly82) February 5, 2016
@ballsdotie St Mary's -3 to win All Ireland Intermediate final (not biased!)

— Stephen McCarthy (@sportsfilesteve) February 5, 2016
So here is the 5-way accumulator we settled on:
Road To Riches in the Irish Gold Cup Saturday. As close to a sure thing as a sure thing gets.
Bryan Sheahan's St Mary's to win the intermediate All-Ireland by 3 points over a Mayo club. Seems like an easy win.
Louth to beat Waterford in the league. Seems like a very easy win.
Greg Olson to catch a touchdown and the Panthers to win the Super Bowl. Panthers is good for a touchdown a game. If the Broncos couldn't stop Gronk, they'll find Olson a handful. And the Panthers will definitely win.
Finally, and perhaps most stupidly, a patriotic flutter on Ireland to beat Wales. A few people tipped Wales to us, but we just can get behind a 5-team accumulator with Ireland losing.
Those 5 bets line up at around 28/1. 10 euros will get you 291.50.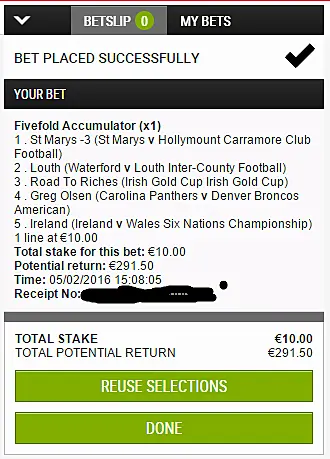 Get behind this one everybody. We can do it!