Ciara Mageean doesn't enjoy watching replays of her races - even ones in which she has done well - but knows it's a necessary practice.
"You just want to get out and get yourself in a good position," explained Mageean, who is one of Ireland's best middle distance runners.
"That's what I would be looking at: did I get in a good position? Did I hold that good position?
"Did I let anybody impede me? Did somebody push me about and should I have held firmer?
"How I moved through the field, reacted to move and if I was a bit slow on things."
At the World Athletics Championships in Doha, Mageean finished tenth in the 1500m final, running a personal best of 4:00.15. It was the second fastest time ever over the distance for an Irish woman behind Sonia O'Sullivan's 3:58.85 national record.
In a slow and tactical semi-final, the 27-year-old finished fifth to qualify for the final. That race was an unusual one for Mageean: she was the front runner for much of it.
"I found myself at the front and I'm not a natural front runner," said Mageaan at the launch of Circle K's 'Here For Ireland' initiative.
"I don't overly enjoy being there. I'm not going to take it out as a time trial for the rest of the girls. I was just like, 'I'm going to run it at a pace I want to run it at and you'll have to come around me'.
"I knew that there were faster girls in that race and they would eventually get impatient and would come around. I was ready for that.
"Steve (Vernon, her coach) was impressed. He said, 'You weren't looking ahead, you were constantly glancing down to your right-hand side of the track'.
"I knew as soon as she came into the periphery of my vision that I would have to make a move. If I noticed her as she was coming up beside me, it was too late because she was already going past me and then I would have to get around her.
"It's little things like that you look for. 1500m is so tactical. That's one of the main things you look at."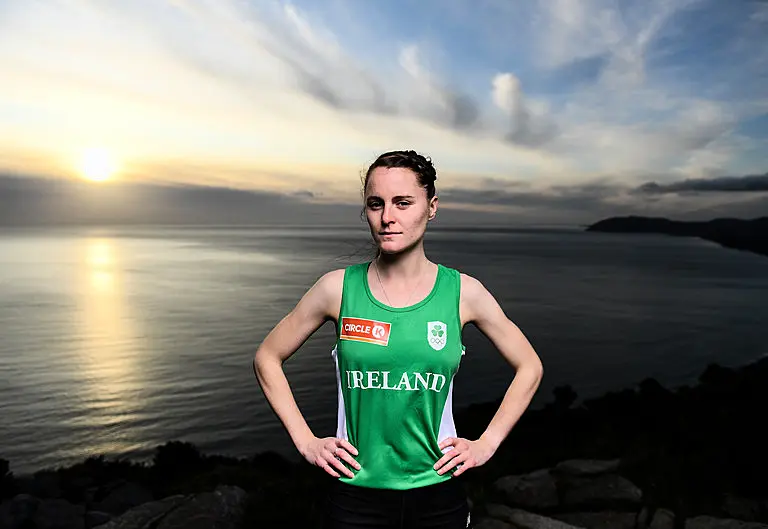 Athlete Ciara Mageean at the launch of Circle K's 'Here for Ireland' initiative, at Killiney Hill Park. Photo by Stephen McCarthy/Sportsfile
She continued:
Another thing that I would look at is my last 400m; more specifically, the last 200m, 150m.

[We'd be] looking at my form: Did I maintain my form? It's something we work a lot on with my coach in training.

Whenever you are you are tired you want to fall into certain patterns, I'd want to start grinding my arms. It looks hard. You don't run fast doing that.

It's a battle to stay tall, stay sharp and stay moving really well and run through the line.

There are few points I will look through. I'll see if I was sleeping between 400m and 600m, if I let people come around me. That's only an example, I don't know what I did do or didn't do.

Mostly, it's tactics, seeing how the field moved. Sometimes, I might look at another athlete that did particularly well and what I could learn from that.

There's a lot of things you can pick up.
"I get nervous watching," she added.
"I'm like, 'I've done it, I don't need to go back there'. I was like, 'It's done'.
"I'm like, 'Is that what my face looks like when I run?' My little sister sent me pictures the other day and you will laugh. My family keep me pretty grounded.
"My little sister is hilarious. She sent me a message saying, 'My favourite past time is looking up photos of you looking dishevelled'. I was like, 'Go on, send me a few!' There's one from a cross country race. She also likes to send me ones when I've fallen.
"It's strange seeing yourself in those races, looking back on yourself."
Circle K customers can use the Circle K app or their loyalty tag in-store to generate digital coins that Olympic and Paralympic hopefuls can use to fuel their journey to the Tokyo 2020 Games. To support Ireland's athletes, simply download the Circle K app today.