Although their journey through the Super 8s came to a sour conclusion in Killarney last night, this has been a good year for Kildare football. If the performance of Jimmy Hyland in this afternoon's All-Ireland U20 final is anything to go by, such years may be about to emerge with greater regularity.
In the inaugural year of the U20 championship, Kildare's presence in today's final against Mayo was naturally a first for both sides. However, in its previous incarnation as the U21 football championship, Kildare had not tasted success since 1965.
Eirgrid All-Ireland U20 Final

Kildare 1-18
Mayo 1-16
Full Time

Kildare make history by winning the first Eirgrid All-Ireland U20 Championship.

A fantastic achievement for all involved & a proud day for the county.

Congratulations to the team & management 🏳

— Kildare GAA (@KildareGAA) August 5, 2018
Thanks in no small part to Jimmy Hyland, that wrong was emphatically righted this afternoon. Leading Mayo from the off, Hyland contributed 0-10 of Kildare's 1-18. Incredibly, kicking with David Clifford-like ease off his right and left boot, only 0-2 of this tally came from free-kicks.
It was little surprise that he would be man of the match on a breakthrough day for Kildare football.
Jimmy Hyland just put on one of the best shooting displays you are likely to see in Croke Park today in the u20 AIF fair play 👏👏👏 #kildare #Mayo #u20

— Sean Mc Creesh (@CreeshMc) August 5, 2018
The focus of much of the praise being directed toward this Kildare triumph, thoughts of Hyland in the starting XV of Cian O'Neill's senior panel are already on the minds of many.
Fantastic U20 final so far. Some of the scores have been top quality 👌 Fell sorry for anyone who has to mark Jimmy Hyland! He's some baller! #MayoGAA #KildareGAA #

— Bear In The Square (@bearnthesquare) August 5, 2018
Jimmy Hyland is a class act.
His workrate off the ball is most admirable.

— David (@whytedavid2) August 5, 2018
Jimmy Hyland what a performance 👏👏 up the lillies ⚪⚪

— David Gammell (@davidgammell2) August 5, 2018
Left foot right foot makes no difference to Jimmy Hyland 🤙🏻 #kildaregaa #allirelandfinal #under20s

— Lee (@Red_ArmyMUFC) August 5, 2018
Jimmy Hyland one serious baller #kildaregaa

— GAA TIPS (@gaatipster18) August 5, 2018
The Jimmy Hyland show 🔥🔥🔥

— Darroch Mulhall (@MulhallD17) August 5, 2018
In the All-Ireland semi-final against Kerry, Hyland had demonstrated his prowess in a similarly high-stakes game; grabbing 1-8 of Kildare's 1-14 winning today.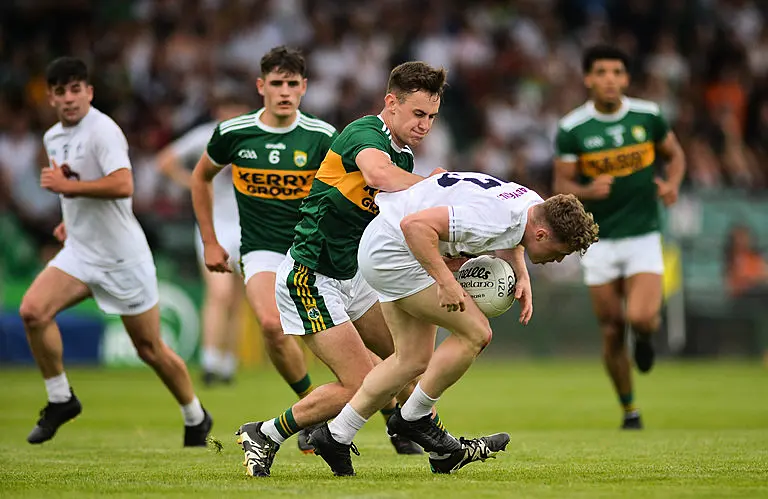 For all Hyland's heroics this afternoon, if not for this outstanding late save from Kildare's 'keeper Aaron O'Neill, things could certainly have ended differently.
A terrific save from Kildare goalkeeper Aaron O'Neill. pic.twitter.com/NNsS8zvDzt

— The GAA (@officialgaa) August 5, 2018