Before the recent semi-final, there was a brief glimpse behind the curtain when Tipperary boss Liam Sheedy referenced the "300 minutes of data" afforded to him thanks to the new hurling round-robin format.
More games meant more footage and more opportunities to analysis opposition. The best managers look at it that way. Donegal had played five championship games coming into last weekend's tie with Mayo, ensuring James Horan had over 350 minutes of footage and data to reflect on and analysis.
Throw into the mix a two-week break and a man well-versed in forensic analysis thanks to his previous punditry stint and it is no surprise Mayo came in as prepared as they were on Saturday.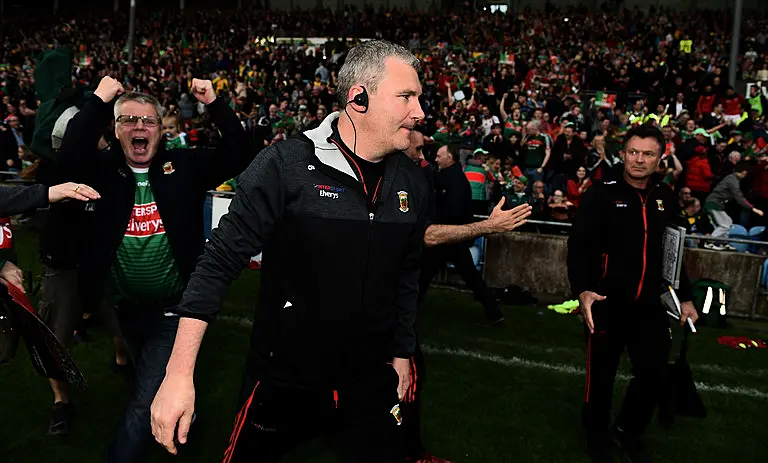 Horan is detail orientated, as was evident during his interview with Sky Sports post-match. The Mayo boss was able to recall key performance indexes off the top of his head when discussing the game.
Donaghy: Every 50/50 I think it was Mayo coming out of it. You must be so happy as a manager?

Horan: At half-time just a quick look at the data, you're right. We won 12 out of the 15 50/50 balls in the first half. 27, 28 tackles in the first half versus single figures. That is championship football and this where it's won.
Mayo were not perfect but they didn't need to be, they just needed to be better than Donegal. They came with a gameplan and imposed it. This was a tie played on their terms in their backyard. Donegal played with the fire instead of extinguishing it and got burnt.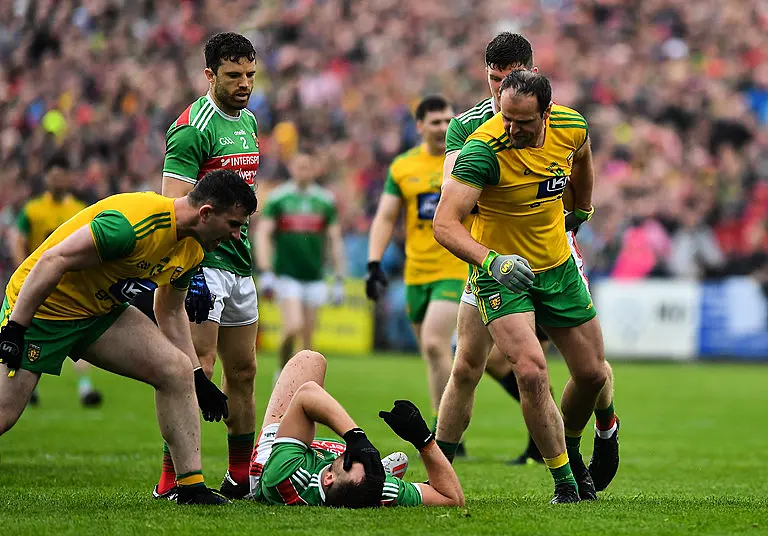 Armagh's Rory Grugan is a man well familiar with this Mayo team, having come close to knocking them out in their round 3 qualifier. Speaking to Balls.ie, he explains that after years of widespread defensive obsession the game is becoming more offensive.
You can go a certain way with your tactics in terms of more defensively or whatever but the key thing now is finding a style that suits your players that you have on the field. The way the game is played now, it is so fluid. The idea of positions has become obsolete in the traditional sense.

When you lose the ball the ideal is 15 defending within a certain shape. When you win the ball, ultimately what we like to do is try and have men up the field to have a kicking game. Sometimes you can't do that, then you need a running game.

But look at the best teams now, everyone aspires to be like Dublin. If you give them space they will kick the ball. They have shown they have the option of a long ball but they've also shown they are the masters of playing against the mass defence as they did against Dublin in 2017.
Attack and defence are interlinked, but coaches still often separate the two. The key fundamentals to defensive shape are organisation and fitness for its implementation. Two basic pillars that can get a team a long way.
In contrast, attacking shape takes much more co-ordination, practice and technical proficiency. It takes time to develop but it is time well-spent. Jason Sherlock is involved with Dublin's forwards and there's no doubt the 1995 All-Ireland winner while have learnt plenty about attacking shape from working with renowned Irish basketball coach Joey Boylan.
In both codes, attack often starts with defence and training should replicate that.
Are we coaching these scenarios as often as they appear in matches? Taken from a research paper on Hurling by @ClearColm covering every game in the 2015 All Ireland SHC. #gaa Great work going on in @itcarlow @MScSportsPA @deniseanalysis @JohnnyBrad1ey pic.twitter.com/u4TLHytUrN

— Barry Cleary (@sheikhbarabas) July 16, 2019
James Horan would have known this. He would have known 37.5% of Donegal's scores came from a turnover against Tyrone while just 13% of Tyrone's came from such a scenario. So that was his focus.
We know this was his focus because of the excellent sideline reporting work from Sky Sports pundit Senan Connell. Twice in the first half Connell interjected to detail exactly what Horan was asking of his players. Both times it was a positive intervention in relation to his attack.
The message coming in from James Horan, he has been frantic trying to get the message into his players to try to keep bodies in the full-forward line. There has been a number of times that full-forward line has been vacant with no one inside, he is frantic on the sideline getting the message in to make sure they stay deep and keep Donegal stretched.
Later in the half, Connell again outlined the Mayo man's instructions.
"Just watching James Horan. Every attack he is trying to get Mayo to be more patient," he said. "He's trying to get a message in for Mayo to be more patient when they are in that final third of the pitch."
This came after two costly errors. Firstly, Mayo's attack made it easy for Donegal to defend. With no target inside and near to goal, Donegal could set along the '45 and know that Mayo would need to shoot from deep or carry past them.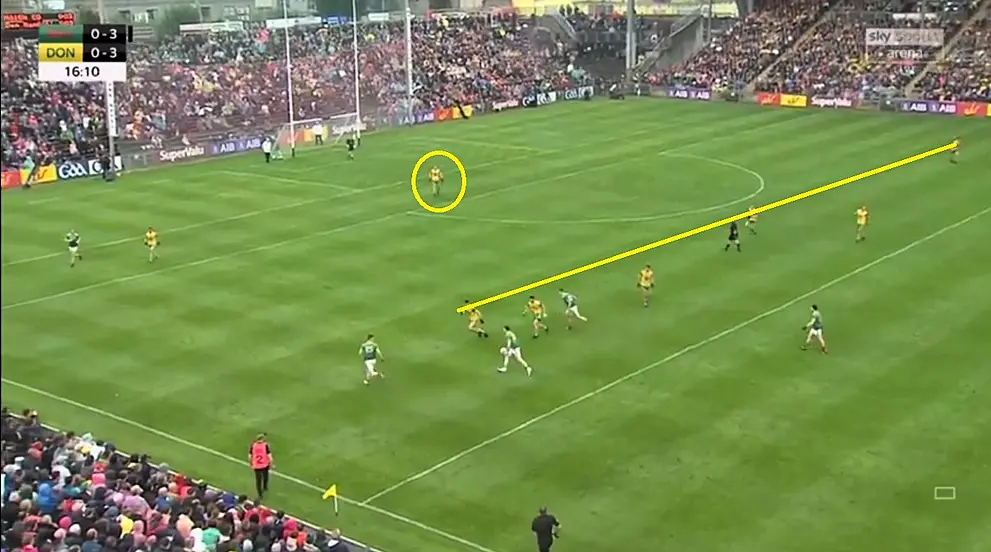 A few minutes later, full-forward Darren Coen got the ball inside and rushed his effort.
With options outside, Coen tries a pot-shot and is blocked down.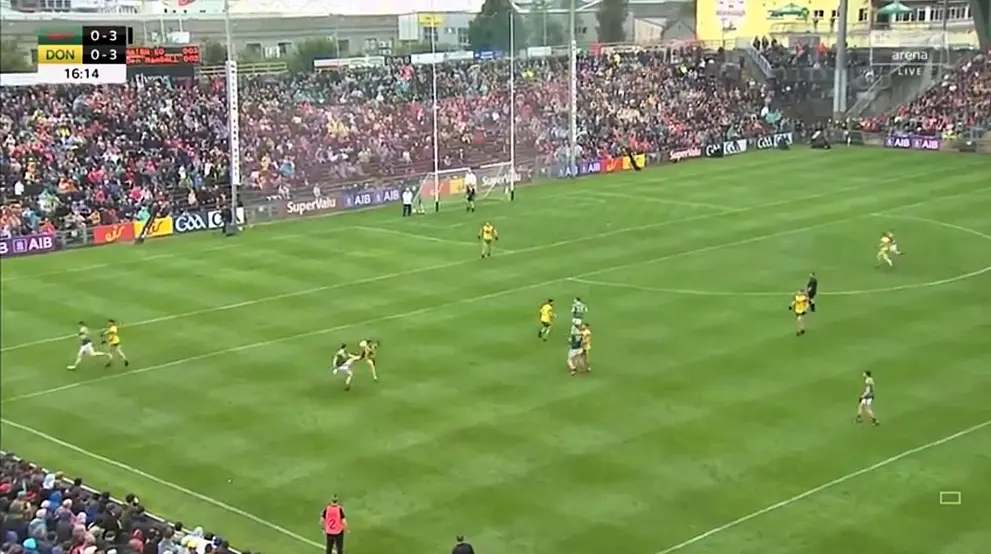 He then loses possession on the end line.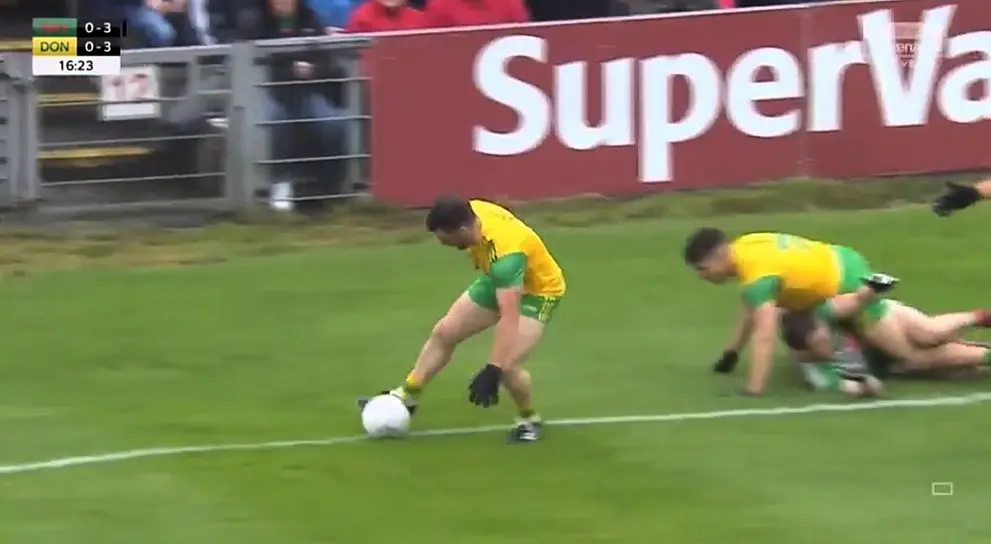 James Horan needed his attack to be more efficient and less one-dimensional because he knew Donegal would thrive with this wastefulness. So Coen was taken off midway through the first half and Andy Moran came on.
Consider the build-up to Mayo's goal.
Mayo are more patient and recycle possession. They also have two men inside and therefore more options.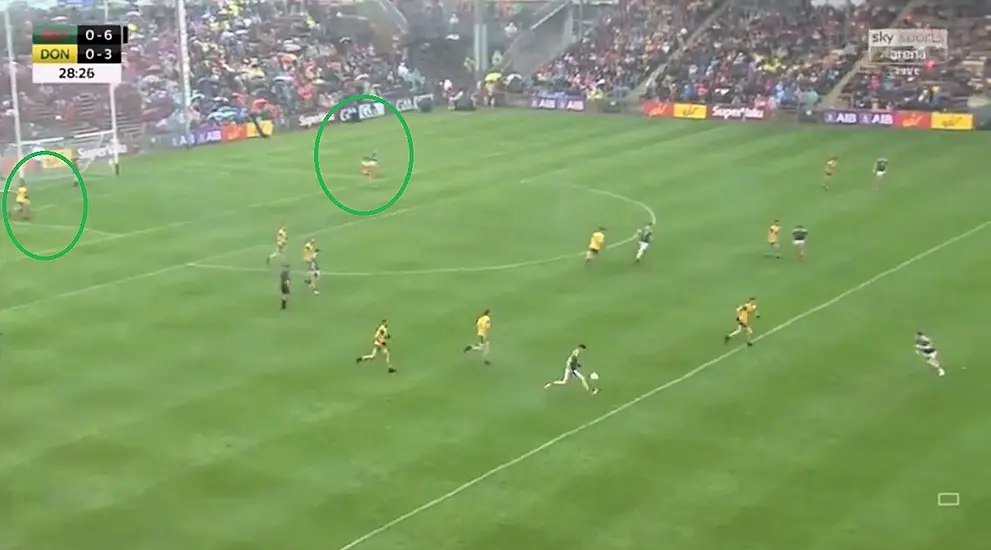 Cillian O'Connor finds the net for @MayoGAA !! pic.twitter.com/lDv7HGM6Ja

— The GAA (@officialgaa) August 3, 2019

The home side brought their typical ferocious tackling to the game. It finished 48 Mayo tackles to Donegal's 24. Horan used this to his advantage. Having watched Shaun Patton lord it from kick-outs all year, Kerry's tactic of tempting him with the short one worked best.
Even after a set-piece and lengthy stoppage, such as Cillian O'Connor's 8th minute free and Jason McGee's injury, Mayo did not fully press and allowed Patton an option with each corner-back. They did this because they knew their tackling could turnover strike runners as they carried forward. A long kick-out would bypass that.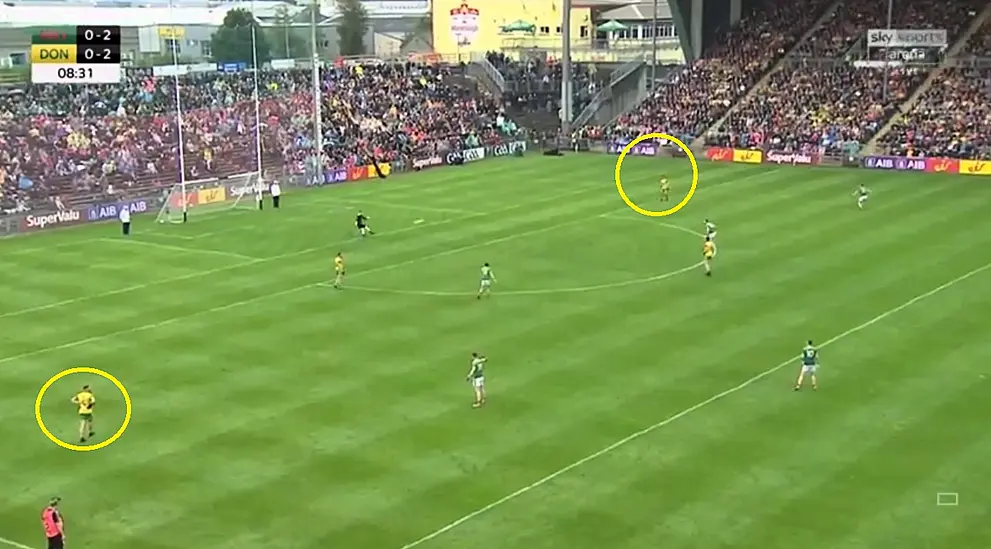 After Noel Connelly and Pat Holmes resigned from the Mayo job, James Horan was interviewed by the Irish Daily Star and said he was open to a return, but not yet: "I'm working with different teams in different codes, enjoying learning more about coaching and have a bit of catching up to do in everyday life too."
"I did media work this year and enjoyed that. I'm enjoying learning stuff about our games, and about different games."
A process now paying off. This season Mayo have been flexible in their approach, all the while remaining stubborn in their goal.