21:40 The Newstalk app is still holding a solemn vigil for the lads.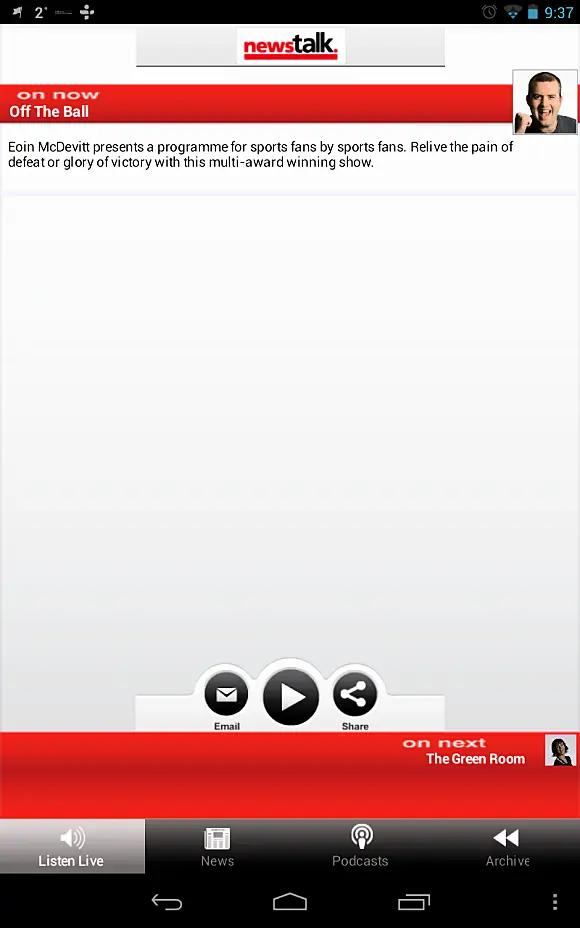 21:24 There are some unhappy people on the OTB Facebook page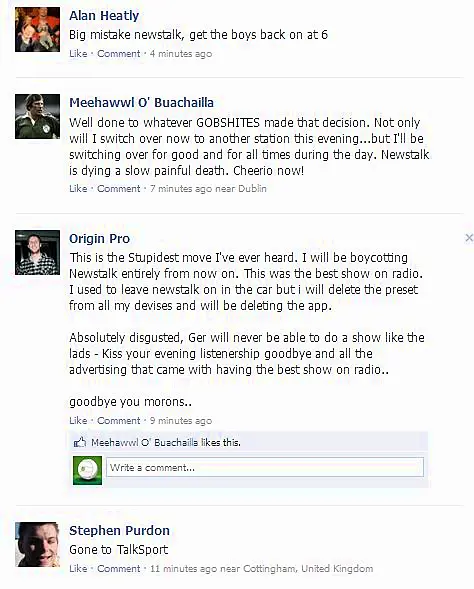 21:01 Tell us what you really think, Nedward Stack.
@ghook we know its ur fault the lads are gone u pigheaded eggchasing prick

— nedward stack (@knowmo27) March 4, 2013
H/T Broadsheet.ie
19:59 Audio of that Ger Gilroy statement
19:54 Audio of that George Hook Freudian slip.
19:29 Ger Gilroy made a short statement regarding the resignation of the regular OTB team from Newstalk. He confirmed that the resignations were due to disagreements over scheduling.
19:01

'You don't always get to pick the time of your leaving' says @gergilroy re Ronan O'Gara but we all get the entendre... #offtheball

— Suzy Byrne (@suzybie) March 4, 2013
18:56 A small Freudian slip by George Hook as he concludes his show. Tells us, "Off The Boil" is coming up next.
18.51 Jason Sherlock asks you not to judge him for passing the picket line tonight.
Had agreed to speak on #offtheball 2nite before I heard the news #controversial #dontjudgeme! Sad to hear the lads have moved on #bestwishes

— Jason Sherlock (@boomjayo) March 4, 2013
18.38 Another great OTB momemnt, Ken's deceased cat, Gulliver, calls the show.
H/T Rory McFadden
18.33 Gone is the image of Eoin McDevitt from the Newstalk schedule.

18.26 Declan Lynch writing about OTB in the Indo in 2010.
Off the Ball has blasted away the notion that nobody deliberately listens to the radio in the evenings. As such it has become something of a phenomenon, a programme to which men are turning in large numbers to get what they can't get anywhere else in this increasingly brainless society; to feel part of something greater than themselves, and certainly greater than what RTE has been offering in this line.
18.12 This tweeter probably sums up the feelings of many OTB fans.
@secondcaptains If anyone needs me, I'll be in the canal.

— Aifric O'Connell (@acompleteweapon) March 4, 2013
18.04 Paddy Power have released odds on the destination of the former Off The Ball team. No odds are given for it, but I fancy the idea of them taking the show online.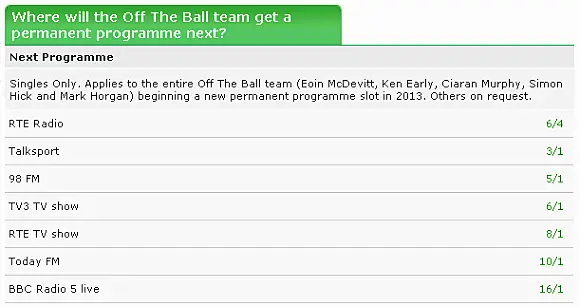 17.58 So Off The Ball is gone. So what we will do with our evenings? Let us know your favourite moments of the show, least favourite guests (John Giles?), and favourite all-time moments. Nothing will beat this though.
[soundcloud url="http://api.soundcloud.com/tracks/63545474" params="" width=" 100%" height="166" iframe="true" /]
Leaving means never having to apologise for the Trap interview?