Ireland has established itself as a major tourist destination over the past few decades. In 2019, it is estimated that just over 11 million overseas tourists visited the country.
Since then, the tourist industry has been hit hard. With international travel now back in full swing, we should be able to bounce back strong.
There are no shortage of things to do and as a whole tourists seem to be pretty satisfied with our major attractions. It is hard to please everyone, however.
We have attempted to find the strangest Google reviews of Ireland's most popular tourist attractions, and some of them are pretty hilarious.
Cliffs of Moher - 4.8/5
Now this is what you call a back-handed compliment.

We have to meet this daredevil dog.

Giant's Causeway - 4.7/5
To be honest, we would be raging as well.

There's just something dodgy about them.

Fuming!

Blarney Stone - 4.6/5
Fair enough.

Newgrange - 4.7/5
The pub isn't a bad shout in all fairness.

Somebody better tell the neoliths.

Titanic Belfast - 4.6/5
Did those documentaries not mention that the feckin' thing is at the bottom of the ocean?

Go for the museum, but stay for the coffee.

The Book of Kells - 4.4/5
We're just confused by this one.

A 'room full of steamy people' sounds like a very different type of attraction.

Rock of Cashel - 4.5/5
We hate when that happens.

Scary, but nice.

Dingle Peninsula - 4.9/5
Why don't you tell us what you really think?

Fungi was lucky to get out of there with his life after this lad around.

St Stephen's Green - 4.7/5
Why do we think that Martin is permanently wearing a t-shirt that says 'cull the gulls'?

We don't think a park can steal a bike.

Bunratty Castle - 4.5/5
Alright, calm down pal.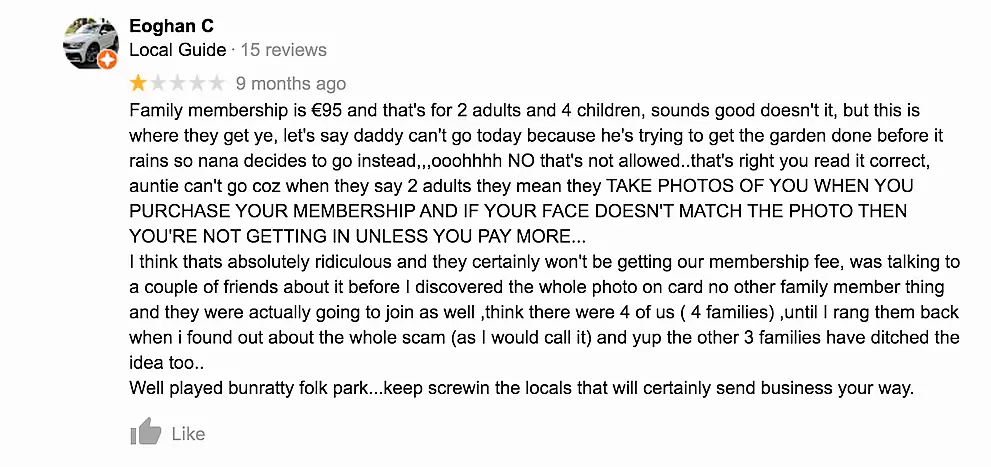 The English Market, Cork - 4.6/5
Bit of a chip on the old shoulder here.

In a market?! Imagine...

Kilkenny Castle - 4.6/5
That's a bit harsh...

Tayto Park - 4.6/5
Absolute blasphemy.